മാരുതി ഇഗ്‌നിസ് ഉപയോക്തൃ അവലോകനങ്ങൾ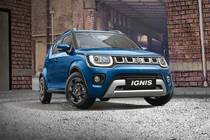 Rs. 4.89 - 7.19 ലക്ഷം*
*എക്സ്ഷോറൂം വില in
ന്യൂ ഡെൽഹി
മാരുതി ഇഗ്‌നിസ് കംഫർട്ട് ഉപയോക്തൃ അവലോകനങ്ങൾ
All (357)
Mileage (105)
Performance (48)
Looks (120)
Comfort (101)
Engine (82)
Interior (62)
Power (56)
കൂടുതൽ...
ഏറ്റവും പുതിയ
സഹായകമാണ്
VERIFIED
CRITICAL
Driving my Ignis delta model since January 2018. Till now drove it 30000 km. This car really a performance car. Stable on even at above 110km speed. A 1200cc engine will give you 18-19 kmpl mileage and above 20 kmpl on highway. But mileage mostly depends on how you drove your car. I am getting the above figure. Constantly since 2018. Boot space is ...കൂടുതല് വായിക്കുക

Very stylish and nice car features are very activity and comfort and small family and a nice car. This lower price and the very safety car is well stylish and looking very hot. കൂടുതല് വായിക്കുക

This is a very good car for those buyers who wants a Suv under 10 lakh. This car has high ground clearance, suspension, comfortable seats, fog light, and a beautiful sporty look. If you want more than this then you have to spend more than 10 lakh for a car which is not possible for every person. കൂടുതല് വായിക്കുക

Owing to a petrol delta version... A cool car for a small family, very comfortable seats, engine performance is excellent, it never lags even on highways and city. Best small in size makes parking easy and it is fully feature loaded. കൂടുതല് വായിക്കുക

The car is very good and comfortable also on tough roads. Its performance is very good on the highway. Its mileage is about 22Km/ltr and in the city of 15km/ltr. Its comfort level is very good. AC is a very good cooling time is very less and the turning radius is very good being an automatic variant. Sometimes it glitched but overall value for mone...കൂടുതല് വായിക്കുക

Definitely a great and the best car for a small family. I get mileage of 22 kmpl which is super, big wheels and high ground clearance, allows me to drive it in rural areas without any tension of potholes, comfort and convenience are almost very good. Shock absorbance and body quality are 90 to 95% satisfactory. So if you are looking for a small but...കൂടുതല് വായിക്കുക

It has been 3 years since I got the Ignis Alpha Top Model Manual. It is a good city car with the best in class gearbox and clutch. But if you are looking for a vehicle which is comfortable for long road trips than this one is not for you. In Bombay roads, you can feel everything inside the cabin. and at the end of you will feel exhausted. കൂടുതല് വായിക്കുക

Superb car in its segment, good car for urban use.Good ride quality handling & comfort.

Recently bought it for my dad... This car is amazing... My dad loved it, especially the AMT version which let him add an extra feather in his cap... He is reliving the life. This car has a fantastic performance, be it comfort, ride, power, mileage or anything that comes to review one... കൂടുതല് വായിക്കുക

It is a comfortable and stylish car. Ignis is quite safe with 3star ratings. I can drive it hassle-free as the features are given wonderful.

Maruti Ignis is comfortable as SUV, cabin insulated as a sedan, easy to drive, funky, fuel-efficient. Best in class, eye-catching, better than its competitor. Well tuned suspension, high ground clearance. കൂടുതല് വായിക്കുക

Awesome car with a  very smooth and comfortable engine performance for a long drive. Spacious and more features in this price segment.

Nice comfortable car with a great music system. Ground clearance also very good. Steering is good and the driving experience is very comfortable.

Maruti Ignis is an amazing car, very lightweight, spacious and comfortable, smooth and good handling and brakes are also very soft. Clutch and race are good excellent gear designs of interior it take low maintenance and it is the best car for the city. It has good pickup you can also take for long-distance material used in this is of good quality. ...കൂടുതല് വായിക്കുക

Maruti Ignis is a very nice family car. Also, the comfort level is amazing.

Very comfortable while driving. It gives minimum jerk due to its more ground clearance. It is a good looking car. I think more boot space in minimum price

To be frank built-in quality of Maruti Ignis isn't that much great. But when it comes to comfort and maintenance, it's very good. Service centres are taking issues very seriously and giving update on time. കൂടുതല് വായിക്കുക

Tha Compact SUV type hatchback car the city comfort is very excellent ground clearance super 180 MM the Nexa improves Maruti Suzuki excellent for India Brand Ignis drive experience the excellent the perfect off-road and city Maruti Suzuki excellent for India Brand Ignis drive experience the excellent the perfect off-road and city , highways Ultimat...കൂടുതല് വായിക്കുക

Maruti Ignis is an excellent car with good driving experience. Low maintenance cost car. Also, getting excellent comfort and mileage in this car. 

Maruti Ignis is a small car for a small family. Maruti Ignis is my first car. I just finished my 2nd free service. The car is small and easy to handle and very comfortable to drive. I'm a professional working in Bangalore, and people who are in Bangalore knows the traffic block and path hole issues they face. I'm using Ignis for my daily commute an...കൂടുതല് വായിക്കുക

Maruti Ignis is a very good car for city as well as for a little long-distance. Smooth steering, trendy and stylish look. Silent and smooth ride. Nice GPS and music system. Comfortable upholstery. Best family car. Enough ground clearance. Lights are amazing, very comfortable to drive in the night also. Auto ac function is marvelous. Overall it's th...കൂടുതല് വായിക്കുക

Very nice car . I am fully satisfy with my ignis delta .very comfort drive even with long drive. Fully loaded with safety features.it has more spacious area inside of car.its look like mini suv and gives feel such like suv. Ground clearance is very good for bumpy road. Mileage is good. I will prefer to buy this car that gives feels like suv. കൂടുതല് വായിക്കുക

I got the alpha AMT and I am enjoying it everyday! Smooth comfortable and all facilities in a small package. Easy to handle in city is the major reason I went for Ignis as I'm mostly a city person. Even on highways it's very sturdy giving a good mileage. Overall totally worth it !!! കൂടുതല് വായിക്കുക

Nice interior as well as outfit. Comfortable to drive it. More spacious for a small family. The very nice sporty look comes when you install sports kit.

Maruti Ignis is very comfortable in traffic and city roads, also the fuel-efficient is very good for this 1.2-litre engine with good speeds. The look of this car is very awesome and sure it's eye-catching. The cabin space is very well planned and good. The SUV feel will admire all who droves this car. കൂടുതല് വായിക്കുക

i drive regulr 500 km nd car driving is smooth nd performance is very good, easy to drive and good space in car nd car is the fast to drive, very nice performance with good mileage is 20/kmpl, best performance,gear is smooth, city drive car small and comfort car. Body is very good,good car. കൂടുതല് വായിക്കുക

Class drive in the city. Very smooth gear shift. Easy to park in small parking space. Very good luggage space. Very comfortable long drive as well.

I really like the Maruti Ignis, The features are amazing, Great gear shift and speed. The 1248cc engine is really powerful, steering is adjustable according to comfort. Seatbelt Alarm is a great add on to the car. I am really happy to buy this car. കൂടുതല് വായിക്കുക

I love my Maruti Ignis which is very fine to drive with luxury and comfort. Where ever I go comes with me undetachable. My family and friends enjoy Maruti Ignis drive for its comforts and safety. കൂടുതല് വായിക്കുക













Not Sure, Which car to buy?
Let us help you find the dream car

Are you Confused?
Ask anything & get answer 48 hours ൽ
പരിഗണിക്കാൻ കൂടുതൽ കാർ ഓപ്ഷനുകൾ
ഉപഭോഗ്‌താക്കളുടെ നിരൂപണങ്ങൾ ഇഗ്‌നിസ് പകരമുള്ളത്
*എക്സ്ഷോറൂം വില ന്യൂ ഡെൽഹി ൽ
2 ഓഫറുകൾ
മാരുതി ഇഗ്‌നിസ് :- Consumer ഓഫറുകൾ upto Rs... ൽ
2 ദിവസം ബാക്കി
ട്രെൻഡുചെയ്യുന്നു മാരുതി കാറുകൾ