ഹുണ്ടായി വേണു ഉപയോക്തൃ അവലോകനങ്ങൾ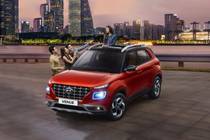 Rs. 6.69 - 11.5 ലക്ഷം*
*എക്സ്ഷോറൂം വില in
ന്യൂ ഡെൽഹി
ഹുണ്ടായി വേണു mileage ഉപയോക്തൃ അവലോകനങ്ങൾ
All (1344)
Mileage (159)
Performance (131)
Looks (407)
Comfort (266)
Engine (187)
Interior (151)
Power (113)
കൂടുതൽ...
ഏറ്റവും പുതിയ
സഹായകമാണ്
VERIFIED
CRITICAL
Very recently I have purchased Hyundai Venue. Initial experience is very good in relation to mileage and comfort. The best part of it is good ground clearance. Some of our roads/ by lanes have huge speed breaker, which I can escape now. Moreover- in Assam, I can easily run my car in dry muddy hill roads. കൂടുതല് വായിക്കുക

Safety very good and maintenance cost is very low. The mileage is good and for long driving, we feel very awesome in this car. The car is looking very stylish and super comfortable. And, the blue line connected with super and smart play with very good and the display is good. Superb allow wheels and super ABS and EBD braking and nice AC auto climat...കൂടുതല് വായിക്കുക

Great Suv and comfortable, stylish and great enthusiastic to drive it.. It gives lot of safey features like 6airbags, VSM, HAC, Traction control, ESC, TPMS and so on. It gives a great look and gives solid mileage of 20 to 21kms. കൂടുതല് വായിക്കുക

The comfort and performance of the car on the highway are awesome and suspension is so nice. Mileage is not bad because the 1496CC engine won't give that much. The rear-seat passenger's leg space also very comfort up to 6feet height persons he also can comfortable on rear-seat at the long journey. Engine noise also very less compare with Tata Nexon...കൂടുതല് വായിക്കുക

Hyundai venue SX 1lt Turbo DCT is an awesome car with great ridding experience with superb mileage. Transmission is very smooth as compared with other cars in the segments. Great interior with a premium finish and feature cabin air purifier. Outside I love the way Hyundai had placed the DRL with a wide chrome grille and Mercedes influenced tail lig...കൂടുതല് വായിക്കുക

It looks like a sporty and it is so comfortable and awesome. It gives great mileage and value for money with a fresh look and great features.

In modern life, the car has the best experience and comfortability. It has awesome features and it gives competition with all mid-range SUV's. Its has good mileage and also has features from other cars. Also, it is in the most featured and trending car. So, the decision can be taken of buying. കൂടുതല് വായിക്കുക

AC and Mileage On worst condition. I too experienced a very bad about AC compressor and even after hardly complaints replacement of compressor done and after that AC not working too... കൂടുതല് വായിക്കുക

Very good look and but mileage is low only 23.7 kmpl and Hyundai is blue link and sunroof is also good music sound is also good.

The venue is the best compact SUV in all segments and a good rival to Tata Nexon. It is in both diesel and petrol variants which cost from 6.55 lakh to 11.15 lakh. The diesel variant gets a 1.4 ltr ( 1396 cc) and petrol is with 1.2 ltr( without turbo ) and 1ltr ( turbo) as well. It has an average mileage of 23.7 kmpl ( diesel ) and 18.5 kmpl ( petr...കൂടുതല് വായിക്കുക

The pickup of the car could have been better. The rear headlamps could have been bolder to add boldness to its sleek design, as well as front grill looks good but it could have made better. The performance of the car for city use is perfect, also it provides good mileage. The fit and finish of the car are good as we see in all the cars of Hyundai. ...കൂടുതല് വായിക്കുക

Bought the Venue 1.0 Turbo Dct in the month of February 2020 after booking i20 CVT in the month of January 2020 which got discontinued and as my luck has it got the perfect car for the price point. There are few cons are there but I will talk about the pros first. Pros: 1. Comfortable during long rides. 2. Stable on highway speed of around 80-120k...കൂടുതല് വായിക്കുക

An SUV With tons of excellent features. I like the speed sensing alarm that alerts when speed goes to approx 70kmph and at 100kmph approx, and the mileage of the SUV even before the first service, it gives the brilliant average of 17.5kmph (petrol variant). In short a perfect SUV at very affordable price. കൂടുതല് വായിക്കുക

The interior fit and finish are excellent and the boot space is more than sufficient. The infotainment system quality is top-notch, best in class safety features with 6 airbags, the build quality is great. The alloy wheels are heavy and the design is nice. Suspension tuning is best. The after-sale services are good and the cost of maintenance is al...കൂടുതല് വായിക്കുക

In terms of safety, the venue is fabulous but its city mileage is very low. However, the driving experience is awesome.

A Perfect SUV with great features an SUV with tons of excellent features. I like the speed sensing alarm that alerts when speed goes to approx 70kmph and at 100kmph approx. The mileage of the SUV even before the first service, it gives the brilliant average of 17.5kmph (petrol variant). In short a perfect SUV at a very affordable price. കൂടുതല് വായിക്കുക

The styling and the mileage of this car are amazing, especially in the top variant the bluelink technology is awesome. 

It is a comfortable car. It's interior as the well exterior is good. Also, its mileage is good.

Venue mileage is 17.52 to 23.7 km. The Manual Diesel variant has a mileage of 23.7 km/l. The Manual Petrol variant has a mileage of 18.27 km/l. ... So, anyone deciding to buy the car Hyundai venue is the best car to have. കൂടുതല് വായിക്കുക

In the hatchback segment, the Hyundai Venue proves to be the most shaped and designed to be loved car. Moreover, the much appealing is of course look and expected mileage with Well experienced acceleration. Company has designed the car appealing the middle class and near to their 'Dream Car' experience. Nice & excellent in this segment. കൂടുതല് വായിക്കുക

 It is one of the best car to feel much comfortable. Affordable mileage is also a pretty good factor. On the road, it gives tremendous experience to me and all these come at a reasonable price. കൂടുതല് വായിക്കുക

Venue Turbo is superb to drive, its powerful, you can feel the power when you climb ghat road, even at 4th gear pulling power is awesome. mileage of venue turbo 1.0 engine is good. I test drive Seltos, But I liked Venue reason its Young Look and Powerful engine. കൂടുതല് വായിക്കുക

Hyundai venue is an overall best SUV in the segment, with all premium features, good mileage, available in dual-tone color with dual-tone interiors.

This is a great car with amazing features. Its mileage is amazing.

It is an economical car and its mileage and comfort is great.

Really good car, super specifications and it has really good space and comfortable, nice looking,  my family is really satisfied with this car,ac is also good, smooth gears, good mileage and good pickup. കൂടുതല് വായിക്കുക

 The price of the car is cool, good quality, mileage is good but, I don't like the sunroof present in it.

Great car to drive in city and highway. We have a diesel SX trim and have done 1500 km till now. Great mileage too.

First of all the height of the car is small even legroom is not satisfactory if 3 people seating at back Then AC vent which is placed at the back will not able to provide sufficient cooling. It is because due to their legs will stick to ac vent. Design is also very uneven. It looks bulky from the front but when we see from back it looks very small ...കൂടുതല് വായിക്കുക













Not Sure, Which car to buy?
Let us help you find the dream car

Are you Confused?
Ask anything & get answer 48 hours ൽ
ഉപഭോഗ്‌താക്കളുടെ നിരൂപണങ്ങൾ വേണു പകരമുള്ളത്
*എക്സ്ഷോറൂം വില ന്യൂ ഡെൽഹി ൽ
ട്രെൻഡുചെയ്യുന്നു ഹുണ്ടായി കാറുകൾ