എംജി astor ഉപയോക്തൃ അവലോകനങ്ങൾ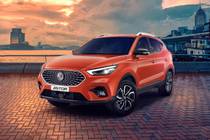 97 അവലോകനങ്ങൾ
Rs.10.28 - 18.13 ലക്ഷം *
*എക്സ്ഷോറൂം വില ന്യൂ ഡെൽഹി
എംജി astor looks ഉപയോക്തൃ അവലോകനങ്ങൾ
എല്ലാം (97)
Mileage (22)
Performance (14)
Looks (42)
Comfort (22)
Engine (10)
Interior (19)
Power (5)
കൂടുതൽ...
ഏറ്റവും പുതിയ
സഹായകമാണ്
CRITICAL
The design of this car is very appealing, and the colour especially turns heads. It is an SUV but gives me a feeling of a compact car being a tall person. I am a person who likes the car to be at a higher altitude, so this looks perfect. As a fan of music, the speakers are rocking, and perfect to listen to, if you go on long drives.കൂടുതല് വായിക്കുക

I'm driving Astor Sharp CVT for the last six months, overall love the exterior & interior of the car. In this segment, this is the best interior car & outside looks also fresh & very appealing. Here are the Pros & Cons: Pros: 1. As mentioned above the interior & exterior look especially the interior. 2. It gives a smooth...കൂടുതല് വായിക്കുക

Very nice model very good features and look Very good in SUV and very good performance and very high safety.

Really amazing car with great infotainment features, truly and new generation vehicle, comfort is amazing and the looks of the car are just fabulous. The maintenance of the car isn't a lot also the mileage is good. Perfect Suv.കൂടുതല് വായിക്കുക

It's good to see the look and design and super technology used. I like the car very much! The Astor Robot is very good and the 360° view of the car on the touch screen is very good! Getting to the screen it's very wide. It will be best if I would buy this car.കൂടുതല് വായിക്കുക

Amazing car, amazing function, gorgeous look, beautiful interior design, all over the best car for this price.

It's the best car on budget with a luxury interior as well as a dynamic exterior look, and lighting. Good competitive for Hyundai Creta, Kia Seltos. The Interior ambiance is too good when compared to luxury cars like Audi, Range Rover, and Land Rover.കൂടുതല് വായിക്കുക

Very nice car, engine power is very good and safety rating is also good. Its look very nice and charming this car absolutely nice.

It's a very stylish car, comes with amazing features and it is comfortable while driving. Good for the long drives and looks amazing.

Stylish looks with top-class comfort best driving experience ever from the map give us clear route and accurate time.

Really it's an amazing feature and comfort to ride .its colour and style are very good the logo of MG looks awesome.

The car is very magnificent. The performance of this car is amazing as well. Its looks are good.

Good performance, the value of money, and super features. Best seating, good design of the exterior, looking totally good.

Excellent style and look Must buy in this range. Loaded with advanced features Mid-range but high segment Car.

Mg Astor is awesome and the drive of Astor is too smooth. The design and looks of this car are fantastic.

I have been driving MG Astor since Dec 21. Few of the initial assessments that might help all: 1. So-called internet inside sucks. If you keep your vehicle parked for 2 to 3 days, the teak box goes into hibernation mode and wakes up only after 24 to 48 hours. Service Centre tried to fix the same, there are improvements but the issue still persists ...കൂടുതല് വായിക്കുക

This car has amazing hi-tech features. Which makes it better than Creta and Seltos. If you are bored of looking at Creta everywhere on road. So want to ride something new, and unique which is batter for you.കൂടുതല് വായിക്കുക

This car is good looking, beautiful exterior in red colour. It looks much attractive. The mileage is too good, the comfort is exceptional, and the interior quality is excellent. Even I drove it for 600 km in one go, without taking more than 10-15 mins break for 14-15 hours. I did not feel tired. What a car guys 😀കൂടുതല് വായിക്കുക

Fully satisfied with this car. 5-stars for interior, safety, exterior, and looks. 4 stars for rear space. Overall it's an awesome car.

The car surprises us on many counts, fully satisfied with the looks, features, comfort, and performance of the car after 2 weeks of usage. It looks and feels very premium. Very unique on the road as it is still a new car. Car is fabulous on all counts. Though the negative point is the Jio network which came inbuilt with the car. Half of the time, t...കൂടുതല് വായിക്കുക

We just bought MG Astor and I cannot describe how much I am loving it! It's a beautiful car! We were planning to buy Kushaq. It's a great car but lacks various parameters. The features you get at that price point makes you think twice. We didn't want to buy Creta (okayish looks and interiors) and Seltos (poor safety). So, went to see MG Astor, and ...കൂടുതല് വായിക്കുക

This car comes with hot & stylish looks and a special ADAS feature. I love this car. Safety features are good, interiors are impressive.

I have bought it the last week & looks very promising. Premium interiors & externals will stand out the car in the crowd. People doubt its mileage, but I think it will be better as we serve. Currently, it gives me around 14-16kmpl mileage.കൂടുതല് വായിക്കുക

I bought MG Astor Savy Red CVT. A new drive for me. I really love the car after doing a lot of comparisons. Finally, I am happy that I have chosen the right car. The car is very responsive feels, and the drive is very fun, also not sure we can use all ADAS(Advanced driver-assistance systems) features on Indian roa...കൂടുതല് വായിക്കുക

It's been a month since I got my hands on the MG Astor Sharp MT, and after driving it for around 2000kms, I can list the pros and cons that I figured out. Pros: 1. The styling is very elegant. 2. Solid build quality and top safety features in this segment. 3. Amazing handling and steering response. 4. Very comfortable for both city and highway...കൂടുതല് വായിക്കുക

Huge expectation to MG Astor, after using Creta 1.6 E+ petrol for 5 years, MG Astor 1.3 CVT variant, In the first instance There is no headroom, I am 5.9 it's too short for me and in the rear seat it even worse, Initial pickup is so bad, even an old ambassador can do better. On a smooth drive, it's running like old I10 Amt with the u...കൂടുതല് വായിക്കുക

Major Challenger, Test drove it multiple times and then booked it. Brings a big smile to your face. Smoot drive could get around 11-13kmpl in the city in AT. ADAS(Advanced driver-assistance systems) is very helpful. Very safe and confidence-inspiring. Exterior best in class. Interiors look way above their class. No real cons. Auto IRVM(In...കൂടുതല് വായിക്കുക

MG petrol engines are not Fuel efficient and in Bangalore bumper, to bumper traffic, this may tend to serve 8 km. As hector provides 5-6 kmpl. I doubt performance and long-term reliability too. Hence my 10 cents is looking for Indian car manufacturers, even features are less provide better VFM in long-term usage.കൂടുതല് വായിക്കുക

It Looks like a BMW X1. Good safety features, and very cheap price. Dual interior design is very fantastic.













Not Sure, Which car to buy?
Let us help you find the dream car
ഉപഭോഗ്‌താക്കളുടെ നിരൂപണങ്ങൾ astor പകരമുള്ളത്

Are you Confused?
Ask anything & get answer 48 hours ൽ
ട്രെൻഡുചെയ്യുന്നു എംജി കാറുകൾ
3

Rs.6.00 ലക്ഷംകണക്കാക്കിയ വില

പ്രതീക്ഷിക്കുന്ന ലോഞ്ച്: jul 06, 2022

marvel എക്സ്

Rs.30.00 ലക്ഷംകണക്കാക്കിയ വില

പ്രതീക്ഷിക്കുന്ന ലോഞ്ച്: ഏപ്രിൽ 01, 2023

rc-6

Rs.18.00 ലക്ഷംകണക്കാക്കിയ വില

പ്രതീക്ഷിക്കുന്ന ലോഞ്ച്: jul 15, 2023
* എക്സ്ഷോറൂം വില ന്യൂ ഡെൽഹി ൽ
×
We need your നഗരം to customize your experience