മാരുതി എക്സ്എൽ 6 ഉപയോക്തൃ അവലോകനങ്ങൾ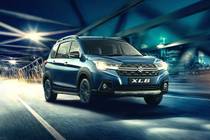 Rs. 9.84 - 11.51 ലക്ഷം*
*എക്സ്ഷോറൂം വില in
ന്യൂ ഡെൽഹി
മാരുതി എക്സ്എൽ 6 ഉപയോക്തൃ അവലോകനങ്ങൾ
All (151)
Mileage (23)
Performance (12)
Looks (41)
Comfort (46)
Engine (24)
Interior (32)
Power (17)
കൂടുതൽ...
ഏറ്റവും പുതിയ
സഹായകമാണ്
VERIFIED
CRITICAL
XL6 is the best car for Indian roads, comfort and superb design. All features in the mounted good looking top range.

The car is good enough. The design of the car is outstanding and absolutely best. But there are lack of safety features and the tyre size of the car is too small.

It's just a complete car in a low budget. Safety, performance, mileage, seatings color choices all are excellent.

Very comfortable and good interior. We can adjust seats according to our wish I like this car so much.

This is one of the best Maruti Suzuki can deliver in its MPV segment with low budget cost, high comfort seating in all its class, one of the best cabin noise insulation which makes car noiseless inside. The car has sufficient space, mileage, and a new look. Its petrol engine BS6 provides you great milage and smooth drive... കൂടുതല് വായിക്കുക

Very nice car and very comfortable to drive. The car has sufficient space, mileage and a nice look. Moreover, it is complete with Innova car but it is priceless and Innova like a luxurious car. കൂടുതല് വായിക്കുക

Nice car and has good mileage too but the problem is that its interior color is not good all the interior of Maruti Suzuki is black. It is so cheap we cannot complain to that and the good things are there is automatic and manual transmission and comfortable seats and many but Maruti XL6 should have a sunroof and Eco mode too and that would be great...കൂടുതല് വായിക്കുക

The car is good but the built quality is not good enough. The bicycle is damage from the front side. Speed of 20km/h.

A very comfortable car with pricing being the icing on the cake. Go for it if you have 4+ member family size. You won't regret it.

Best car if compared to Ertiga. Standard safety features, sporty and premium design, leather seats. Just go for it.

I am very happy to say Maruti Suzuki this is styles from the cross and very comfortable for captain seat.

My car is nice but your car looks very good nice experience and also my car is new one its new model Maruthi.

It is very good and luxurious and higher boot space. It will enough to travel 6 members and much more luggage. 

I have booked the Zeta version. And got parking cam, leather steering, wheel cover, as a freebie from the dealership. I preferred MT because automatic has no throw on the highway when we overtake. Also, the interior is so good. Best in class mileage in this segment. Also drive quality is awesome. The only thing is with 16 inches or 205/60/15 wheel ...കൂടുതല് വായിക്കുക

The car is a great car and is safe to drive too. The car has great mileage and the comfort offered is very well.

This is a great car, it is easy to drive and is comfortable too. The car has great safety features too, I loved the interiors too, the dashboard is black and looks great. I guess this will be the best car ever in my entire career. The car provides great performance. The engine is powerful. കൂടുതല് വായിക്കുക

The model of the car is nice and the milage 17.5 km per liter, its space is more and its features are nice.

It's a great car ..value for money. Stylish. Some improvements can be made such as it should have 16-inch machine-cut alloys with 215/60 R16 radials. It should have auto-dimming irvm The covers in the boot should be clipped so that do not jump and make noise on bumps. But the again overall package is great. കൂടുതല് വായിക്കുക

This is the best car in Maruti Suzuki. This car has many features. Please this car best car ever. This is the best car in 9 lacks to 12 lacks it is the best car in muv. I love the car. The interior Is also best the exterior is nicer if you compare with ertiga . This car will win. Bcoz the car has the best feature in. It is the best car ever in the ...കൂടുതല് വായിക്കുക

I loved this car on the basis of comfort, colour, big in size. Very smooth to drive. Ground clearance highly featured.

This car has good interiors but is terrible technically. The road handling is very bad and there is too much of compartment noise. One never feels in control while driving this vehicle. I am not even sure if this has a good safety rating. I wanted to buy a 7 seater and a second family car but this car is only for someone who has never driven a good...കൂടുതല് വായിക്കുക

We have purchased the XL6 we were confused between the Ertiga and the XL6. Ultimately we choose the XL6 because of the premium looks and the comfortable sitting. 

This is one of the best cars at this price, also the mileage of vehicle is very good.

Performance is awesome. sitting comfort is just like any luxurious car. Pick up is good around 2500 RPM, Mileage is good, features are good at this price. Headlamps are somewhat disappointing. The sound system is good. They should include camera too in Zeta model as it is very common nowadays. SHVS works well in daily traffic areas. Overall nice pe...കൂടുതല് വായിക്കുക

Xl 6 is a good car and its features are very nice. 

Maruti XL6 is a wonderful car. I have seen it is complete SUV, it has great space inside and the boot space is also good, it has wonderful headlights and fog lights, it has very good speakers, it has a great touch screen. കൂടുതല് വായിക്കുക

Not much safety features. You can feel the jerks inside. Noise is coming from the dashboard. Blowers on the rear side is not cooling perfectly. Bigger tyres should be there for a better grip on the road back pain is there if you go long. a mileage of 15 /16 is there in city drive. In my opinion, Ertiga is a good bet. കൂടുതല് വായിക്കുക

Car is very comfortable very spacious and automatic gearbox lacks sometimes at higher speeds and this car is a family and not a car that can be driven very aggressively. The smart hybrid system in this car doesn't work every time and the average fuel consumption is 13 km per litre I'd like to give 4star out of five to this car കൂടുതല് വായിക്കുക

It is a very great car with great comfort. Its features are amazing with more than 10 inches wide touch screen, specs Holder, 5 speakers, very wide windows, defogger, rear and front cleaner with water, 2 side mirrors, thrid row folds which is very handy for a great amount of storage, it also has a unique foldable extra space of boot space, the firs...കൂടുതല് വായിക്കുക













Not Sure, Which car to buy?
Let us help you find the dream car

Are you Confused?
Ask anything & get answer 48 hours ൽ
ഉപഭോഗ്‌താക്കളുടെ നിരൂപണങ്ങൾ എക്സ്എൽ 6 പകരമുള്ളത്
*എക്സ്ഷോറൂം വില ന്യൂ ഡെൽഹി ൽ
1 ഓഫർ
മാരുതി XL 6 :- Exchange Bonus മുകളിലേക്ക് to Rs.... ൽ
16 ദിവസം ബാക്കി
ട്രെൻഡുചെയ്യുന്നു മാരുതി കാറുകൾ