കിയ സെൽറ്റോസ് ഉപയോക്തൃ അവലോകനങ്ങൾ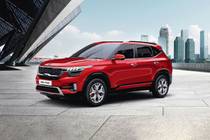 Rs. 9.89 - 17.34 ലക്ഷം*
*എക്സ്ഷോറൂം വില in
ന്യൂ ഡെൽഹി
കിയ സെൽറ്റോസ് mileage ഉപയോക്തൃ അവലോകനങ്ങൾ
All (1855)
Mileage (214)
Performance (210)
Looks (604)
Comfort (434)
Engine (256)
Interior (317)
Power (172)
കൂടുതൽ...
ഏറ്റവും പുതിയ
സഹായകമാണ്
VERIFIED
CRITICAL
I have been living with this car for the past 6 months and I genuinely love the experience. I have the GTX Plus AT variant as automatic suits my needs better. There's a lot to really like about this car, the look and feel just leaves me awed for a moment every time I enter my car. I love all the features, the infotainment system, the screen, the cl...കൂടുതല് വായിക്കുക

This is such a fabulous car in performance and mileage is also good and its features are amazing.

The comfort of the car is unbelievable and the mileage is very good. Safety is also very good.

Superb Car. Just lacks panoramic sunroof otherwise it's perfect. I drive GTX plus AT diesel. Despite being a diesel engine, there is minimal engine noise inside the cabin. The pick up is solid and confident on highways at high speed. In eco mode, the mileage is very satisfactory (Mumbai - 15 km in auto). And, most importantly the cabin is plush and...കൂടുതല് വായിക്കുക

Good looking and styles car. Mileage is also good and it is super.

Really a very nice car with powerful mileage, style, and comfort. worth having it. I like to draw attention that the rear parking camera is not good (picture quality is poor) and one more thing that we cannot operate pen drive(for music) and android auto at a time. കൂടുതല് വായിക്കുക

 Its the best in its segment. The engine power is sufficient and over comfort and quality levels are excellent. If you want a Kia Seltos with all the features and looks with a good mileage you should definitely opt for the HTX trim. In terms of looks, the HTX model has most of the features that are present in the GT line. കൂടുതല് വായിക്കുക

I have an HTX petrol variant and I must say the car is simply awesome. Recently, I took my car from Delhi to Lucknow through Yamuna expressway, and to my surprise, it overtook every car on the road and I didn't realize because it was so smooth without any shaky feeling. As far as mileage is concerned it is 16-17 km in cities. However, on the highwa...കൂടുതല് വായിക്കുക

I bought Kia Seltos HTX+ Diesel car in the month of January and till now had used it for a ride of 6000+ km. Let, I tell you about my experience. The car has a good hold on-road and the cabin feels quite good, the infotainment systems get a thumbs up in every expect, the mileage of my vehicle is as follow. In city around, 17kmpl on-highway around 1...കൂടുതല് വായിക്കുക

4.7 kmpl mileage is a problem. Kia safety and modify look makes in a nice car of new generation. 

This car has very good looks. This can be compared with Toyota Fortuner.this is budget car and standard car. I like this car very much but different people will see this differently. Its mileage is cool but I think some more mileage is needed and engine capacity also very good and strong enough.safety and security is good. കൂടുതല് വായിക്കുക

Just got the delivery of the vehicle days before lockdown due to COVID-19. Did not have many opportunities to drive for long distances, however, managed to drive about 85 km within the city. Extremely happy with driving comfort- steering too soft to handle. Ran the engine on ECO mode only, happy with the engine response. Average mileage recorded 13...കൂടുതല് വായിക്കുക

While I agree the car looks stylish from outside bit the interiors were below expectations. While Kia has offered lots of features on the top model, the middle variants lack the appeal. I went for HTK+ model and was not satisfied. I am 6feet tall and the support for my thighs was hardly there. I have experienced better support in Skoda cars. The pl...കൂടുതല് വായിക്കുക

I Have an HTX CVT, the petrol variant of Kia Seltos and it Is giving a mindblowing performance, maintenance is good from my side. The comfort Of Kia Seltos that I feel like was sitting in Mercedes Benz, Audi Car. There are so many features In Kia Seltos like its infotainment system with his smart connectivity, android auto, and apple car play. It h...കൂടുതല് വായിക്കുക

I have bought my Kia Seltos GT manual in September. Positives are a completely fullfilled package for the money. It can reach 0 to 100 km/hr within a minute. Comfort is a class. Once I was driving in 160 km/hr there was sudden hinder in the highway and I was in a situation to apply the sudden brake and turn my steering I was so feared but the contr...കൂടുതല് വായിക്കുക

I bought a Kia Seltos in November end. I use HTX PLUS AT diesel model. I am really happy and totally satisfied with my choice. The automatic transmission works really smooth and no lag when shifting gears. Great mileage in the city of approx 16-18kmph and 20 approx in the highway. Went on the road trip to Mussoorie. works just perfect for me. Very ...കൂടുതല് വായിക്കുക

Car is best and full comfortable and car feature is very best mileage normal car pickup no.1 KIA.

It's a mind-blowing car with all the latest features any person wants and the interior as well. The drive quality everything is just superb the steering is super light and there is no cabin noise at all. The only thing on which Kia has to work is in the comfort of the seats because the seats can be more comfortable. The mileage of the Kia Seltos is...കൂടുതല് വായിക്കുക

Looks supercools and the comfort level and performance is too high, except the mileage, everything is good at this price.

This is the best car in the world as the mileage is coming above 21 and the safety features are much better than the old Creta and the mileage is better than MG Hector the car has so much safety feature as no one can unlock the while car is moving and the speakers are also so good and the speaker beat is also best I will suggest buying this car onl...കൂടുതല് വായിക്കുക

Awesome SUV car for family tour, boys outing and daily uses. Nice pick up with awesome mileage and style.

I bought that big crown-like car and I noticed that all the world around me looking to it like wow while night it looks like tight silent running and its mileage. Good as I expected it gives around 18 as it is HTX+ and when it comes to comfort there is no doubt that it has a great one and most interestingly. It has great feature and sound system is...കൂടുതല് വായിക്കുക

It is very cute and beautiful and very comfortable and the design is very marvellous mileage very good. It's not a car it's one of the members in my family.

Beautiful car best mileage sofa driving super superman super driving best drawing to return the value.

Kia is the best car my choice Kia Seltos gives good mileage and good performance.

Nice features but less mileage and price are too high. It has good space but not looking much beautiful.

The car Kia Seltos is very good by look. The body is very strong. The car doesn't require much maintenance. Mileage of this car is very good as well. My personal review for this car is very positive and my experience with this car is awesome. So that is why I am giving 5 rating stars to this outstanding car. Everyone should buy this awesome car. I ...കൂടുതല് വായിക്കുക

Kia Seltos is a very good car and it is also safe to drive, and it completely suits a family. It gives a mileage of about 12kmpl in the city and it can run at 200kmph too. The car has a panoramic sunroof, and the AC cools the cabin quickly. കൂടുതല് വായിക്കുക

Car is very good, especially safety features are too good and the mileage of the car also excellent. With a spacious interior is also very nice.













Not Sure, Which car to buy?
Let us help you find the dream car

Are you Confused?
Ask anything & get answer 48 hours ൽ
ഉപഭോഗ്‌താക്കളുടെ നിരൂപണങ്ങൾ സെൽറ്റോസ് പകരമുള്ളത്
*എക്സ്ഷോറൂം വില ന്യൂ ഡെൽഹി ൽ
ട്രെൻഡുചെയ്യുന്നു കിയ കാറുകൾ