Bumblebee's little brother
Bumblebee's little brother
Hi, my family owns a Chevrolet Beat since 2011 and I have been driving that car ever since. It has done 20000 kms. I am a big car enthusiast (always wanted to write a review). Here goes, Firstly let's start with the engine and transmission. It is a 1.2 liter, 4 cylinder petrol unit and so obviously it is a very smooth motor (there is not that thrumming sound of the 3 cylinder unit) but this engine does not like to be revved. The power is served up in a linear fashion. The gearbox is a 5-speed manual unit. It is okay but not a very good one. It feels a bit notchy. The clutch is also very light. Secondly, let's come to the steering. It is a hydraulic power steering. Frankly speaking, I think this is the best part of the car. It is an absolute joy, you can feel the road, it is also of the right size (fits in your hand perfectly). Thirdly there is the suspension. It is slight stiffly sprung suspension, which means handling in the corners is reasonably good. This does not mean it is any way uncomfortable, it also rides well (tends to crash through the bigger potholes, though). Then there is the interior. It is all black interior. The plastics are hard but textured and also it is well built. (will last for a long time). It is also a funky looking one. The seats are well cushioned and quite comfortable and the car reasonably spacious enough. Then the styling. Well, what to say, it is stylish, isn't it?? According to me the biggest disadvantages of this car is 1)- poor mileage (around 11kmpl in city and 14kmpl in highway) 2)- poor A.C.(it's rubbish) 3)- expensive parts Servicing is good, though. For the first 3 years, it is a breeze. Reception is good and does not keep you waiting. CONCLUSION- Although there are a few drawbacks it is a fun little car which can be enjoyed for some spirited driving.
Write your Comment on ഷെവർലെറ്റ് ബീറ്റ്
ഷെവർലെറ്റ് ബീറ്റ് ഉപയോക്തൃ അവലോകനങ്ങൾ
അടിസ്ഥാനപെടുത്തി
243 ഉപയോക്തൃ അവലോകനങ്ങൾ
എല്ലാം (243)
Mileage (145)
Performance (45)
Looks (175)
Comfort (142)
Engine (77)
Interior (69)
Power (64)
More ...
ഏറ്റവും പുതിയ
സഹായകമാണ്
VERIFIED
CRITICAL
Within a short budget I choose this car. It gave me wonderful mileage. Not very comfortable at the rear seat but with 60:40 split option even in the lower models it gave ...കൂടുതല് വായിക്കുക

I have BEAT Diesel car and it crossed almost 75000 KM running , But now I have started facing lot of problem 1] Engine is consuming oil , I have to replace it every 5000...കൂടുതല് വായിക്കുക

I have purchased Chevrolet beat Diesel model LT in Feb 2013, the car is really nice and compact still four persons can easily travel in this car rear seats are also havin...കൂടുതല് വായിക്കുക

Our family has always been inclined towards buying Maruti. But I had to buy a diesel car with low budget. Decided to go for Beat LS diesel model. I must say am really imp...കൂടുതല് വായിക്കുക

I am using Chevrolet beat from past 4 years and was getting it serviced from Bosch service center. Don't know why I got my last service done from Chevrolet dealer on 31st...കൂടുതല് വായിക്കുക

I bought beat base model before 2 year in 2016 sep (4.80) with front power window steering very smooth good space, can sit 5 people easily mileage 20 in city with A.c and...കൂടുതല് വായിക്കുക

Purchased in 2010 July, the car has been excellent mate in terms of a single-handed drive. Its been a true companion on highway driving, in 42 degrees temp of Gujarat, wh...കൂടുതല് വായിക്കുക

its the 4th year - perfect hatchback for Indian traffic. Amazing size, powerful engine, best suits for a small family with terrific mileage as promised by the company ( v...കൂടുതല് വായിക്കുക

എല്ലാം ബീറ്റ് അവലോകനങ്ങൾ കാണുക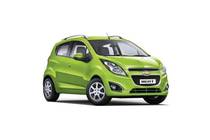 Rs. 4.32 Lakh - 6.57 ലക്ഷം*
ഈ കാർ മോഡൽ ഉൽപ്പാദനം നിർത്തിയിരിക്കുന്നു
സമാനമായ ഉപഭോക്‌താക്കൾ സേർച്ച് ചെയ്തവ