HOW IT ഐഎസ് എ DREAM കാർ ?
HOW IT IS A DREAM CAR ?
A car which is a dream of every family. AUDI A6 when the name comes at your tongue it simply describes luxury and cool even. Let me describe you the interiors looks as it is audi a6 it tells you about trust and people choice even. I am from middle class family and everyone knows as how difficult it is to be purchased but when it comes to a car lover rather he would like to grab it with EMI or in taking some hard decision for it. Whether you know or not but when anyone hear about this car it simply describes you rich and wealthy person among them and rather he would be from middle class.Let me tell you about its features [it has sun roofs which make you happy in any season whether it comes to storm or rain] It is a automatic car as it feels you comfortable and you can drive it with your one leg also. Putting this sedan in motion reveals one compelling thing; it actually drives like its price tag indicates it should. The A6's diminutive four-cylinder engine kicks hard just past idle, pulling with unexpected enthusiasm throughout much of the rev range, especially between 2,000 and 5,000 rpm. This car is way quicker than you'd think, particularly when you consider its tubby curb weight, which is just 43 pounds shy of two tons. S6s are even huskier, straining the scale at nearly 4,500 pounds, though they do have a huge power advantage, with 450 horses on tap.The 2016 Audi A6 is a thoroughly enjoyable luxury sedan. It's spacious, stylish and unexpectedly swift even when equipped with the "entry-level" four-cylinder engine. Its over-the-road solidity is appreciated, as is its feature content and high-quality interior.The 2016 Audi A6 is an extraordinarily well-mannered car, comfortable for the everyday commute and capable on country roads, with a full course of connected cabin technology putting useful driving and location information at your fingertips.
Write your Comment on ഓഡി എ6 2015-2019
1
R
rajnish
Feb 19, 2019 5:05:21 PM
this article & its language is so technical it seems to be written by some car dekho employee or by the automobile blogger ..not by the actual user
മറുപടി
ഓഡി എ6 2015-2019 ഉപയോക്തൃ അവലോകനങ്ങൾ
അടിസ്ഥാനപെടുത്തി
23 ഉപയോക്തൃ അവലോകനങ്ങൾ
എല്ലാം (23)
Mileage (1)
Performance (3)
Looks (10)
Comfort (10)
Engine (11)
Interior (5)
Power (7)
More ...
Hi, I am retired from the army and was looking for a good looking and luxurious sporty looking sedan for me and my family, which will be mostly chauffeur driven and occas...കൂടുതല് വായിക്കുക

The Audi A6 is my first high-end luxury car. This car is completely worth all the money which I have invested. The leg room in the car is so good and satisfying, Bot...കൂടുതല് വായിക്കുക

Audi A6 is a great car with great mileage but its maintenance is very high. Overall, I choose this car compared to other cars.

The best experience while driving this car. The feeling is awesome. Great luxury car and it make me happy. All the features are best.

I bought this car brand new from the showroom and till now, it's been a good experience owning the vehicle. The worst part about the car is it's got very bad ground clear...കൂടുതല് വായിക്കുക

In the Audi A6, the engine is stronger than any other luxury car. THe looks are stylish and decent.

എല്ലാം എ6 2015-2019 അവലോകനങ്ങൾ കാണുക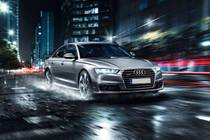 Rs.45.90 Lakh - 56.78 ലക്ഷം*
ഈ കാർ മോഡൽ ഉൽപ്പാദനം നിർത്തിയിരിക്കുന്നു
സമാനമായ ഉപഭോക്‌താക്കൾ സേർച്ച് ചെയ്തവ
ട്രെൻഡുചെയ്യുന്നു ഓഡി കാറുകൾ
ഓഡി ക്യു7

Rs.80.00 ലക്ഷം*

പ്രതീക്ഷിക്കുന്ന ലോഞ്ച്: dec 10, 2021

ഓഡി എ3 2022

Rs.35.00 ലക്ഷം*

പ്രതീക്ഷിക്കുന്ന ലോഞ്ച്: മാർച്ച് 01, 2022

ഓഡി ക്യു3 2021

Rs.40.00 ലക്ഷം*

പ്രതീക്ഷിക്കുന്ന ലോഞ്ച്: മാർച്ച് 01, 2022