A car with Good looks ബജറ്റ് ൽ
A car with Good looks in budget
Mahindra Verito is our family car. I'm writing this review after using it for last 4 years. In 2012, we bought a brand new Verito. To make this review more helpful, i want to tell why we needed a car and what were our expectations from a car and all that ...We are a farmer family. My farm is about 120 kms far from my home , my father often visit there so we need a vehicle which is fast in speed, durable and most importantly which fits in our budget. Before Mahindra Verito we owned TATA Indica car. We live in Thar Desert area of Rajasthan, where roads are not that much developed and often we travel by sandy paths and gravel roads. Hence we need a car with powerful engine. Keeping in mind all these things we had some options before us in cars like those of some models of different companies. Verito was one of best cars which meet our needs. Now coming to the review...After 4 years of experience, I rate this car 3/5 as Good. Here are some Pros and Cons...Engine Performance: Engine is working perfectly even after 4 years and about 1 lac kms of driving. With timely changing oil the gear box and engine caused negligible maitenance cost. It gives feel of power in hand after second gear with quick response to acceleration. Break and clutch padels are woking efficiently and smoothly. Gear shifting is also very smooth experience I never faced my problem in this. I was driving TATA Indica before this car and can say that after driving this car it feels like to drive any luxury car above 10 lac of price. Interiors:The beautiful interiors of Verito is like that of any luxury cars. Switches of wipers, indicators, head lamp are working properly. There are specially designed two glass holders. Air conditioner (both hot and cold) is doing well. Important thing is the interior is spacious. I'm above 6 feet tall and i can sit comfortly on rear and front seats. Seats are comfortable and adjustable.Digital watch, Digital Odometer, Digital fuel and temperature indiactors are working well.Handling:After approx 1 lac kilometers of riding the handling of car is still easy and smooth. The power stearing is working excellent. No issue till now. Exterior:The color is still like new , no signs of fading. The shining is still there. After wash it looks shine and bright. Apart from this the look of this car is very attractive. In my opinion the look is best in class which feels like luxury.Ride quality:Here is one negataive point. The chasis of car started a little sound when drive on highway. Apart from this other things are good. On gravel roads rider dont feel any discomfort. Final words:My experience with Verito is satisfactory. Although there are no rear ac vents, bluetooths etc. But its ok. I don't need them at all. In this price segment the sedan like Verito is the best car. Thank you.
Write your Comment on മഹേന്ദ്ര വെറിറ്റോ
മഹേന്ദ്ര വെറിറ്റോ ഉപയോക്തൃ അവലോകനങ്ങൾ
അടിസ്ഥാനപെടുത്തി
59 ഉപയോക്തൃ അവലോകനങ്ങൾ
എല്ലാം (59)
Mileage (42)
Performance (13)
Looks (44)
Comfort (46)
Engine (19)
Interior (13)
Power (16)
More ...
ഏറ്റവും പുതിയ
സഹായകമാണ്
CRITICAL
Mahindra Verito looks awesome, from both interior and exterior. its electric variant is low power as compared with other variants. But it is very cheaper as compared with...കൂടുതല് വായിക്കുക

The best finest engine has used in this car, engine immobilizer technology keeps the vehicle safe, and best performance on long rides and cities. This car having good pic...കൂടുതല് വായിക്കുക

We all Mahindra is not into Sedans(in a way) but somehow the put Verito in the league for the people like me who want Mahindra but not SUV, and Verito proves this. I know...കൂടുതല് വായിക്കുക

Mahindra Verito D4 model is very good. I am using this car for the last 6 years and the results are excellent.

Mahindra Verito is a very good and low maintenance car. I'm using it for the last five years.

Best car for bigger legroom and boot space which offer a great fuel economy of 20kmpl. Noise in engine after few years of use.

This is a worst car the spare are expensive, end of the day the becomes scrap. Not recommended.

എല്ലാം വെറിറ്റോ അവലോകനങ്ങൾ കാണുക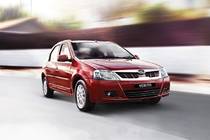 Rs. 5.27 Lakh - 8.87 ലക്ഷം*
ഈ കാർ മോഡൽ ഉൽപ്പാദനം നിർത്തിയിരിക്കുന്നു
സമാനമായ ഉപഭോക്‌താക്കൾ സേർച്ച് ചെയ്തവ
ട്രെൻഡുചെയ്യുന്നു മഹേന്ദ്ര കാറുകൾ
×
We need your നഗരം to customize your experience