ഹുണ്ടായി ഐ10 1.2
Hyundai i10 1.2
A beautiful car, which does not gets old, anytime. It has all the comfort of a bigger car, while drives, like a powerful bike. Driving it on highways, gives an impression of video games. Never fails in pickup, and power, with almost NIL cost of maintenance. Engine, never gives a problem, if regularly serviced. Service cost is also very less. The engine has virtually no noise, and cutting through city traffic is like using a red hot knife, on a chunk of butter. The sitting posture is also high, so that, driving long distances is not an issue at all. The view is excellent, minus a slight block, through the `A` pillar. Lack of ABS, EBD, and BA, can be felt sometimes, though being a small car, that may add to risk, rather than safety. The lamps of the headlight also needs to be changed from 55V to 90V, since the car is fast, and has ordinary headlights. The back seats also, offer decent space, for occupants who are less than 6 ft. The backseats are better for children and ladies(since ladies are normally shorter, in posture). Only drawback is the lack of strength, in the body, which is quite intimading. A superior built quality, would have been, made the car a wholesome offer, but then again, there is a price point, which comes, with solid steel. Recently, I went to Delhi, from Lucknow, and it was to my surprise, that my car, never complained, on any rough patches, while it was very comfortably cruising at expressway, at 120 to 130 kmph. There was not a point where I felt, I was loosing grip. I drove it, for six hours at a stretch, to Agra, from Lucknow, and the car never seem tiring. After a short break of 20 minutes, Where tyre pressures and all were checked, I climbed on the expressway, to find it amazing. Truly a good car minus the built quality. It is completely a fun car to drive, and gives a family feel.
Write your Comment on ഹുണ്ടായി ഐ10
ഹുണ്ടായി ഐ10 ഉപയോക്തൃ അവലോകനങ്ങൾ
അടിസ്ഥാനപെടുത്തി
158 ഉപയോക്തൃ അവലോകനങ്ങൾ
എല്ലാം (158)
Mileage (99)
Performance (46)
Looks (103)
Comfort (107)
Engine (72)
Interior (61)
Power (48)
More ...
ഏറ്റവും പുതിയ
സഹായകമാണ്
VERIFIED
CRITICAL
I purchased i 10 Magna model in 2010 and switched over to i10 from Tata Indica Petrol, which I used for almost 3 years. I drove i10 for almost 7.5 years before I went for...കൂടുതല് വായിക്കുക

All the tyres are recently replaced by new tyres. Engine oil is also recently changed. Gear oil is also changed. It gives a mileage of 19 KMPL.

I own a hyundai i10 2010 model. Its been more than 6 years i am using this car, and till date other than regular servicing, I have spent only 20,000 on servicing (becuase...കൂടുതല് വായിക്കുക

i am a proud owner of this car for last 7 years. i am 67 years old retired professional. this is the 7th car i am using now. i get a very happy sense of driving a safe ca...കൂടുതല് വായിക്കുക

Hyundai i10 is proved to be very reliable car during my 6 years of ownership. For me this is top most priority and I dont like to get stranded on a road or leaving my car...കൂടുതല് വായിക്കുക

What to say and where to start. i10 is my first car, on which I have started learning driving in 2014. Best thing about the car is its Steering module. It is effortless a...കൂടുതല് വായിക്കുക

A little city car that has got plenty to live up to. Sharp looks and a sweet but old 1.1-litre engine is still the drivetrain in this car. It's all about quality here - t...കൂടുതല് വായിക്കുക

Hyundai i10 has cool car the hatchback market in India since it's launch. I am quite satisfied with its performance. The entry level hatch i10 is decent in terms of comfo...കൂടുതല് വായിക്കുക

എല്ലാം ഐ10 അവലോകനങ്ങൾ കാണുക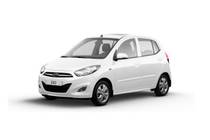 Rs. 3.79 Lakh - 6.55 ലക്ഷം*
ഈ കാർ മോഡൽ ഉൽപ്പാദനം നിർത്തിയിരിക്കുന്നു
സമാനമായ ഉപഭോക്‌താക്കൾ സേർച്ച് ചെയ്തവ
ട്രെൻഡുചെയ്യുന്നു ഹുണ്ടായി കാറുകൾ