റെനോ ട്രൈബർ ഉപയോക്തൃ അവലോകനങ്ങൾ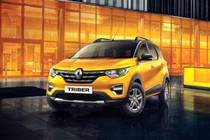 760 അവലോകനങ്ങൾ
Rs.5.92 - 8.51 ലക്ഷം*
*എക്സ്ഷോറൂം വില ന്യൂ ഡെൽഹി
റെനോ ട്രൈബർ വില ഉപയോക്തൃ അവലോകനങ്ങൾ
എല്ലാം (759)
Mileage (138)
Performance (94)
Looks (212)
Comfort (155)
Engine (193)
Interior (77)
Power (114)
Price (197)
കൂടുതൽ...
ഏറ്റവും പുതിയ
സഹായകമാണ്
VERIFIED
CRITICAL
Renault Triber : An MPV at this price with all goodies is truly amazing. Renault always comes up with good cars except for Captur. A very close competitor of this car is Datsun go+ but this triber is far better than Datsun one. The most amazing feature of this car is an adjustment of the seat from a 5 seater to 6 or 7 seaters.കൂടുതല് വായിക്കുക

For the given price range Renault Triber is an absolute grab. Stylish looks excellent comfort. If you willing to compromise with power go for this car

Renault Triber is the excellent car in this price range got delivery yesterday a beautiful and stylish SUV type feeling and a good performance and great mileage may be more powerful engine but it's ok for this price range when we sit in the car we will get feel high-class SUV. I got delivery yesterday I went for 100 km drive there was no issue...കൂടുതല് വായിക്കുക

Renault Triber is the best gift to every family given by Renault. Look wise so attractive, space of car in 4-meter segment is outstanding. Price of the car is reasonable if we talk about sitting comfort, it's superb on all of its segment. The best thing is of the car is that you can use it as 5 seaters with a 600 ltr boot space and when required co...കൂടുതല് വായിക്കുക

Renault Tribern is looking impressive but quality-wise it is poor car. Interior of the car also looks incomplete. The car does not give a feeling of sturdy or powerful. As it's a 7 seater car but keeping the price in mind, it is good car.കൂടുതല് വായിക്കുക

Renault Triber is value for money car. The car has great features. Best 7 seater at the cheapest price.

Renault Triber is the best value for money car. Excellent vehicle at such an affordable price.

Renault Triber is a Family friend car for the Indian market, We are Indians need such family car to manage the need. Of course, there little missing features comparing with other cars like I10 and Swift but it is only satisfying the Family need from the Middle-class affordable price with satisfying facilities.കൂടുതല് വായിക്കുക

Renault Triber is a good car with great features at an affordable price. It gives a good average and has large boot space.

Renault Triber is an excellent car. It is a multi-purpose vehicle. It is a good safe 7 seater car. This car is available at an affordable price. Has a good engine power of 999cc. It has a large boot space. കൂടുതല് വായിക്കുക

Renault Triber is an awesome car with more space that can fulfill your space needs. If you are a family person so you should definitely go for it. It has amazing interior with short margins of the price.കൂടുതല് വായിക്കുക

From the various reviews, I think Renault Triber is a great value for money car for this price range. I can see many complaining about low engine capacity to carry 7 persons. Many are comparing with Brezza, Innova, etc which are very high in price, which is not an apt comparison. And anyway, we are not going to go out with the family (if you have 7...കൂടുതല് വായിക്കുക

Renault Triber is an amazing car than other cars under 8 lakh. I was unexpected in this price with a luxury car. I saw a review of the car. So I exchange my car and Buy this car.കൂടുതല് വായിക്കുക

Renault Triber is an excellent package in affordable pricing. There is a myth that the 1.0 L engine will not cart 7 people. Renault makes it possible with dual VVT technology. Triber performance is very good. Must buy this car.കൂടുതല് വായിക്കുക

Renault Triber is a good crossover at an affordable price. It has much space in both the first and second row. The last seat is convertible. It has rear A.C. vents which is the best part of the car. I felt a slight vibration in 1st gear at 5 to 10 km/h.കൂടുതല് വായിക്കുക

Today I have taken a test drive of Renault Triber RXZ model..good in engine voice, the suspension is good, cooling of AC is good inside even at back row (tested at 36'C). The transmission system is soft. Checked ABS with EBD on the highway find good. The exterior of Renault Triber looks like an SUV. So overall it's a perfect vehicle for Indian cust...കൂടുതല് വായിക്കുക

Renault Triber is not a competitive car. Except for the price line nothing is there which is advantageous. It's the known fact that KWID performed below normal expectations in economy and maintenance. Unless this car proves its mettle after 30000 kilometers, it will have the same fate as Kwid.കൂടുതല് വായിക്കുക

The Renault Triber is the most contentious topic these days as this is a 7 seater MPV and people have high expectations but the factor which is ruining everyone's perspective is that how the heck a 3 cylinder engine could lug 7 people on board with AC on. Well, certainly it can! Here is the point, the powerhouse of Triber is a 3 cylinder 1.0 engine...കൂടുതല് വായിക്കുക

Renault Triber is the best car at an affordable price. The engine should be enough as we have to compromise something for all these benefits. it's really gonna rock the Indian roads.കൂടുതല് വായിക്കുക

Renault Triber is the best budget family car in this price segment, some features are missing which we like to get on the top model, Like steering controls.

Renault Triber car is value for money. It is a 7 seater car at an affordable price with decent features. I can see people cribbing about engine capacity but we should understand that you need to balance everything as per the pricing. We Indians generally can compromise on few features/addons if we can get more for less and that's what Renault ...കൂടുതല് വായിക്കുക

Renault Triber is a value for money car. 7 seater at this price range is unbelievable. I think variant RXT and RXL are great. Best for family purpose vehicle. Budget car for people who want a good product at a good price. Build quality is good. And the design is attractive.കൂടുതല് വായിക്കുക

Renault Triber is a very spacious car. It has a good average, power and available at an affordable price. The competitors would have to come up with something really good to compete with Renault Triber.കൂടുതല് വായിക്കുക

Renault Triber is an amazing concept, a decent vehicle let down by a rough under-powered engine. Not sure if it can pull itself out of muddy situations given it's under the powered engine and thin tyres. And at least now they could have released a BS VI engine, though they do not legally need to. The interiors, though not of very high quality, are ...കൂടുതല് വായിക്കുക

Renault Triber is looking very nice and available at an affordable price. Car is good for the middle-class family.

Renault Triber has stunning looks. Competitively priced for a seven-seater. This car is value for money. Variable seat adjustment option is super. engine should have been little more powerful. May be 1.2-liter engine.കൂടുതല് വായിക്കുക

Renault Triber finally launched at the starting price of 4.95 which goes all up to 6.49 lakhs.

Value for money, looking great in this price range, power is a little less. Rest all depends on the drive, I think it's a great value for money as compared to other brands and color combination is also great, I like golden and blue color the most, exterior and shape is also good,കൂടുതല് വായിക്കുക

Renault Triber is a good looking car. It is very spacious at a low price. It gives a comfortable drive. This car is value for money.













Not Sure, Which car to buy?
Let us help you find the dream car
ഉപഭോഗ്‌താക്കളുടെ നിരൂപണങ്ങൾ ട്രൈബർ പകരമുള്ളത്

Are you Confused?
Ask anything & get answer 48 hours ൽ
3 ഓഫറുകൾ
റെനോ ട്രൈബർ :- Loyalty Benefits Avai... ൽ
24 ദിവസം ബാക്കി
ട്രെൻഡുചെയ്യുന്നു റെനോ കാറുകൾ
* എക്സ്ഷോറൂം വില ന്യൂ ഡെൽഹി ൽ
×
We need your നഗരം to customize your experience