വോൾവോ എസ്60 - സൂപ്പർബ് കാർ with total സുരക്ഷ features!!!
Volvo S60 - Superb car with total safety features!!!
Look and Style: My brother owns BMW 3 Series, I got Volvo S60 D4. In looks I go for BMW but Volvo is something different & unique, nowadays BMW & Audi cars are more common on roads but Volvo cars are really not much running on Indian roads because of the no of showrooms in India. Its unqiue & everyone sees the car on road while running & the rear of Volvo really gives the car sexier look than BMW 320d or Audi A4. Comfort: When it comes to comfort Volvo is the real winner. Awesome front & rear sport seats, BMW is also good but Audi lack's on space. Pickup: BMW is best in pickup it gets 184bhp, second one is Volvo 181bhp with 5 cylinder dats really great & smooth to drive. Audi 177bhp is good but compare to BMW & Volvo its low. Mileage: When it comes to mileage 1. BMW gives around 10-14kmpl in city & 14-18kmpl on highways 2. Volvo gives around 9-13kmpl in city & 13-18kmpl on highway, Audi is low compared to these two. Best Features: It has got all the safety features. You can find it on speedometer which no other car has & crazy speedometer with 3 mode, best sporty seat you can get & finally man just check out "The Price" its very cheap compared to both the cars. Rs 3lac cheaper than BMW & 2.5lac cheaper than Audi in india. Needs to improve: Center console has more buttons which are difficult to use. Need to open more showrooms & service centers in India. Overall Experience : It's a great car value for money car. Just go for it guys its Volvo, one of the world's great brand. Have a safe life.
Write your Comment on വോൾവോ എസ്60 2015-2020
1
v
vgk
Nov 19, 2017 9:49:08 PM
Great car, polestar uppgradation is superb, whats critical for me is safety and this company is obsessed with safety and there can be no denial of the fact that this company values life and I willl go for it anytime
മറുപടി
1
a
ankit chaudhary
Mar 21, 2016 10:10:14 PM
Hey, can tell me the maintainace cost of this car.?
മറുപടി
1
v
vishal
Feb 4, 2016 5:25:24 PM
Which audi u r comparing with?
മറുപടി
വോൾവോ എസ്60 2015-2020 ഉപയോക്തൃ അവലോകനങ്ങൾ
അടിസ്ഥാനപെടുത്തി
8 ഉപയോക്തൃ അവലോകനങ്ങൾ
എല്ലാം (8)
Mileage (4)
Looks (5)
Comfort (4)
Engine (2)
Interior (1)
Power (3)
Price (3)
More ...
I am really impressed by the average of the Volvo s60. It is very safe as compared to Audi, BMW & Mercedes. It's a Swedish brand and it is mine all time favorite.

Sometimes a car or brand not known in mass markets like India, are bound to be missed or ignored. One such car I was reading about yesterday is the Volvo S60. Coming from...കൂടുതല് വായിക്കുക

Best luxurious car at middle price it is the best car in confort and in looking even in features.i love this car it have great entertaining things like cd player, touchs...കൂടുതല് വായിക്കുക

I have made myself a promise that by the end of this year I'm going to buy this astonishing Volvo s60. And it is because I can not get my eyes off this beautiful 2019 ver...കൂടുതല് വായിക്കുക

In this segment, Volvo has outshined its competitors giving the Indian market it's new winner. Best in class, safety, power delivery and especially a mileage of exceeding...കൂടുതല് വായിക്കുക

Look and Style: My brother owns BMW 3 Series, I got Volvo S60 D4. In looks I go for BMW but Volvo is something different & unique, nowadays BMW & Audi cars are more commo...കൂടുതല് വായിക്കുക

Best car in the segment. It has been 4 years since the car was initially launched and the design is still cool. The seats are best in class. Volvo undoubtedly makes the b...കൂടുതല് വായിക്കുക

Look and Style: Sexiest volvo Comfort: Comfortable car & rear seat is very good similar but little better than c-class Pickup: Very good (0-100/8.2 seconds)similar to c-c...കൂടുതല് വായിക്കുക

എല്ലാം എസ്60 2015-2020 അവലോകനങ്ങൾ കാണുക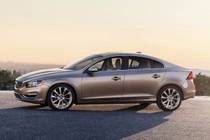 Rs. 30.88 Lakh - 56.02 ലക്ഷം*
ഈ കാർ മോഡൽ ഉൽപ്പാദനം നിർത്തിയിരിക്കുന്നു
സമാനമായ ഉപഭോക്‌താക്കൾ സേർച്ച് ചെയ്തവ
ട്രെൻഡുചെയ്യുന്നു വോൾവോ കാറുകൾ