റെനോ ക്വിഡ് - Kempt Wondrous Incredible Dazzler
Renault KWID - Kempt Wondrous Incredible Dazzler
The Renault KWID is an entry-level crossover from Renault based on the CMF-A platform jointly developed by Renault and Nissan. Primarily intended for the Indian market, The KWID has been one of Renault's best-sellers due to the great value for money proposition it offers. INITIAL IMPRESSIONS AND BUYING EXPERIENCE When I first heard about the KWID, it was when I was on the search for an AMT car around 5 lakhs back in 2016. Renault introduced the KWID AMT in October that year, and I was seriously considering it because of its great looks, and features. Moreover, there weren't as many AMT options below 5 lakhs then that had enough dazzle to catch my eye. So, I visited the nearest Renault dealership to have a look at the car and for a test drive. The salesman at the dealership was very polite and explained to me clearly all its features and took me on a test drive. The first thing that I was surprised with was that It did not have the gear lever for changing modes but rather an unconventional gear knob. Moreover, the instrument cluster was digital and the touchscreen infotainment system was a first in class at the time. The test drive went fairly well, and I was impressed. So, I decided to purchase the car right away and bought the fiery red color KWID RXT AMT (O) variant. It cost me almost Rs.5,50,000 inclusive of RTO Charges, Insurance and some customization which the dealers themselves offer. LOOKS AND DESIGN The Renault KWID is an eye turner with SUV style looks and incredible design. With its high ground clearance, beautiful colors and chrome customization options, It is really a dazzling car. At the time of purchase, everyone who saw me used to ask me about my car, which instilled in me the feeling that I had made the right choice. Coming to the interior, the instrument cluster, Media Nav touchscreen all mesh well with the car. The cabin space is adequate with enough leg room, although the cabin height may be a tad small for tall people. But for my family, it is just right. Coming to boot space, the Kwid's 300-litre boot space is definitely the most voluminous in its class. PERFORMANCE AND SPECIFICATIONS Coming in both 800 cc and 1.0 Litre engine options, the KWID AMT is offered only with 1.0 Litre engine which produces 67 BHP at 5500 RPM and 91 NM at 4250 RPM. Coming to mileage, although claimed as about 24 kmpl, From my experience on highways, I get about 20 kmpl which I consider very well as it is a petrol car. The fuel tank capacity is only 28 liters which is alright considering the mileage it offers. The ride comfort is great and pickup is as per expectations. The car can be easily parked into tight parking spaces and is a good daily driver considering the high traffic in the cities. SERVICING AND OTHER COSTS The first service had to be done within 2 months or 2,000 km, which is free. The second service within 12 months or 10,000 km and thereafter every 12 months or every 10,000 km. The first three services are free (only labor cost is free, parts, oil is charged). The service cost comes to about Rs.3000 without labor and around Rs.4500 with labor charges. The servicing includes A/C service, Oil check, Tyre alignment , Cleaning and Polishing etc. The Renault staff themselves send service reminders via call and book the service for you which is great. FINAL THOUGHTS Considering. I have been using this car for over 2 years now, I would like to say that it is surely best-in class with all features that you need. While there are cost-cutting measures adopted like only a single Windshield wiper, No automatic ORVMs. No Rear Power Windows, Airbags only in top spec variant etc. The other features more than makes up for these minor deficiencies. PROS: 1. Great SUV's looks 2. Good Ground Clearance (180 mm) 3. Good fuel economy 4. Touchscreen navigation system 5. Wonderful ride and handling 6. Best in class boot space 7. Great seating space 8. Low maintenance cost 9. Competitive price CONS: 1. Light body Construction 2. Relatively large turning radius 3. Single Windshield wiper 4. No automatic ORVMs 5. No Rear Power Windows 6. Only Driver Side Airbags (even in top spec variant)
റെനോ ക്വിഡ് 2015-2019 ഉപയോക്തൃ അവലോകനങ്ങൾ
അടിസ്ഥാനപെടുത്തി
1350 ഉപയോക്തൃ അവലോകനങ്ങൾ
എല്ലാം (1350)
Mileage (381)
Performance (191)
Looks (445)
Comfort (303)
Engine (223)
Interior (170)
Power (166)
More ...
ഏറ്റവും പുതിയ
സഹായകമാണ്
VERIFIED
CRITICAL
Maruti Swift is a one-car that fulfills all the requirements: low cost, internal features, mileage, look, and performance. An all-in-one car that one can wish for in...കൂടുതല് വായിക്കുക

I am having Renault KWID 2017 model. Its the worst car ever made in history. The body is so weak that if you press the bonnet slightly a dent will appear instantly. ...കൂടുതല് വായിക്കുക

Renault KWID gives super performance, mileage and has excellent ground clearance. The car is value for money. It has awesome features like a large boot space, wheelbase, ...കൂടുതല് വായിക്കുക

Hi, I purchased the Renault KWID RXT model in Oct 2015. Its been four years. Initial 2 years went very smooth. But after that, I started to get it to know why i...കൂടുതല് വായിക്കുക

Purchased Renault KWID 0.8 RXL in March 2018 and drove around 9000 Kms. Simple features like auto wipe with screen wash, intermittent wipers, fresh Air mode of AC, Pillio...കൂടുതല് വായിക്കുക

Renault KWID is an excellent car at the price range which is offered. The finer features provide great convenience for the drivers and passengers. Some of the finer featu...കൂടുതല് വായിക്കുക

Renault KWID is an amazing car with wonderfull ground clearance, unbelievable mileage, smooth gear function, SUV looking model, attractive boot space. I am really happy w...കൂടുതല് വായിക്കുക

Renault KWID /2019 Had my 2019 Renault KWID for 4 months and very impressed. Looks small but once you get in its bigger then you think. Also was amazed at the power it ha...കൂടുതല് വായിക്കുക

എല്ലാം ക്വിഡ് 2015-2019 അവലോകനങ്ങൾ കാണുക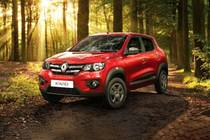 Rs.2.67 Lakh - 4.94 ലക്ഷം*
ഈ കാർ മോഡൽ ഉൽപ്പാദനം നിർത്തിയിരിക്കുന്നു
സമാനമായ ഉപഭോക്‌താക്കൾ സേർച്ച് ചെയ്തവ
Write your Comment on റെനോ ക്വിഡ് 2015-2019
2 അഭിപ്രായങ്ങൾ
1
S
senthilkumar
Jul 27, 2019 6:09:01 PM
நடுத்தர மக்கள் வாங்க கூடிய வகையில் பல அளவிற்கு அற்புதமான சலுகைகளைக்கொண்டது நடுத்தர மக்களின் கனவு வாகனமாக இருக்கிறது
Read More...
മറുപടി
Write a Reply
1
N
nithya soundararajan
Jul 27, 2019 4:18:24 PM
Is the gear knob in good condition? Do you think there is no need for gear shift indicator for AT version? How will we know if the gears are shifting as per the speed change?
Read More...
മറുപടി
Write a Reply
2
B
biji sivaraman
Jul 28, 2019 3:12:47 AM
Yes the gear knob is in good condition. Quite frankly you can hear a slight sound of the gears shifting on increasing speed if you notice
Read More...
മറുപടി
Write a Reply
ട്രെൻഡുചെയ്യുന്നു റെനോ കാറുകൾ
×
We need your നഗരം to customize your experience