Please stay miles away from the ക്വിഡ്
Please stay miles away from the Kwid
I purchased the Kwid. Unfortunately, it is my biggest regret. I got the delivery of the car in March 2016. After doing 350 Kms on the odometer, there was a squeaky noise from the brakes. The brakes were scrubbed and put back and within 10 Kms from the workshop, the problem emerged again. The pick up was a pain in traffic as there was a sudden loss of power. A few weeks later I realized there is an underbody sound which was like the sound of a broken suspension arm. Later this was fixed at the workshop. The horn also needed a replacement. The mileage was the last straw to breaks the camel's back, company claimed 25kmpl. However, I could never get anything better than 15-16kmpl in the city. I had taken the car four times to the workshop before the first service for the brake issue. During the first service they replaced the disc and the pads, however after a few kilometers, the problem emerged yet again. I took the time to study complaints on the Kwid on various forums and realized that i am not the only one complaining. So finally in June 2016 (3 months since I purchased the car) and doing 5500kms on the odometer, I sold off my car. Although I have bought an i20 now, for those who have a small budget my sincere advice is to go for a tried and tested car like the Alto, Alto 800. I owned an Alto 800 as well, and comparatively, it may not appeal to you because of its looks and interiors which are basic but the car will never give you a hard time making you run to the workshop now and then. The Kwid is a nice looking car, but a very pathetic product from a world-class manufacturer,Renault.
റെനോ ക്വിഡ് 2015-2019 ഉപയോക്തൃ അവലോകനങ്ങൾ
അടിസ്ഥാനപെടുത്തി
1350 ഉപയോക്തൃ അവലോകനങ്ങൾ
എല്ലാം (1350)
Mileage (381)
Performance (191)
Looks (445)
Comfort (303)
Engine (223)
Interior (170)
Power (166)
More ...
ഏറ്റവും പുതിയ
സഹായകമാണ്
VERIFIED
CRITICAL
Maruti Swift is a one-car that fulfills all the requirements: low cost, internal features, mileage, look, and performance. An all-in-one car that one can wish for in...കൂടുതല് വായിക്കുക

I am having Renault KWID 2017 model. Its the worst car ever made in history. The body is so weak that if you press the bonnet slightly a dent will appear instantly. ...കൂടുതല് വായിക്കുക

Renault KWID gives super performance, mileage and has excellent ground clearance. The car is value for money. It has awesome features like a large boot space, wheelbase, ...കൂടുതല് വായിക്കുക

Hi, I purchased the Renault KWID RXT model in Oct 2015. Its been four years. Initial 2 years went very smooth. But after that, I started to get it to know why i...കൂടുതല് വായിക്കുക

Purchased Renault KWID 0.8 RXL in March 2018 and drove around 9000 Kms. Simple features like auto wipe with screen wash, intermittent wipers, fresh Air mode of AC, Pillio...കൂടുതല് വായിക്കുക

Renault KWID is an excellent car at the price range which is offered. The finer features provide great convenience for the drivers and passengers. Some of the finer featu...കൂടുതല് വായിക്കുക

Renault KWID is an amazing car with wonderfull ground clearance, unbelievable mileage, smooth gear function, SUV looking model, attractive boot space. I am really happy w...കൂടുതല് വായിക്കുക

Renault KWID /2019 Had my 2019 Renault KWID for 4 months and very impressed. Looks small but once you get in its bigger then you think. Also was amazed at the power it ha...കൂടുതല് വായിക്കുക

എല്ലാം ക്വിഡ് 2015-2019 അവലോകനങ്ങൾ കാണുക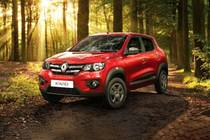 Rs.2.67 Lakh - 4.94 ലക്ഷം*
ഈ കാർ മോഡൽ ഉൽപ്പാദനം നിർത്തിയിരിക്കുന്നു
സമാനമായ ഉപഭോക്‌താക്കൾ സേർച്ച് ചെയ്തവ
Write your Comment on റെനോ ക്വിഡ് 2015-2019
9 അഭിപ്രായങ്ങൾ
1
r
revi thomas
Apr 26, 2019 6:32:28 PM
I totally agree with the Quality of the Kwid. It is most unreliable. It gave up its Ghost just after 20K , The gearb box/clutch assy had to be changed. Thank god I had extended warranty. after replacement of these parts the car wouldnt start due to some failure of the CPU. FINALLY AFTER ALMOST 20 DAYS THE CAR WAS RETURNED TO ME. I hopeit runs, anyway I plan to sell it as soon as I can. dont BUY.
Read More...
മറുപടി
Write a Reply
1
S
saquib ishaque
Jul 27, 2018 11:01:24 AM
I never felt any issue as such till now. I drove 10000 km in a year and it is good experience.
Read More...
മറുപടി
Write a Reply
1
R
roshan
Aug 30, 2017 12:16:12 PM
Affordable price with sufficient features
Read More...
മറുപടി
Write a Reply
ട്രെൻഡുചെയ്യുന്നു റെനോ കാറുകൾ
×
We need your നഗരം to customize your experience