More Than You Expect Within A Tidy Budget
More Than You Expect Within A Tidy Budget
There is hardly anything left to complain about this product. I never imagined such a car will come out anytime at the entry level hatchback segments. Its SUV-like style makes it more impressive. From the front, it looks bold and aggressive and from the rear, it looks sporty and stylish, much more SUV like rather than a simple hatchback. This is because of its curvy chrome touches. Here are some noteworthy points to follow on the practicality, features, specifications of this which have really outclassed its competitors. i) Boot space is 300 litres which is massive compared to Alto (177 litres), Eon (215 litres). Clearly, it can swallow all the family luggage with ease. Hence for going on a long trip with the family, kwid is the most suitable one. ii) Widest rear seat among its competitors which results in the best three people accommodating place, also it can accommodate an occasional fourth person as well; unlike alto (kwid's biggest rival) where even three people do not get enough legroom, headroom, knee room, shoulder room etc. No doubt Kwid has the most spacious rear seat. iii) Kwid's cabin and the dashboard are just awesome. It gives so premium feeling that you never feel you're inside an entry-level car segment. It comes up with 7 inch LCD touchscreen infotainment system, navigation, digital instrument cluster, Bluetooth connectivity and after all the airy cabin and good vision on the road. iv) Of course, mileage is an important factor for the budget oriented cars and surprisingly Kwid has shined here as well and left its rivals away behind. It has the best in class ARAI certified mileage 22.89kmpl (city) / 25.17kmpl (highway) which is almost 2 kmpl more than the Alto, the second most fuel efficient car. v) Kwid has a better ground clearance (180 mm) which again has a practical importance as per as the Indian road condition is concerned. Not only that it can absorb bumps and potholes more easily due to its higher ground clearance. vi) Its longer wheelbase (2422 mm) gives it excellent manoeuvrability and high-speed stability. vii) In terms of safety, the Kwid provides a driver side airbag as optional, which doesn't exist in many of its rivals. viii) Kwid has a significantly larger power to weight & torque to weight ratio, thanks to its lighter weight (50 kg lighter than alto) and compact aerodynamic looks. ix) Kwid easily catches up the speed and reaches triple digit figure in just 14-15 seconds. Also it can a top speed close to 150 kmph which is again one of the best in its class. x) Last but not the least its compact SUV look makes it more appealing, presentable to the customers' eyes. Its rivals are almost non-existing in terms of looks (except Hyundai Eon which is almost 60k costlier). Though it has some shortcomings too especially little turbo lag below 2000 rpm, smaller fuel tank capacity (28 litres), Rear view mirror is very basic and outdated, plastic quality is low etc. but it actually gives much more than a customer can bargain for. Also, Alto has a little edge over Kwid in terms of after sales service, especially in the remote areas. Otherwise, it's no brainier to go for Renault Kwid. It outclasses its rivals in every aspect imaginable.
റെനോ ക്വിഡ് 2015-2019 ഉപയോക്തൃ അവലോകനങ്ങൾ
അടിസ്ഥാനപെടുത്തി
1351 ഉപയോക്തൃ അവലോകനങ്ങൾ
എല്ലാം (1350)
Mileage (381)
Performance (191)
Looks (445)
Comfort (303)
Engine (223)
Interior (170)
Power (166)
More ...
ഏറ്റവും പുതിയ
സഹായകമാണ്
VERIFIED
CRITICAL
Maruti Swift is a one-car that fulfills all the requirements: low cost, internal features, mileage, look, and performance. An all-in-one car that one can wish for in...കൂടുതല് വായിക്കുക

I am having Renault KWID 2017 model. Its the worst car ever made in history. The body is so weak that if you press the bonnet slightly a dent will appear instantly. ...കൂടുതല് വായിക്കുക

Renault KWID gives super performance, mileage and has excellent ground clearance. The car is value for money. It has awesome features like a large boot space, wheelbase, ...കൂടുതല് വായിക്കുക

Hi, I purchased the Renault KWID RXT model in Oct 2015. Its been four years. Initial 2 years went very smooth. But after that, I started to get it to know why i...കൂടുതല് വായിക്കുക

Purchased Renault KWID 0.8 RXL in March 2018 and drove around 9000 Kms. Simple features like auto wipe with screen wash, intermittent wipers, fresh Air mode of AC, Pillio...കൂടുതല് വായിക്കുക

Renault KWID is an excellent car at the price range which is offered. The finer features provide great convenience for the drivers and passengers. Some of the finer featu...കൂടുതല് വായിക്കുക

Renault KWID is an amazing car with wonderfull ground clearance, unbelievable mileage, smooth gear function, SUV looking model, attractive boot space. I am really happy w...കൂടുതല് വായിക്കുക

Renault KWID /2019 Had my 2019 Renault KWID for 4 months and very impressed. Looks small but once you get in its bigger then you think. Also was amazed at the power it ha...കൂടുതല് വായിക്കുക

എല്ലാം ക്വിഡ് 2015-2019 അവലോകനങ്ങൾ കാണുക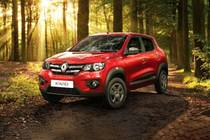 Rs.2.67 Lakh - 4.94 ലക്ഷം*
ഈ കാർ മോഡൽ ഉൽപ്പാദനം നിർത്തിയിരിക്കുന്നു
സമാനമായ ഉപഭോക്‌താക്കൾ സേർച്ച് ചെയ്തവ
Write your Comment on റെനോ ക്വിഡ് 2015-2019
ട്രെൻഡുചെയ്യുന്നു റെനോ കാറുകൾ
×
We need your നഗരം to customize your experience