Average Car
Average Car
Look and Style:- The car bears an average look and is easy to like. Comfort:- The driving comfort of the car especially on highways is excellent however if a tall person is sitiing in rear then he may face slight discomfort on the account of leg space. Cabin space is good but the car is a comfortable ride for 4 people and not for 5. Pickup:- The pickup of the 85 PS model is not exactly something the manufacturers would like to boast about. On highways one may not experience the lack of power however in city driving in certain situations a driver should not bank on the cars pickup. Mileage:- the mileage of the car is excellent and on highways depending on how the driver handles the car, it generally crosses over 20kmpl and in city it averages between 17 -18 kmpl. however, mileage to a large extent will depend on the road, load and the use of AC Best Features:- Driveability and mileage, sufficient space for a family of four. Needs to improve:- After sales service. my clutch assembly was changed at 15000 km which is ridiculous and the company did not offer any warranty as they cited the reason was poor driving habits. On the other hand, I have driven a ford figo for 3 years almost 60000 km and till date the clutch plate has never failed Overall Experience:- Value for money
Write your Comment on റെനോ ഡസ്റ്റർ 2018
1
S
shyam
Jun 26, 2015 4:35:03 PM
Duster is a good suv in this price range and has a better driving experience with the 4WD technology.
മറുപടി
2
h
himanshu
Sep 5, 2015 11:07:58 PM
Milage kya deta hai
മറുപടി
1
L
lokesh
Jun 19, 2015 2:22:30 PM
Well I wouldn't say that it is an average car if you see what they have done in the new AWD version of duster. The clutch problem is completely gone now. I own the top end diesel AWD model (RXZ 110 PS) since past six months and I have nothing but enjoyed how it works and performs. The upgraded duster sees all the rectifications mentioned in the two almost ridiculous comments above, after all how you maintain and drive your car also adds to how it is affected.
മറുപടി
1
A
ajay khare
Mar 30, 2015 4:26:12 PM
I owns a duster car for the last 1 year 2 months. My car No is JH06 G 1925 taken the delivery from the Aphrodite 4 wheels ltd, Jamshedpur . Almost 12,000 Kms run. For fuel efficiency and sitting comfort this car is very good. But the clutch is very tight and left knee pain is affecting the normal life. Even i can not drive ore than 200 kms continuously due to condtion of hard clutch. Gear shifting is also not smooth. Car has not rear view camera which is another drawback for this range of SUVs The quality control is not at all good. To one side the car was going and in the servicing they said we corrected by balancing the same. the accelerator is getting jam and in one occasion i just escaped from a very major accident.These things can be rectified if the quality control dept is good.The AC is not at all good for such a big car. sound inside the car is too high that it is very uncomfortable.
മറുപടി
റെനോ ഡസ്റ്റർ 2018 ഉപയോക്തൃ അവലോകനങ്ങൾ
അടിസ്ഥാനപെടുത്തി
294 ഉപയോക്തൃ അവലോകനങ്ങൾ
എല്ലാം (294)
Mileage (76)
Performance (41)
Looks (99)
Comfort (109)
Engine (58)
Interior (56)
Power (40)
More ...
ഏറ്റവും പുതിയ
സഹായകമാണ്
VERIFIED
CRITICAL
Renault Duster is a very good vehicle having spacious inside, boot space is comfortable and luggage place was very wide and travelling long will be thrilled and vibrant. ...കൂടുതല് വായിക്കുക

Excellent in class.. with stability and 4 wheel drive.. the negative are the advanced features like the small touch screen, 2 airbags only. Still very good car for City d...കൂടുതല് വായിക്കുക

Good Drive and smooth. If you go on a long drive you feel a better experience on Renault duster 85ps RXS.

Quite satisfied with Renault Duster AMT, the most economic SUV in the Indian market. Better performance than Creta. Looking better than Terrano.

Car is quite good, everything that I expected of it, but the service needs to improve a lot, Renault should look into that.

Very nice car for a long drive...I love it's driving and comfortable sitting and road grip...Thank you, Renault.

I never faced and the problem also the driving experience is fantastic in Renault Duster, much comfortable and has good mileage around 17 to 18 km/hr, the best of the Ren...കൂടുതല് വായിക്കുക

Excellent for driving and safety. Lacks premium inner. Decent mileage and low cost of maintenance. Driving duster since 2014 and clocked 100000 km.

എല്ലാം ഡസ്റ്റർ 2016-2019 അവലോകനങ്ങൾ കാണുക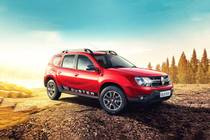 Rs. 7.99 Lakh - 13.88 ലക്ഷം*
ഈ കാർ മോഡൽ ഉൽപ്പാദനം നിർത്തിയിരിക്കുന്നു
സമാനമായ ഉപഭോക്‌താക്കൾ സേർച്ച് ചെയ്തവ
ട്രെൻഡുചെയ്യുന്നു റെനോ കാറുകൾ
റെനോ അർക്കാന

Rs.10.00 ലക്ഷം*

പ്രതീക്ഷിക്കുന്ന ലോഞ്ച്: ഒക്ടോബർ 05, 2022

റെനോ സോ

Rs.8.00 ലക്ഷം*

പ്രതീക്ഷിക്കുന്ന ലോഞ്ച്: ഒക്ടോബർ 20, 2021

റെനോ k-ze

Rs.10.00 ലക്ഷം*

പ്രതീക്ഷിക്കുന്ന ലോഞ്ച്: മാർച്ച് 31, 2022