Good practical car, value വേണ്ടി
Good practical car, value for money
Look and Style - Not a GREAT looker but cretainly a headturner, expecially deceiving from the pictures on the web. The usual statement I get this car is BIG and this is without seeing the interiors. Comfort - Best in the class and beyond. Space enough to cross your legs and succeed. Personal experience - jaws drop when I show the interiors - usual exclamation Man, this is legroom Pickup - great for city driving, haven't been on highways yet Mileage - getting 13 kmpl (W/O AC). Best Features - Electronic OVRMs (open/close), keyless entry & start, EBD & BA. Needs to improve - Gearbox - sometimes I feel like driving a truck. Its quite embarassing when people tell you to press the clutch (fully) to avoid the 1st & 2nd gear notching. Overall Experience - Less than a Great car but certainly better than a good car. Aesthetics & looks -The first thing that strikes you is the comfort for your passengers and you. Second that hits you is the length of the car, which surprisingly isn't much than other in the same league, but looks BIG. The interirors could have been more peppier but on the other hand Griege gives it a mature look. The conrols are quite within reach and steering mounted controls are a big help. Could have done with more side pockets and a bigger glove compartment.Stereo lacks a USB port and bluetooth. Technical - a very smooth car on the drive but the gearbox is very notchy - only the 1st and 2nd gear though. Space is the USP, its quite amazing (literally). Engine purrs like a cat below 3000 rpm but a tad noisy after that. Its made to - take it easy, we will get there - in time and COMFORT. If you are looking for a speed machine, this ain't one, but given long races it's quite competetive. The name SUNNY is a misnomer because this car is more for the mature (aka take it easy) type.Brakes are great, stops on the dime, well that's what EBD and BA is for. Verdict - Essentially speaking this car comes with all the things that money can't buy (is expesnive) what it lacks for can be made with cheaper accessories. Overall I am very happy with this car in spite of its shortcomings - why - because my family is comforatble, safe and so am I - what can I say when i drive in the city 80% of my time.
Write your Comment on നിസ്സാൻ സണ്ണി
1
m
mani
Jan 21, 2012 1:43:41 PM
I am planned to purchase a sunny diesel high end model. Whether service is good or bad, kindly advise me to take which car is best for me, my usage is 400 km per month
മറുപടി
1
A
amit
Dec 31, 2011 10:44:14 AM
Following up on my earlier post on 25th Oct. Its been over 3 months with the car and my review remains much the same. Drove it on the highway, handles quite well, but not meant for speed over 100 kmph, that is when you realize the engine noise in the cabin and feel that the machine is running out of breath. Keep it within 100 kmph and you can enjoy the ride so very comfortable and secure. Highway mileage was 14.5 kmpl. Overall, again, a very good car more inclined for city drivers (don't know how the diesel variant is built). And drawbacks still are the gear shift (notchy for 1st and 2nd) and lack of USB port. Practical choice for a person looking for a sedan with all possible technology which is expensive and space. Not a RACING MACHINE or a HIGHWAY STAR in any way.
മറുപടി
1
J
jatin
Nov 23, 2011 9:49:38 AM
Nice detailed reveiwed and agreed with you. I'm planning to buy XL, can you please guide me for fuel efficiency in city driving. My driving will be 90% in city only and appreciate if you can share the mileage in city with AC.
മറുപടി
2
A
amit
Dec 3, 2011 2:03:43 PM
I drive with the AC on nearly all the time. Getting 12kmpl which in Bangalore's traffic and speed-braker laden road where one has to downshift every 500 mts, is quite good. Another thing I missed mentioning is that Sunny's engine rpm & torque is so well placed that you can practically drive the car on the 4th gear even on the lowest speed. This helps especially to drive in city.
മറുപടി
3
P
prashanth
Apr 6, 2012 12:33:39 PM
How is the maintenance cost ? Spare part cost? I am planning by the petrol version.
മറുപടി
നിസ്സാൻ സണ്ണി ഉപയോക്തൃ അവലോകനങ്ങൾ
അടിസ്ഥാനപെടുത്തി
95 ഉപയോക്തൃ അവലോകനങ്ങൾ
All (95)
Mileage (37)
Performance (17)
Looks (31)
Comfort (45)
Engine (17)
Interior (16)
Power (16)
More ...
ഏറ്റവും പുതിയ
സഹായകമാണ്
VERIFIED
CRITICAL
I have always been a great fan of SUVs but after buying Nissan Sunny, I just have been crazy about it. This car is truly amazing. It has got all the features which one ba...കൂടുതല് വായിക്കുക

I have 2012 Sunny XV variant really very happy with that getting 24 average mileage in highway and 18 average in the city.    

Proud owner of Nissan Sunny for 7 years. Real Specious, Noiseless and trouble-free. Low maintenance with 14 km/ Ltr. Petrol mileage.

Nice car but not so stylish had great space powerful engine not so costly maintenance good choice for daily use.

I had never thought that this car will be 5/5 in my measurements. But it has proved itself in my 12 years of driving experience this car given me best-driving pleasure, a...കൂടുതല് വായിക്കുക

A true blue Sedan. Best quality materials used in building this car. Safety and comfort top notch. A true family car that ticks all the boxes. A more peppy engine would h...കൂടുതല് വായിക്കുക

Nissan Sunny is very spacious and comfortable. Worth every penny, best car you can get as per the price point of view and very economical to run.

എല്ലാം സണ്ണി അവലോകനങ്ങൾ കാണുക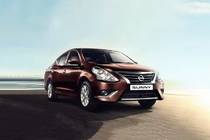 Rs. 7.07 Lakh - 10.76 ലക്ഷം*
ഈ കാർ മോഡൽ ഉൽപ്പാദനം നിർത്തിയിരിക്കുന്നു
സമാനമായ ഉപഭോക്‌താക്കൾ സേർച്ച് ചെയ്തവ
ട്രെൻഡുചെയ്യുന്നു നിസ്സാൻ കാറുകൾ