Worst car and Worst service!
Worst car and Worst service!
Myself Tushar Patel from Ahmedabad, Gujarat. I had purchased Mahindra Quanto model C-8vehicle in 23-OCT-2012, from "Punjab Automobiles (India) Private Limited". I have always given this car for service on regular basis. Before that, I had a Maruti Wagon R and used till 4 yrs and sold it. So, no chance about my driving skills. In Nov-2014, I had an issue with the car and gave to Punjab Automobiles and they said having issue in engine???? Wow, I think all car segments having an Indicator alert before when any issue arises in the engine but this car never and we had no choice at that time. I had also asked for the warranty, but it's already expired and I asked service manager to repair engine and solve all issues and then ask for warranty for 2 yrs for engine but at that time they said why do you want to extend, after repairing the engine, we will give 6 months warranty. After 6 months, you can extend it, no need for now. Now what happens, my car also have an issue like water leakage issue from the radiator. This issue we already faced when the engine had an issue. So I asked for warranty before 6 months completion so now they are not agreed to give extended warranty. So now I am afraid for this car again. To avoid confusion, I was thinking to show this car to the different service center for a better solution. So for diagnosis, I binged my car to "Sheetal Motors" at 25 July 2015 and they said in your car have a radiator issue, you have to change it. But I have already changed the radiator on 19-Jan-2014 but again the same issue. So I again went to Punjab Automobiles and those guys said, the car radiator is okay but heating coils have an issue, so you need to change that and charges will be around 12,000 INR. Wow! what rubbish things are going on???? What I have to do??? Who is correct, Sheetal Motors or Punjab Automobiles??? There are only 2 service centers in my city. So I am really confused about it. Seriously this car gave me too much headache, nobody answers to me even when I ask customer care but never get any single reply. So please do not buy Mahindra's car. You can see other user's review as well and then decide.
Write your Comment on മഹേന്ദ്ര ക്വോന്തോ
1
S
susheel
Jul 24, 2019 5:08:21 PM
Hello.... I am facing same problem with my vehicle now.. Have you got problem fix....
മറുപടി
1
C
cdr. b.satish prasad
Mar 12, 2017 12:31:58 PM
Very surprised & agree with the views. I had similar experience with my Quanto C6 Car , Adverse effect of inferior service/ Quality of parts used. AC is a chronic pb. Coolent leaks of due to defective.inferior hoses used.
മറുപടി
മഹേന്ദ്ര ക്വോന്തോ ഉപയോക്തൃ അവലോകനങ്ങൾ
അടിസ്ഥാനപെടുത്തി
44 ഉപയോക്തൃ അവലോകനങ്ങൾ
എല്ലാം (44)
Mileage (35)
Performance (3)
Looks (37)
Comfort (33)
Engine (11)
Interior (12)
Power (12)
More ...
ഏറ്റവും പുതിയ
സഹായകമാണ്
CRITICAL
Seeing the successful journey of Xylo, Mahindra seemed to be experimenting it in micro family class. But the confused designers have made me think that is it a SUV, a hat...കൂടുതല് വായിക്കുക

Myself Tushar Patel from Ahmedabad, Gujarat. I had purchased Mahindra Quanto model C-8vehicle in 23-OCT-2012, from "Punjab Automobiles (India) Private Limited". I have al...കൂടുതല് വായിക്കുക

I am driving Quanto C8 from last two years and feel that I have been cheated with a worthless product. The car is not at all smooth to drive. The company has not tested t...കൂടുതല് വായിക്കുക

This car seemed very exciting when it was launched and I purchased in that hype but unfortunately the dealers very poor after sales services have forced me to change my o...കൂടുതല് വായിക്കുക

Request mahindra to make quanto automatic gear shift with convertible and this will stand out from other compact SUVs. Definitely youth of india will reach this car soon ...കൂടുതല് വായിക്കുക

Look and Style: Very good. Satisfied. Comfort: Last two seats are quite uncomfortable for elders. But best for children. You can also use it as a big storage space....കൂടുതല് വായിക്കുക

Look and Style: I recently brought C8 Quanto and am very satisfied with its performance. The car looks fairly good. A tall, compact reasonably priced SUV. Comfort: The fr...കൂടുതല് വായിക്കുക

Look and Style: Good..except for the excess height which is actually a minus..both regarding the looks, proportion and stability during turns (excess body roll due ...കൂടുതല് വായിക്കുക

എല്ലാം ക്വോന്തോ അവലോകനങ്ങൾ കാണുക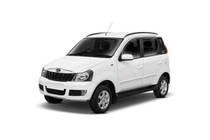 Rs. 6.99 Lakh - 8.55 ലക്ഷം*
ഈ കാർ മോഡൽ ഉൽപ്പാദനം നിർത്തിയിരിക്കുന്നു
സമാനമായ ഉപഭോക്‌താക്കൾ സേർച്ച് ചെയ്തവ
ട്രെൻഡുചെയ്യുന്നു മഹേന്ദ്ര കാറുകൾ
×
We need your നഗരം to customize your experience