മഹേന്ദ്ര ഇ2ഓ Plus - Excellent Environment Friendly
Mahindra e2o Plus - Excellent Environment Friendly
Mahindra e2o Plus - Excellent Environment Friendly Car After driving various cars that are mostly powered by the petrol or diesel mills, I made the decision to buy an environment friendly car that makes no pollution. I decided to go green after seeing the rapid rise in the air pollution in my city Delhi, which is increased due to the emission of various unhealthy gases and commercial vehicles which do contribute a lot in this way. Another reason is that as we know fuel prices are on a hike and to save money, I decided to buy the EV. The search for the environmental friendly vehicle made me choose Mahindra e2o Plus. I took the test drive and was really impressed by its unexpected pick up power. The vehicle is a true beauty, due to its compact size it?s quite easy to drive it in heavy traffic conditions. I booked the car at my nearest showroom and all the paperwork done quite fast. After about 2 weeks of waiting, Mahindra e2o plus was finally delivered. I have been driving the e2o Plus for nearly 15 months now, that makes me feel proud as I am doing something good to my mother earth. The car is of course a futuristic approach by the maker in the country, the vehicle is loaded with advanced gadgets such as 6.2 inch touchscreen infotainment unit, sound system, Bluetooth, GPS, digital instrument cluster and air conditioner while the cabin space is also good looking at the current standards of vehicles. Mahindra e2o Plus is 4-door electric hatch and is powered by an electric motor that is capable of generating 19kW power and 70Nm of peak torque. The 280Ah Li-ion battery vehicle can get fully charged by the 10kW 32Amp charger in just 95 minutes giving the maximum range of 140km. The car can reach the maximum speed of 85kmph. The car also comes with 3W 16Amp standard charger which takes 6-7 hours to completely juice up the vehicle. So in my opinion, Mahindra e2o Plus is one of the best options for the buyers who don?t want big cars and are concerned about the rising fuel prices. The downside with the car is that its compact dimensions don't look appealing to many and the top end model price which is Rs. 8.22 lakh would distract many buyers. However, if you really want to go green, this is one of the best options available in India right now.
Write your Comment on മഹേന്ദ്ര ഇ2ഓ പ്ലസ്
1
B
bhaben sarmah
Sep 8, 2019 5:10:26 PM
Good news. I'm also interested but price is high.
മറുപടി
മഹേന്ദ്ര ഇ2ഓ പ്ലസ് ഉപയോക്തൃ അവലോകനങ്ങൾ
അടിസ്ഥാനപെടുത്തി
8 ഉപയോക്തൃ അവലോകനങ്ങൾ
All (15)
Looks (1)
Comfort (1)
Interior (1)
Power (1)
Price (1)
Space (1)
Speed (2)
More ...
ഏറ്റവും പുതിയ
സഹായകമാണ്
VERIFIED
CRITICAL
Mahindra e2o Plus - Excellent Environment Friendly Car After driving various cars that are mostly powered by the petrol or diesel mills, I made the decision to buy an env...കൂടുതല് വായിക്കുക

My wife owns an e2o and its a lousy car. We bought this 3.5 yrs back and post 3 yr problem started - 3 times battery malfunctioned and was stuck in the middle of the road...കൂടുതല് വായിക്കുക

future car of India... it goes reasonably well speed and good interiors.. and a good car almost...

Good car. Smooth running. Easy to drive. There is no problem to drive. Anyone can drive this car. My wife also driving in traffic road. Till now there is no issue in the ...കൂടുതല് വായിക്കുക

It's a very fabulous car for a small family. It's very comfortable as well. Great electrifying car.

2019 best car Mahindra electric but running time on a full charge is low I want the fast charging. I want to purchase electric car but because of the low running time.

Best car in 2019 but full charge running 110/h is too short.it running should be between 400km to 500 km.

എല്ലാം ഇ2ഓ പ്ലസ് അവലോകനങ്ങൾ കാണുക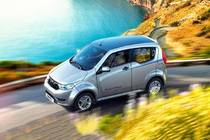 Rs. 6.07 Lakh - 8.46 ലക്ഷം*
ഈ കാർ മോഡൽ ഉൽപ്പാദനം നിർത്തിയിരിക്കുന്നു
സമാനമായ ഉപഭോക്‌താക്കൾ സേർച്ച് ചെയ്തവ
ട്രെൻഡുചെയ്യുന്നു മഹേന്ദ്ര കാറുകൾ