ഐ10 നിരൂപണം
I10 Review
I have been using Hyundai i10 car for last six years . This is my first car and I am really proud of my decisions for buying this car. Initially I have preference for buying RITZ car and even I have done test drive of RITZ. However after lot of dicussions with wife we have finalized i10 . My wife wanted to buy for mainly two reasons 1. Its look, even I am also very much impressed Attribute its look. 2. Advertisement by great film star Sharukh Khan . However I have selected this over RITZ for its overall smoothness , great pick up and I found even when I am driving this car at the speed of 100 KM/Hr still car is running in smooth way where as RITZ is not smoother when you will drive the car over 100 KM/Hr. After driving six years (and I have made few intercity journey like Delhi to Jaipur, Delhi to Amritsar , Delhi to Shimla etc) I found this car is really superb at this price range . I like to divide my experience into various category: Mileage : As per my observation mileage of i10 is around 16KM/ltr for intercity where as within city this is come down up to 12KM/ltr. I like to mention here that mileage of any car depends on your driving style and I don't count myself as a very smooth driver hence I think for most of the person i10 will provide same mileage i.e. 16-18KM/ltr for intercity. Space: There is ample space within this car for a small family. 2-3 adult along with 2 kids can tour comfortably even for long distance like 300-350 KM. Since in India most of using are with average hight hence space is never be a problem for small/midsized family. Bootspace for driver is also enough and driving is never be painful.Luggage space is also good as you can easily keep 2 suitcase in that area. Speed: As per my experience i10 has great pickup within this price range. You can reach 30-40KM/hr to 100KM/hr with indexer 10-12 seconds only. Also I have experienced this car will never give you any jerk when you are running over 100 KM /hr however if like to mention here that when i have experimented speed Attribute that time if switched off my AC. However with AC on, there will be certain change you may feel but that is also too minor. AC: AC is good for i10 but if feel there must be some vent on back for AC. I have checked within 1 minutes it brings temperature from 42 degree centigrade to 20 degree centigrade. Car is also running almost smooth with AC on however when I am on long run I always used to switch off my AC after every 90 minutes . Shocker : Shocker is very good and at the time of long journey you never feel pain. Also it is long lasting however I think since we are living in NCR region where road condition in most of the areas are superb hence it will go through the real test where road condition is not very good. Design: Overall design is pretty good that keeps i10 ahead against others. The interior is also nicely designed however for light interior color you have to keep your window closed every time else it becomes dirty very easily. Recommendations: 1.I think AC vent in back seat should be provided. 2. Rare camera needs to be added in the features list as now days it becomes necessary. Overall, this is brilliant car within this price range and ideal for small/mid sized family.
Write your Comment on ഹുണ്ടായി ഐ10
ഹുണ്ടായി ഐ10 ഉപയോക്തൃ അവലോകനങ്ങൾ
അടിസ്ഥാനപെടുത്തി
158 ഉപയോക്തൃ അവലോകനങ്ങൾ
എല്ലാം (158)
Mileage (99)
Performance (46)
Looks (103)
Comfort (107)
Engine (72)
Interior (61)
Power (48)
More ...
ഏറ്റവും പുതിയ
സഹായകമാണ്
VERIFIED
CRITICAL
I purchased i 10 Magna model in 2010 and switched over to i10 from Tata Indica Petrol, which I used for almost 3 years. I drove i10 for almost 7.5 years before I went for...കൂടുതല് വായിക്കുക

All the tyres are recently replaced by new tyres. Engine oil is also recently changed. Gear oil is also changed. It gives a mileage of 19 KMPL.

I own a hyundai i10 2010 model. Its been more than 6 years i am using this car, and till date other than regular servicing, I have spent only 20,000 on servicing (becuase...കൂടുതല് വായിക്കുക

i am a proud owner of this car for last 7 years. i am 67 years old retired professional. this is the 7th car i am using now. i get a very happy sense of driving a safe ca...കൂടുതല് വായിക്കുക

Hyundai i10 is proved to be very reliable car during my 6 years of ownership. For me this is top most priority and I dont like to get stranded on a road or leaving my car...കൂടുതല് വായിക്കുക

What to say and where to start. i10 is my first car, on which I have started learning driving in 2014. Best thing about the car is its Steering module. It is effortless a...കൂടുതല് വായിക്കുക

A little city car that has got plenty to live up to. Sharp looks and a sweet but old 1.1-litre engine is still the drivetrain in this car. It's all about quality here - t...കൂടുതല് വായിക്കുക

Hyundai i10 has cool car the hatchback market in India since it's launch. I am quite satisfied with its performance. The entry level hatch i10 is decent in terms of comfo...കൂടുതല് വായിക്കുക

എല്ലാം ഐ10 അവലോകനങ്ങൾ കാണുക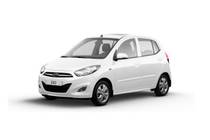 Rs. 3.79 Lakh - 6.55 ലക്ഷം*
ഈ കാർ മോഡൽ ഉൽപ്പാദനം നിർത്തിയിരിക്കുന്നു
സമാനമായ ഉപഭോക്‌താക്കൾ സേർച്ച് ചെയ്തവ
ട്രെൻഡുചെയ്യുന്നു ഹുണ്ടായി കാറുകൾ