ഐ10 ഓട്ടോമാറ്റിക് സ്പോർട്സ്
i10 Automatic Sportz
I have been driving the i10 and Brio and was in a confusion which one to buy. Now, I have decided that I am going for i10 automatic. When you are looking for a small hatchback, looks are not that much of criteria. More is how much will it rip my pocket. i10 has been around for a long time and because of Brio been introduced, Hyundai has started discounts on i10, which is great. For a person who wants a hatchback with a comfort of driving, either would do. Here are some of my observations. Here are some Pros & cons of i10 Looks : Well, what can you expect from a car that small. Looks are ok. Drive comfort : I did not like the driving comfort that much as the driver's seat is like a plastic chair. Not that the quality, but the sitting comfort. It's too upright which causes a discomfort when you have your right leg on accelerator and break. To get in a comfort position, you need to push your seat back (a lot) which hits on back seat passenger's space. (But its compromisable) Engine : For a 1.2 L engine, it does its job. You are not going to do any drag race. For the car which weighs close to one tonne, 1.2 L with 80 bhp is more than enough. You don't need 3.0 L V6 engine for city driving. Automatic Gear Box : Well, it's quite disappointing. i10 automatic is a 4 speed automatic. Well, it's technically a 3 speed & an overdrive. I am really surprised why Hyundai has come up with this 4 speed automatic for all its automatic cars. Verna (which has the same transmission) fits good (Not driven i20 automatic), but for i10 looks as though you can for another gearbox between 3 and 4th gear!!!! 3rd revs and picks good, but when it shifts to 4th, it feels as though you have moved from 2nd to 10th gear all of a sudden!!! But again it's something that I can deal with. I am not going to a long drive every day. Mileage : Most people are interested in this section of the review. Trust me, if you are looking for mileage, then i10 automatic petrol is not a car for you. It's suggested to go rather for manual diesel which would give you 22 or 25 Kmpl. None (at least till I know) of the automatic would give you any good millage. So, if you want the comfort of driving, forget millage. 10 Kmpl (as mentioned in all the reviews) is more than enough for the office-home-shopping city driving. Interior : Interior quality is much much much better than Brio. People do say that Brio does look spacious and technically, has more space. But imagine for a car which is 80mm long, how much space will you get extra. Surprisingly, i10 has a lot of gizmos than Brio. CD player, Bluetooth (high-end model), better-looking dashboard (excluding the colour Blue), but what matters is build quality. i10 is much better in build quality than Brio. If you are looking for a plastic of toy car quality, go for Brio. i10 has a little better plastic quality than Brio. Cost: Onroad cost for both are more or less the same. But Hyundai has started many discounts to increase its sales. Talk to the marketing guy to see if you can get anything on the car extra & any discounts. I am getting tonnes of it. I am getting 75K off on i10. So, even to get a breakeven (considering i10 mileage is 2 kmpl less than Brios), its long (close to 2 years) for the city driving that you would be doing. So, just 2 Kmpl more would not make much of a difference. Please do let me know your thought on my reviews.
Write your Comment on ഹുണ്ടായി ഐ10
1
j
jagadish rajbingshi
Dec 19, 2015 9:20:37 PM
HYUNDAI DECEMBER best offers (Zero down payment ,Free Insurance ,Cash and exchange Bonus) Eon : savings up to 46,065 I10 saving up to : 52,754 Grand i10 savings up to : 63,316 Xcent savings up to : 64,583 For mor info call 8724991463 for guwahati
മറുപടി
1
m
mei
Jun 11, 2015 1:47:04 PM
Jsjsh shhss shjsjdjs
മറുപടി
ഹുണ്ടായി ഐ10 ഉപയോക്തൃ അവലോകനങ്ങൾ
അടിസ്ഥാനപെടുത്തി
158 ഉപയോക്തൃ അവലോകനങ്ങൾ
എല്ലാം (158)
Mileage (99)
Performance (46)
Looks (103)
Comfort (107)
Engine (72)
Interior (61)
Power (48)
More ...
ഏറ്റവും പുതിയ
സഹായകമാണ്
VERIFIED
CRITICAL
I purchased i 10 Magna model in 2010 and switched over to i10 from Tata Indica Petrol, which I used for almost 3 years. I drove i10 for almost 7.5 years before I went for...കൂടുതല് വായിക്കുക

All the tyres are recently replaced by new tyres. Engine oil is also recently changed. Gear oil is also changed. It gives a mileage of 19 KMPL.

I own a hyundai i10 2010 model. Its been more than 6 years i am using this car, and till date other than regular servicing, I have spent only 20,000 on servicing (becuase...കൂടുതല് വായിക്കുക

i am a proud owner of this car for last 7 years. i am 67 years old retired professional. this is the 7th car i am using now. i get a very happy sense of driving a safe ca...കൂടുതല് വായിക്കുക

Hyundai i10 is proved to be very reliable car during my 6 years of ownership. For me this is top most priority and I dont like to get stranded on a road or leaving my car...കൂടുതല് വായിക്കുക

What to say and where to start. i10 is my first car, on which I have started learning driving in 2014. Best thing about the car is its Steering module. It is effortless a...കൂടുതല് വായിക്കുക

A little city car that has got plenty to live up to. Sharp looks and a sweet but old 1.1-litre engine is still the drivetrain in this car. It's all about quality here - t...കൂടുതല് വായിക്കുക

Hyundai i10 has cool car the hatchback market in India since it's launch. I am quite satisfied with its performance. The entry level hatch i10 is decent in terms of comfo...കൂടുതല് വായിക്കുക

എല്ലാം ഐ10 അവലോകനങ്ങൾ കാണുക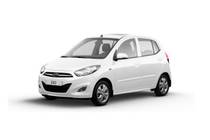 Rs. 3.79 Lakh - 6.55 ലക്ഷം*
ഈ കാർ മോഡൽ ഉൽപ്പാദനം നിർത്തിയിരിക്കുന്നു
സമാനമായ ഉപഭോക്‌താക്കൾ സേർച്ച് ചെയ്തവ
ട്രെൻഡുചെയ്യുന്നു ഹുണ്ടായി കാറുകൾ