ഹുണ്ടായി i10: എ Glimpse At My Experience
Hyundai i10: A Glimpse At My Experience
I learned driving by June'09 and wanted to buy my first Car in July'09. I was looking for a small family car that performs well both in the city and on highways as I love travelling. I had certain basics like mileage, looks, comfort, smooth drive, spacious interiors that I thought would be my first deciding factors. I and my wife took suggestions from a few friends, read some reviews, visited a few showrooms and took 4-5 test drives. We narrowed down on a few, but when we took the test drive of i10 and saw a blushing Red coloured i10 displayed in the showroom, we had made our decision. Its been 9 months now and nearly 8000 km have been covered. I get an average of 16kmpl in the city with AC and approx. 18kmpl on highways, which is excellent. Everyone who has been on a drive in the car has appreciated the interiors, the spacious and comfortable sitting. This is funny but I do drive with my son sitting on my lap and the drive is equally comfortable. On highways, I normally drive 6-7 hours on a stretch with no strain and also you won't feel that you are driving at a speed on 100-120 Kmph unless you look at the speedometer. The music system and AC are awesome. It's been 3 services now and the Hyundai staff is too cooperating. Go for it.
Write your Comment on ഹുണ്ടായി ഐ10
1
j
jagadish rajbingshi
Dec 19, 2015 9:21:19 PM
HYUNDAI DECEMBER best offers (Zero down payment ,Free Insurance ,Cash and exchange Bonus) Eon : savings up to 46,065 I10 saving up to : 52,754 Grand i10 savings up to : 63,316 Xcent savings up to : 64,583 For mor info call 8724991463 for guwahati
മറുപടി
1
r
rakesh
Mar 26, 2012 4:10:58 PM
I buy I 10 Sportz model last week. After look after every option, i find out the best option is I 10. But after driving it on highway I was very disappointed due to its much noise in tyre friction. Realy it is very uncomfortable due to noise. I am surprised that company not noticed this problem. My other friends, who have I 10, are facing same problem. Can anyone suggest me to solve this problem.
മറുപടി
1
k
k.satyanarayana
Mar 25, 2012 10:48:41 PM
What is the basic difference between i10 magna and i10 sportz?
മറുപടി
2
r
rakesh
Mar 26, 2012 4:15:13 PM
Eletrical side view mirror adjstment. rear glass defoger. rear wiper spoiler perhaps body colour door handles and side strips. stereo.
മറുപടി
ഹുണ്ടായി ഐ10 ഉപയോക്തൃ അവലോകനങ്ങൾ
അടിസ്ഥാനപെടുത്തി
158 ഉപയോക്തൃ അവലോകനങ്ങൾ
എല്ലാം (158)
Mileage (99)
Performance (46)
Looks (103)
Comfort (107)
Engine (72)
Interior (61)
Power (48)
More ...
ഏറ്റവും പുതിയ
സഹായകമാണ്
VERIFIED
CRITICAL
I purchased i 10 Magna model in 2010 and switched over to i10 from Tata Indica Petrol, which I used for almost 3 years. I drove i10 for almost 7.5 years before I went for...കൂടുതല് വായിക്കുക

All the tyres are recently replaced by new tyres. Engine oil is also recently changed. Gear oil is also changed. It gives a mileage of 19 KMPL.

I own a hyundai i10 2010 model. Its been more than 6 years i am using this car, and till date other than regular servicing, I have spent only 20,000 on servicing (becuase...കൂടുതല് വായിക്കുക

i am a proud owner of this car for last 7 years. i am 67 years old retired professional. this is the 7th car i am using now. i get a very happy sense of driving a safe ca...കൂടുതല് വായിക്കുക

Hyundai i10 is proved to be very reliable car during my 6 years of ownership. For me this is top most priority and I dont like to get stranded on a road or leaving my car...കൂടുതല് വായിക്കുക

What to say and where to start. i10 is my first car, on which I have started learning driving in 2014. Best thing about the car is its Steering module. It is effortless a...കൂടുതല് വായിക്കുക

A little city car that has got plenty to live up to. Sharp looks and a sweet but old 1.1-litre engine is still the drivetrain in this car. It's all about quality here - t...കൂടുതല് വായിക്കുക

Hyundai i10 has cool car the hatchback market in India since it's launch. I am quite satisfied with its performance. The entry level hatch i10 is decent in terms of comfo...കൂടുതല് വായിക്കുക

എല്ലാം ഐ10 അവലോകനങ്ങൾ കാണുക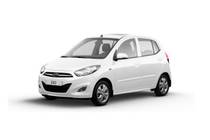 Rs. 3.79 Lakh - 6.55 ലക്ഷം*
ഈ കാർ മോഡൽ ഉൽപ്പാദനം നിർത്തിയിരിക്കുന്നു
സമാനമായ ഉപഭോക്‌താക്കൾ സേർച്ച് ചെയ്തവ
ട്രെൻഡുചെയ്യുന്നു ഹുണ്ടായി കാറുകൾ