ജാസ്സ് - എ കാർ with practicality mind ൽ
JAZZ - A car with practicality in mind
Back then when Jazz was introduced, the highlight of the car was the same. I bought my Jazz in Dec 2015 and drove it for almost 12k kms till now. I am not an automobile expert and all statements made here are with in my limited exposure to the technical details and experience. Below were my considerations when I decided to change my 10 year old Zen. SPACE MILEAGE PERFORMANCE HANDLING & SAFETY SALES & SERVICE SPACE - "Enough space inside the car and the boot" I give full marks to Jazz for this and I believe no other similar hatch currently in indian market, can challenge it. MILEAGE - "I should be able to use the car for my family needs without worrying about heavy costs" This is not an exaggeration when I say I have seen 19km/litre in my console for a trip of 270 km from Bangalore to Salem. Of course, it was at midnight on Bangalore- Salem toll roads. But, to achieve this, you have to keep "mileage" in mind, through out your drive and you know, it is not practical always. I mostly use my car for weekend drives and my trip mileages were always been around 16 km/l. This is one of the points I feel happy about my decision. I do agree that the predefined service costs and service frequencies are a bit high compared to most other rivals, but I was late to realise it. PERFORMANCE - "A car which responds quick to the inputs" Some say, Jazz is underperformed, some contradicts it and yet others provide workarounds. My driving experience with Jazz is JUST satisfactory. A long trip just after the first free-service was to Ooty from Bangalore. Though the performance on highways is good, the car was struggling to gain momentum on the ghat roads, that too without AC. Also, in city, the car demands for 1st gear just below 10km/hour, unless you keep the RPM around 2000. Let me also share an observation which I felt at times, may be, other Jazz owners can try it out. Suppose you kept your car in a reasonably inclined plane and loaded the clutch to the biting point along with an optimum acceleration to keep the car stationery. And if you push the accelerator further, neither does the car move up nor the engine increases the rpm. You have to press the clutch a bit down so that engine can respond to the accelerator. I never felt this with my old car. HANDLING & SAFETY: "I should be able to drive the car without much effort and should feel confident at any reasonable speed" I am happy with Jazz in this regard and I give 4 out of 5 for it. But,again, this rating is not in comparison with any other car. They could still improve the pedal feedback while breaking at higher speeds, which will convey a feel of confidence to the driver. SALES & SERVICE: "Hassle-free and quick processes and timely follow ups" I bought my car from Magnum Honda on Kanakapura road, Bangalore. A very pleasant buying experience with the help of Nithin and Siddesh. They were extremely helpful throughout the formalities of the purchase. Hats off to them! But on Service, though Honda topped J.D. Power India Customer Service Index this year, I am still not confident that Honda ensures that each car service is following their predefined process. OVERALL RECOMMENDATION: I recommend JAZZ to the ones who look for a good family car, but not to any driving enthusiasts.
ഹോണ്ട ജാസ്സ് 2014-2020 ഉപയോക്തൃ അവലോകനങ്ങൾ
അടിസ്ഥാനപെടുത്തി
255 ഉപയോക്തൃ അവലോകനങ്ങൾ
എല്ലാം (255)
Mileage (77)
Performance (41)
Looks (83)
Comfort (118)
Engine (86)
Interior (54)
Power (57)
More ...
ഏറ്റവും പുതിയ
സഹായകമാണ്
VERIFIED
CRITICAL
As I use it mostly on highways traveling inter cities for my work. It has a 4 cylinder engine in BS6 that delivers great pickup which I feel every time and also the other...കൂടുതല് വായിക്കുക

I have been using this car and the performance of this is very satisfactory. The ABS system is awesome. Also, it has two airbags which I feel very safe while driving. Boo...കൂടുതല് വായിക്കുക

I purchased the Honda Jazz Car and I found that it is the best suitable car for me. It has many features like Driver Side Power Door Lock Master Switch, Seat Back Pocket,...കൂടുതല് വായിക്കുക

I bought Honda Jazz just a few months ago and I must say it a wonderful car in this price range. This car has a beautiful interior and LED lights which gives a great look...കൂടുതല് വായിക്കുക

I bought HondaJazz Car about 7 months ago with the BS6 engine. It is the best hatchback car in mid-range the built quality is too good and the cabin consists of Touchscre...കൂടുതല് വായിക്കുക

I am driving Jazz Car from last 6 months. Now It has the best interior in the segment including the premium fabric upholstery, navigation system, touchscreen display and ...കൂടുതല് വായിക്കുക

I am very happy to drive Honda Jazz Car. As I use it mostly on highways travelling inter cities for my work. It has a 4 cylinder engine in BS6 that delivers great pickup ...കൂടുതല് വായിക്കുക

My personal experience with this car is that it has Low Noise Engine, Good Performance, Solid Build Quality with Decent Mileage. The music system of this car is...കൂടുതല് വായിക്കുക

എല്ലാം ജാസ്സ് 2014-2020 അവലോകനങ്ങൾ കാണുക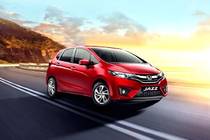 Rs.5.60 Lakh - 9.40 ലക്ഷം*
ഈ കാർ മോഡൽ ഉൽപ്പാദനം നിർത്തിയിരിക്കുന്നു
സമാനമായ ഉപഭോക്‌താക്കൾ സേർച്ച് ചെയ്തവ
Write your Comment on ഹോണ്ട ജാസ്സ് 2014-2020
ട്രെൻഡുചെയ്യുന്നു ഹോണ്ട കാറുകൾ
×
We need your നഗരം to customize your experience