Discomfort and Design Fault the Car ൽ
Discomfort and Design Fault in the Car
Look and Style: Is very good. Comfort: Not satisfactory at all. Pickup: is very good. Mileage: is okay, 09 - 10 Km/ltr Best Features: is it's look style and pickup. Needs to improve: Three major Design fault. (1) Car wobbling. Car is wobbling like anything in most of all range of speed. Mostly in lower speed. It gives very unpleasant and odd experience like a very cheap car. Right from the day one I keep complaining at Gallops Motor at Ahmedabad for this problem. We have jointly taken test drives of other Cruze cars available at the service center. The problem remains same in most of the cars. The technical staffs and as well as Service Manager, Customer Care Unit head have confirmed the problem. (2) Dashboard reflection. The complete dashboard is reflecting on the front glass while driving. This causes less visibility on the road. And sometimes it diverts driver's mind. And due to this I always drive my car in fear of an accident. (3) Demisting and Defrosting system failure. During rainy time and in the night driving, front glass affected with frosting and causing less visibility. During the operation of relative switches for Defrosting, it increases frosting in all glasses and hence we need to switch off the defrosting system. Overall Experience: is of common cars, not the luxury experience.
ഷെവർലെറ്റ് ക്രൂയിസ് ഉപയോക്തൃ അവലോകനങ്ങൾ
അടിസ്ഥാനപെടുത്തി
82 ഉപയോക്തൃ അവലോകനങ്ങൾ
എല്ലാം (82)
Mileage (38)
Performance (14)
Looks (45)
Comfort (40)
Engine (29)
Interior (19)
Power (25)
More ...
ഏറ്റവും പുതിയ
സഹായകമാണ്
CRITICAL
CHEVY CRUZE :-it can be termed as one of the best car in its segment . m 20 and it was my dream to purchase this car . As its nick name its truely a DIESEL ROCKET . i hav...കൂടുതല് വായിക്കുക

Chevrolet's Cruze is technically updated, the best sedan in India under 17 lakh of range. The design given to this car especially from side is awesome, and it gives a lux...കൂടുതല് വായിക്കുക

The Cruze is a seriously smooth car, from its slippery shape to the way its doors shut. In large part, Cruz's smoothness is derived from its impeccably compliant suspensi...കൂടുതല് വായിക്കുക

Chevrolet Cruze is the best car, though I have a diesel variant but power is massive. And there are no complaints with its look its just amazing I love this car very much...കൂടുതല് വായിക്കുക

I bought the Chevrolet Cruze 1 year back. I was a little bit confused with the budget but my parents/relatives insist me for this car and I am damn happy now with the per...കൂടുതല് വായിക്കുക

I love Chevrolet car I always look into that in all site of second-hand cars. my first car is Aveo in the year of 2006, which was giving me not less than 18 km per ltr an...കൂടുതല് വായിക്കുക

I own the Cruze 2012 model. Power is now up to a substantial 164bhp with the torque swelling to a meaty 38.7kgm. The primary focus of the engine tweak has been to improve...കൂടുതല് വായിക്കുക

I purchased Cruze in Oct 2011. What they project and what is actual has much difference. I am a smooth driver which drives maximum time in local. I found smooth runn...കൂടുതല് വായിക്കുക

എല്ലാം ക്രൂയിസ് അവലോകനങ്ങൾ കാണുക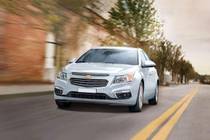 Rs.13.95 Lakh - 17.46 ലക്ഷം*
ഈ കാർ മോഡൽ ഉൽപ്പാദനം നിർത്തിയിരിക്കുന്നു
സമാനമായ ഉപഭോക്‌താക്കൾ സേർച്ച് ചെയ്തവ
Write your Comment on ഷെവർലെറ്റ് ക്രൂയിസ്
6 അഭിപ്രായങ്ങൾ
1
s
subhash
Jul 3, 2012 12:14:11 AM
about the 3 points i have noticed only dashboard reflecting on front glass kindly take your car outside to a 3D balancing and allignment work shop this will sort out your wobbling issues ,should cost you abt 800rs/- do not get the balancing and allignment at the GM work shop they will not get it right get the balancing & allignment every 5k km this will set things right , i had similar issue when the car was new but now even @ 200kmph theres absolutely no issue, am still running on the stock JK tyres will be upgrading @ 25k km
Read More...
മറുപടി
Write a Reply
1
v
vaibhav
Jul 25, 2011 12:02:56 AM
thanks for opening eyes
Read More...
മറുപടി
Write a Reply
1
A
anirudha thete
Jan 26, 2011 10:41:34 AM
THANKS FOR YOUR REVIEW. I HAVE CHANGED MY MIND & NOW I AM GOING FOR HONDA CIVIC. THANKS AGAIN A THETE ANIRUDH
Read More...
മറുപടി
Write a Reply
×
We need your നഗരം to customize your experience