മഹേന്ദ്ര മാരാസ്സോ ഉപയോക്തൃ അവലോകനങ്ങൾ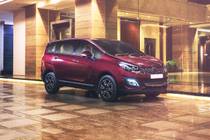 Rs. 11.25 - 13.59 ലക്ഷം*
*എക്സ്ഷോറൂം വില in
ന്യൂ ഡെൽഹി
മഹേന്ദ്ര മാരാസ്സോ ഉപയോക്തൃ അവലോകനങ്ങൾ
All (283)
Mileage (53)
Performance (33)
Looks (79)
Comfort (115)
Engine (49)
Interior (36)
Power (32)
കൂടുതൽ...
ഏറ്റവും പുതിയ
സഹായകമാണ്
VERIFIED
CRITICAL
I am happy to share my reviews about Mahindra Marazzo Car. I bought this car and this is really a good car with Cruise Control. I loved it from day one, I didn't face any problem. It is a very good car and its suspension was good and comfortable to ride. It has good mileage also. It is the best 8 seater MPV Car by Mahindra. കൂടുതല് വായിക്കുക

I bought a perfect car to drive on city roads in traffic with easy overtakes and has the perfect length for small roads and the newly designed Marazzo car has an attractive headlight and Automatic Climate Control. It is in budget and easy to drive. I gifted this car to my father on his wedding anniversary and now he is very happy with that car. കൂടുതല് വായിക്കുക

Mahindra Marazzo fulfills all the features a car wants. Looks are dashing, superb performance, excellent comfort, and good safety. Very spacious, decent mileage. Value for money. കൂടുതല് വായിക്കുക

Overall performance of Mahindra Marrazzo car is so good, Mileage 17.2 km/l, Pickup is great, Comfort level is highly recommended. I just love this car at this price. you don't forget to buy this car. you are searching for the 8 seater car with low price and better look.  കൂടുതല് വായിക്കുക

Very comfortable car in this segment, easy and smooth in long drive with good mileage with a silent cabin and feel like a journey in an Aeroplane.

Good and performance are very good and its mileage is awesome. Good in price and comfortable for a family car

This car is the best car for driving, and comfort entertainment system is also good exterior and front look so pretty.

Gear lever and hand brake position are not good. Uses of the gear lever with armrest are not suitable. Hopefully, the facelift version will fix it.

It is a very good looking car I love to drive it we can do off-roading on it but tires are very weak.

Value for money and best looks comfortable. It has a good feature and spacious. It gives good mileage and it is a multi-purpose vehicle. It is best in class and silent.

This is the best car within its segment, it has all good features and gives a good performance. It has all the facilities that are needed for giving a better experience. The car is full of comfort and the review of this car is fantastic and it is a great choice for the family. കൂടുതല് വായിക്കുക

A perfectly spacious MPV suiting its cost to comfort and driving ratio. Real value for money in its segment.

Really awesome car. Packed with safety, comfort and luxury. The mileage is also better than other cars in this segment. Car is packed with aeroplane AC style.

The car is very comfortable and also delivers good mileage.

I bought it because it was not so expensive and it was having a very good design. it is very comfortable.

Its been a month since I brought home my car and what a feeling it had been. Never expected such a silent smooth and spacious cabin from the house of Mahindra. Amazing comfort and super easy to drive in city traffic too. Plus, it came with the highest NCAP Safety ratings in the MPV segment. Whether you buy it for personal or commercial use, I am su...കൂടുതല് വായിക്കുക

No.1 car in its segment. Best in its class features with smooth drive and best mileage. It's a value for money product.

Excellent Car. Undoubtedly best in this range. Excellent Mileage - 18.5 in highways with full AC superior comfort - Best in class suspension. Drive quality - smoother than butter.  കൂടുതല് വായിക്കുക

Good comfort, good performance,  better than Innova. Badget MPV.

Have been using the SHARK for last 6 months...excellent vehicle to take your family out and to relax on a lovely date..makes the whole driving cosy, silent, and smooth.. Be it a family get together or relaxing weekend friends chat it'll all come alive I a Marazzo Ultimate, seductive, and cool driving is what you may call it... Boot space is excelle...കൂടുതല് വായിക്കുക

I feel comfortable in this car. The looks, amazing smooth driving, pick up, fantastic features, sound quality and air conditioning is very good. Also, has an ultimate power steering, seating capacity is very cool. In fact, the dashboard is also spacious. കൂടുതല് വായിക്കുക

I have a Mahindra Marazzo I liked this SUV, it is a 7 seater car. Recently, I drove 650 km in 10 hours with my village and it was amazing to run a total of 2000 km. I would like to say to all Mahindra lovers, the best option is to drive in SUV 7 seater, trust me, you will forget the Innova Crysta. കൂടുതല് വായിക്കുക

Excellent interiors and safety but engine performance not much cant able to climb hills alerting engine overheat issue.

Best in the segment at this price but interior plastic quality can be improved. Mileage reduces to 12 kmpl after 10000kms.

It is an excellent car light steering, good feeling, spacious car and much more but there are some cons with it like pickup and low power on 2 and 3 gear.

Mahindra Marazzo is super sturdy and best for highway. It is recently driven to put behind all cars on highway with ease with no engine sound inside the cabin.

Excellent interior space with a silent cabin. Loved driving on long rides, absolutely smooth, smoother than melted butter. The AC has quick cooling after the engine starts. Excellent handling and seamless drive using Cruise control (M8 Only). It has a very aggressive front look with a good road presence. Best value for money. With fully loaded and ...കൂടുതല് വായിക്കുക

Just super, my wife and kids love sitting in the car, wife describes sitting in the car as sitting in luxury AC bus, comforting. Good milage. Regarding engine capacity, it doesn't matter for my use. Its a perfect family car. കൂടുതല് വായിക്കുക

Mahindra Marazzo is the best family car having huge space With the best comfort and effective fuel efficiency. Great in terms of looks of the vehicle.













Not Sure, Which car to buy?
Let us help you find the dream car

Are you Confused?
Ask anything & get answer 48 hours ൽ
ഉപഭോഗ്‌താക്കളുടെ നിരൂപണങ്ങൾ മാരാസ്സോ പകരമുള്ളത്
Rs. 15.66 - 24.67 ലക്ഷം *

based on 487 ഉപഭോക്താക്കളുടെ നിരൂപണങ്ങൾ
*എക്സ്ഷോറൂം വില ന്യൂ ഡെൽഹി ൽ
ട്രെൻഡുചെയ്യുന്നു മഹേന്ദ്ര കാറുകൾ