My നിസ്സാൻ സണ്ണി
My Nissan Sunny
Look and Style-I and all my friends and family liked it.It looks much better in person than in photos. Comfort-This was the major criteria for selecting the car after living with a humble M800 for almost 11 years. I had considered and test drive of petrol models of Etios, Honda City, SX4, Manza, and I20. My rating is Manza=120=Sunny and Etios comes next. The Citys seats are good but the ride is bumpy on uneven roads and due to poor ground clearance scrapped all the speed breakers in my area.SX4 is the least comfortable among the above cars Pickup Sunny's pick up is just sufficient. It is certainly adequate and I felt no difference with A/c switched on. But at the same time lacks the enthusiasm of the City (wow..ivtec) and even the Etios (lighter car). Manza is the worst in this aspect and immediately taken out of our buying list.I20's pick up is almost same as the Sunny but reported poor A/C and steering rattling worried us. Sx4 's pick up is not at all sufficient for its weight and the interior is the worst among these cars. Reversing is a pain and also the reported high fuel consumption.Its biggest advantage is its ground clearance but lags behind in every other department and deleted from the list Mileage I drove the car for around 900 km through all possible terrains (city 20%,highway 50% and the remaining 30% through ghats, hills and all type of other roads that we can find in the western ghats during the last couple of weeks. The mileage I am getting is 13.9 kmpl with A/C 30% of the time.Drove sedately and never crossed 110km as the car is in running in period. Above 60% of the drive (time wise) spent was on hilly and rough roads and most of the time the car was in 3rd gear or lower (under 50km speed). Through the same route, I was getting 16kmpl for my M800. I expect the sunny to give 15-16kmpl after the running in. Best Features-Sunny XL has all the conceivable features minus fog lamps, alloy wheels adjustable seat belts. I was not considering a car without safety features like ABS and airbags. Needs to improve A little more pick up will do no harm and also the gear shifting is not the best, it is notchy,puticularly from 4th to 5th. The interior color scheme is a little boring with what they call the ' griege'. Overall Experience-We were looking for a comfortable, spacious and reliable petrol car ( annual intermittent usage of 3000 to 5000 km) which can take us through all sort of roads (not off road). Nissan is a world renowned auto giant. Sunny met our requirements and took the plunge. With this short time of experience, I must say I am happy with my decision though the buying experience was really bad and not receiving a single call from the Nissan customer care even after sending an e-mail message to them. This is a worrying factor. This must be the reason for the sagging sales of Nissan MoM.Nissan, are you listening?
Write your Comment on നിസ്സാൻ സണ്ണി
1
G
gowtham saran d
May 14, 2012 11:27:20 PM
Hi everybody, I have personally test driven twice,once with parents and next time with my brother.First i have visited nissan showroom for sunny.MY parents refused to come because they only relay on dzire.I have requested them to visit once.At first visit itself sunny admires my parents.very huge,comfortable,good looking beast attracted my family.They all of a sudden requested for test drive.Since it was sunday first they refused to give test drive(no company giving test drive on sundays).But after seeing our enthusiasm,they aggreed for test drive. After test drive my family decided to buy sunny.After that we convinced my brother and visited showroom along with him.He stunned by looks and admired.First time all of my family members had single though of bring back home the lovable beast sunny. Waiting eagerly for its arrival..........
മറുപടി
2
M
mathews
May 19, 2012 7:19:13 PM
Hi Gowtham Congratulations on your decision. Sunny is a wonderful value for money car. I am stating this after six months of ownership and driving it for 3000 km.
മറുപടി
1
K
k.sreenivasarao
Feb 6, 2012 2:37:34 PM
I am fully satisfied with the Nissan Sunny XL.However no customer care / dealer has not enquired about the performance of the vehicle.I noticed some times the braking is giving noise and overall vehicle is good in terms of driving experience compared with MarutiSwift. They have to improve the braking system and interior colors. The Honda city's interior is superb and looks also good compare with Nissan Sunny XL.
മറുപടി
2
M
mathews
Feb 6, 2012 9:18:04 PM
I am also happy with my sunny XL.There is no breaking noise in my car but the brake pedal action take some time to get used to.I too surprised with Nissan . After almost two months of ownership and there are no calls from neither Nissan nor the dealer. They are too confident of the product or dont care.
മറുപടി
1
r
raj
Jan 9, 2012 3:17:51 PM
hey buddy its kk that u compare etios,i20 with your sunny............but city,sx4 donot lies in this segment.............their segment is another..hhahahaha
മറുപടി
2
T
tijo
Jan 11, 2012 10:19:08 AM
let it compered with other cars, irrespective to segment.
മറുപടി
3
R
ritesh madhok
Apr 23, 2012 2:07:44 PM
As the Nissan sunny is a C segment Sedan, so it is competing with the likes of Swift Dzire, Toyota Etios, Skoda Rapid, Volkswagen Vento etc. else comparing it to the upgraded segment cars would lead us to an impractical conclusion. Hope you understand it.
മറുപടി
നിസ്സാൻ സണ്ണി ഉപയോക്തൃ അവലോകനങ്ങൾ
അടിസ്ഥാനപെടുത്തി
95 ഉപയോക്തൃ അവലോകനങ്ങൾ
All (95)
Mileage (37)
Performance (17)
Looks (31)
Comfort (45)
Engine (17)
Interior (16)
Power (16)
More ...
ഏറ്റവും പുതിയ
സഹായകമാണ്
VERIFIED
CRITICAL
I have always been a great fan of SUVs but after buying Nissan Sunny, I just have been crazy about it. This car is truly amazing. It has got all the features which one ba...കൂടുതല് വായിക്കുക

I have 2012 Sunny XV variant really very happy with that getting 24 average mileage in highway and 18 average in the city.    

Proud owner of Nissan Sunny for 7 years. Real Specious, Noiseless and trouble-free. Low maintenance with 14 km/ Ltr. Petrol mileage.

Nice car but not so stylish had great space powerful engine not so costly maintenance good choice for daily use.

I had never thought that this car will be 5/5 in my measurements. But it has proved itself in my 12 years of driving experience this car given me best-driving pleasure, a...കൂടുതല് വായിക്കുക

A true blue Sedan. Best quality materials used in building this car. Safety and comfort top notch. A true family car that ticks all the boxes. A more peppy engine would h...കൂടുതല് വായിക്കുക

Nissan Sunny is very spacious and comfortable. Worth every penny, best car you can get as per the price point of view and very economical to run.

എല്ലാം സണ്ണി അവലോകനങ്ങൾ കാണുക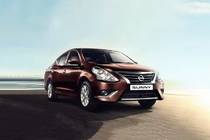 Rs. 7.07 Lakh - 10.76 ലക്ഷം*
ഈ കാർ മോഡൽ ഉൽപ്പാദനം നിർത്തിയിരിക്കുന്നു
സമാനമായ ഉപഭോക്‌താക്കൾ സേർച്ച് ചെയ്തവ
ട്രെൻഡുചെയ്യുന്നു നിസ്സാൻ കാറുകൾ