ഹുണ്ടായി ഐ10 iRDE 1.1 Magna- THE HAWK
Hyundai i10 iRDE 1.1 Magna- THE HAWK
A most popular hatchback car called "Hyundai i10 iRDE (Intelligent Responsive Drive Engine)" was extensively recognized as "Car of the Year" by various automotive magazines and media all over the world. I was bit scary, since this was my first car purchase ever. But the market coverage along with my pocket size was pointing me towards Hyundai i10. My car is featured with central locking, front fog lamps, standard keyless entry, interior illumination, seat back pockets, and back light braking mechanism. i10 was launched precisely with a 1.1 liter with lower CO2 emissions. Engine produces maximum power at 5500 rpm and maximum torque of 10.1 kg/m at 2500 rpm Styling- Ergonomic design was intended to accommodate drivers ease and increasing rear knee room. i10 has a large wide air-dam, pulled-back headlamps incorporated clear lens fog lamps, a bonnet that has a clamp shield hint and a rear window with an inclined curve. The tailgate has an external chrome-lined release handle and an integrated roof spoiler (optional- I had opted). This gives a real thrust back to Chevrolet Beat, Hyundai Getz, Hyundai Santro, Maruti Suzuki Zen Driving- It's all about quality the South Korean company has put all in one - the riding impression you get from the i10 is one of elegance of driving. This is well a city car , wind noise is well-suppressed, the engine noise is almost nill and there's minimal tyre growl. It's so good that you wouldn't think twice about doing to own it in a while. I would really suggest a try for it. Interior The interior has a dashboard with an option for stereos for music lovers. The instrument has got a large sized speedometer, edged by the tachometer and cornering the fuel and temperature scales. Gears has been fitted in central part to provide space for few cup holders Exterior Hyundai introduced an all-new front-end fluidic sculpture design with hawk eye look, magnificent bold hatchback. The sharp extensions of tail lamps and spoilers definitely make the difference in exterior. It's a full sporty look family car best for the nuclear families. It also swanks brisk twisted headlamps with multi-reflecting chrome surround fog lamps for wider penetration. It also features a micro roof antenna, body colored door handles and contrasted wheel covers to feel the unmatched combination of exterior color with the wheel base. Concluding phrase Hyundai Motor India Ltd i10 has nothing more to offer, since i10 price is so very competitive in the Indian auto market which is giving tough competition to all other cars of this segment. The most loveable part of this car is its swiftness and power steering. When u ride i10, u will imagine urself as you are sliding on butter...I challenge, u will really fall in love with it. But my obvious concluding rating would be 4 out of 5 stars for its rare looks which makes this as a premium hatchback car incorporated with good performance, stunning features, and eye catching looks. Well, everything poured and shaped into one design is i10. If you wish for a different car in such a lesser price then buddy, Ahhhh! there is no other option. You will have to go for a bike..!!!
Write your Comment on ഹുണ്ടായി ഐ10
ഹുണ്ടായി ഐ10 ഉപയോക്തൃ അവലോകനങ്ങൾ
അടിസ്ഥാനപെടുത്തി
158 ഉപയോക്തൃ അവലോകനങ്ങൾ
എല്ലാം (158)
Mileage (99)
Performance (46)
Looks (103)
Comfort (107)
Engine (72)
Interior (61)
Power (48)
More ...
ഏറ്റവും പുതിയ
സഹായകമാണ്
VERIFIED
CRITICAL
I purchased i 10 Magna model in 2010 and switched over to i10 from Tata Indica Petrol, which I used for almost 3 years. I drove i10 for almost 7.5 years before I went for...കൂടുതല് വായിക്കുക

All the tyres are recently replaced by new tyres. Engine oil is also recently changed. Gear oil is also changed. It gives a mileage of 19 KMPL.

I own a hyundai i10 2010 model. Its been more than 6 years i am using this car, and till date other than regular servicing, I have spent only 20,000 on servicing (becuase...കൂടുതല് വായിക്കുക

i am a proud owner of this car for last 7 years. i am 67 years old retired professional. this is the 7th car i am using now. i get a very happy sense of driving a safe ca...കൂടുതല് വായിക്കുക

Hyundai i10 is proved to be very reliable car during my 6 years of ownership. For me this is top most priority and I dont like to get stranded on a road or leaving my car...കൂടുതല് വായിക്കുക

What to say and where to start. i10 is my first car, on which I have started learning driving in 2014. Best thing about the car is its Steering module. It is effortless a...കൂടുതല് വായിക്കുക

A little city car that has got plenty to live up to. Sharp looks and a sweet but old 1.1-litre engine is still the drivetrain in this car. It's all about quality here - t...കൂടുതല് വായിക്കുക

Hyundai i10 has cool car the hatchback market in India since it's launch. I am quite satisfied with its performance. The entry level hatch i10 is decent in terms of comfo...കൂടുതല് വായിക്കുക

എല്ലാം ഐ10 അവലോകനങ്ങൾ കാണുക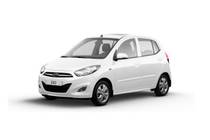 Rs. 3.79 Lakh - 6.55 ലക്ഷം*
ഈ കാർ മോഡൽ ഉൽപ്പാദനം നിർത്തിയിരിക്കുന്നു
സമാനമായ ഉപഭോക്‌താക്കൾ സേർച്ച് ചെയ്തവ
ട്രെൻഡുചെയ്യുന്നു ഹുണ്ടായി കാറുകൾ