ഹോണ്ട CR-V, The Best എസ് യു വി With Smashing Looks
Honda CR-V, The Best SUV With Smashing Looks
Look and Style: I am a big fan of sports utility vehicles and recently I got a chance to drive Honda CR-V SUV. The aggressive and sporty exteriors can amaze anyone. The eye-catchy and macho appearance both from front and rear makes it unique. The massive front fascia with sportier grille further enhances the overall style and sportiness of the SUV. The side fringes running from front to the rear end of the car enhances the masculine appearance. Comfort: When I stepped into drive Honda CR-V, I was stunned and amazed by the comfort and class-leading interiors. The most noticeable and stylish thing which attracted me most is its dashboard. The high-quality ingredients affixed on the dashboard and the LCD screen, behind the power steering are one of the classy features. The car offers comfortable and soothing driving experience and also provides large boot space. Pick-up: I was astounded with the pick-up of SUV as CR-V accelerates from nil to 100 km/h in just a few seconds. Mileage: As per company norms, Honda CR-V offers a low mileage of 8.2 km per liter in city conditions and 11 Km/L on highways. Best Features: The high safety features and technological features are few of the best features of the car. Honda CR-V delivers high performance and power along with class leading interiors and sporty and stylish exteriors. Need to Improve: The mileage needs to be improved. Diesel version and low price tag are two areas where the company needs to work out. Overall Experience: In my opinion Honda CR-V is one of the best SUVs in India which offers high performance and quality. But the company needs to work on the mileage and should try to roll out SUV in diesel version.
ഹോണ്ട സിആർ-വി ഉപയോക്തൃ അവലോകനങ്ങൾ
അടിസ്ഥാനപെടുത്തി
46 ഉപയോക്തൃ അവലോകനങ്ങൾ
എല്ലാം (46)
Mileage (13)
Performance (12)
Looks (20)
Comfort (21)
Engine (9)
Interior (10)
Power (11)
More ...
ഏറ്റവും പുതിയ
സഹായകമാണ്
VERIFIED
CRITICAL
I am using Honda CR-V Car and I recommend it to others also who are looking for an SUV with comfort and safety. This car comes with amazing features like a panoramic sunr...കൂടുതല് വായിക്കുക

In my opinion, Honda CR-V is a good SUV with premium cabin quality as the cabin has leather all around that gives a complete rich feeling to this car. Also, the exterior ...കൂടുതല് വായിക്കുക

Since the day I am driving this car, I just love this car. It looks so amazing and has a lot of features inside out. It has spacious legroom that gives so much comfort du...കൂടുതല് വായിക്കുക

I purchased the Honda CR-V Car because it looks very amazing and its Premium cabin quality with soft-touch plastics, All LED lights, etc make it look more amazing. Also, ...കൂടുതല് വായിക്കുക

I am using the Honda CR-V Car for the last one month and happy with the performance of this car. It provides me comfortable driving with its comfortable Leather Seats and...കൂടുതല് വായിക്കുക

I have a Honda CR-V which I bought just a few days ago and happy with its overall performance. Honda CR-V has many features that improve comfortability and give me a good...കൂടുതല് വായിക്കുക

I am using Honda CR-V Car and I recommend it to others also who are looking for a comfortable SUV car. This car comes with amazing features like a panoramic sunroof, dual...കൂടുതല് വായിക്കുക

Honda CR-V Car looks very stylish and amazing. A lot of safety and comfort features are in this car that makes my driving experience amazing. Also, its interior is very c...കൂടുതല് വായിക്കുക

എല്ലാം സിആർ-വി അവലോകനങ്ങൾ കാണുക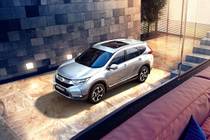 Rs.21.10 Lakh - 32.77 ലക്ഷം*
ഈ കാർ മോഡൽ ഉൽപ്പാദനം നിർത്തിയിരിക്കുന്നു
സമാനമായ ഉപഭോക്‌താക്കൾ സേർച്ച് ചെയ്തവ
Write your Comment on ഹോണ്ട സിആർ-വി
2 അഭിപ്രായങ്ങൾ
1
a
ashok patel
Feb 22, 2012 11:31:42 AM
value for money wise not adviseable
Read More...
മറുപടി
Write a Reply
1
I
indranil sen
Feb 21, 2012 10:02:17 PM
I drive a Skoda Fab. Recently at Mahindra 1st Choice, I found a black AT, with Sun/Mooon top ran for approx 60,000 Km with a price tag of KRs.8.5.Unfortunately it had a sticker on it's wind screen Just Missed U. When enquired, the service provider, allowed me to sit as a driver, start the engine, know the Auto transmission; but did not allow me to test ride. Why? as per norm, some another more fortunate gentleman just booked the black marvel, but on a wait for his loan application approval. I was wondering, what on earth made the 1st owner sell the damn bloody beauty! But Pulak, the service provider, till date has not totally disappointed me! He assured me, one block to the 1st applicant on his loan approval will automatically aim me, for sure. I am now a bit worried. I shall leave for a S.India trip on Sunday, the 26th, the night we got married 30 years back & shall return on 15th March midnight to our home at Kolkata. What Pulak will do in my absence? Will God gift my wife Urmi the 2nd hand Beauty, whom I know may be divorced, but shall be kissed by her in front of me at the 1st instance. SHHHH. God permits it will be one of the most memorable Gift to my Family; and will it happen before 26th, a sunday!
Read More...
മറുപടി
Write a Reply
ട്രെൻഡുചെയ്യുന്നു ഹോണ്ട കാറുകൾ
×
We need your നഗരം to customize your experience