Driving the Dream
Driving the Dream
They say you can never go wrong with a Honda and the saying holds true even in 2016 when we are seeing an onslaught from manufacturers driving their sedans in the market and refreshing them as frequently as cell phones. But City stands tall amidst all the noise and continues to sell like hot cakes for years now. It's like an experienced guy who has seen all seasons and become better every time. It's an executive's workhorse, businessman's ally and a professional's pride. Personally, City is much more than a car to me. It was my first crush and remains so for 15 years now. I had always dreamt of having a real one ever since I received a scale model on my birthday as a child. The wish is now fulfilled by my father which was incidentally his dream car as well. Technically, the car is powered by 1.5L iVtec motor churning out 119 bhp of power and comes with all the bells and whistles that you would expect in a C-segment sedan. The exterior styling draws design cues from its previous generation and some elements look BMWish which lends it a modern, sophisticated and premium look. The interiors come with a beige and black combination which looks top class. The quality of materials feels better than its German counterparts. The leather upholstery in higher variants puts it in a different league altogether. The automatic variant comes with CVT which delivers more fuel efficiency than manual and has much better NVH levels than peers. It's a car but doesn't drives on roads rather, it glides. You almost feel weightless as it soaks up the bumps and potholes beautifully. The drive is effortless, comfort superior, interiors top-notch and styling both elegant and aerodynamic at the same time. It has luxury written all over it. And for a typical Indian, it offers a mileage of 25kmpl (diesel variants). Yes, you read it correct, better than many hatchbacks. So, basically, it offers something for every kind of buyer and ticks all the boxes that any prospective customer looks at. It's a one-size-fits-all kind of a package. No wonder, it has remained the all-time favourite sedan for Indians. I will not be wrong in saying that an Indian middle-class man dreams of primarily three things - stable job, a house and a Honda City. It's like an old wine which keeps on getting better with time. It's the Apple iPhone of cars but surely, the 'apple of my eye'. And you never compare apples with anything else. To conclude, there are people who drive cars and then there are those who drive a Honda. I feel proud to fall in the second category.
Write your Comment on ഹോണ്ട നഗരം 2015-2017
ഹോണ്ട നഗരം 2015-2017 ഉപയോക്തൃ അവലോകനങ്ങൾ
അടിസ്ഥാനപെടുത്തി
55 ഉപയോക്തൃ അവലോകനങ്ങൾ
എല്ലാം (55)
Mileage (30)
Performance (20)
Looks (42)
Comfort (41)
Engine (35)
Interior (30)
Power (22)
More ...
ഏറ്റവും പുതിയ
സഹായകമാണ്
CRITICAL
After driving it for 5 years, I can proudly say that Honda CITY deserves to be at the top in the SEDAN segment with the price range it offers. Weather you want to drive i...കൂടുതല് വായിക്കുക

A few years ago, if you were in the market for an efficient family sedan, an automatic variant would most likely not make it to your wish list. Because ATs back then were...കൂടുതല് വായിക്കുക

Honda city is one of the best and reliable car on the Indian roads. Smooth drive, Good after-sales support, good looks and excellent resale value is one of the main point...കൂടുതല് വായിക്കുക

Hi all, I am proud of owner of Honda City which has been with me for 2 years now. I must say it is a reliable car and it still feels new. The car is daily travelling to G...കൂടുതല് വായിക്കുക

If you take a little stroll in the past, Honda City is the only one car which has served as an icon of luxury and comfort for the Indian middle-class families. People hav...കൂടുതല് വായിക്കുക

It is a great car both by style, comfort and best customer support. Probably the best car in the budget with paddle shifter, Cruise control, Sunroof and powerful CVT engi...കൂടുതല് വായിക്കുക

The engine is well tuned and offers good low down performance and the turbo lag is well contained, steering wheel is nice to hold and buttons on steering are easily acces...കൂടുതല് വായിക്കുക

I have purchased a pre-owned Silver color honda city. Its a great car. The driving pleasure is amazing.I was initially very skeptical in buying a pre-owned car. But after...കൂടുതല് വായിക്കുക

എല്ലാം നഗരം 2015-2017 അവലോകനങ്ങൾ കാണുക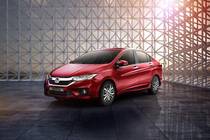 Rs.8.11 Lakh - 12.43 ലക്ഷം*
ഈ കാർ മോഡൽ ഉൽപ്പാദനം നിർത്തിയിരിക്കുന്നു
സമാനമായ ഉപഭോക്‌താക്കൾ സേർച്ച് ചെയ്തവ
ട്രെൻഡുചെയ്യുന്നു ഹോണ്ട കാറുകൾ
×
We need your നഗരം to customize your experience