Road or no Road, who cares
Road or no Road, who cares
From a good long time I wanted to tell my story with my Ford Endeavour and I don't think there is any better platform than this. To start with, I love cars. They look great in almost any shape and size and most importantly they make a sound that is music to my ears and then they move, Fast. A car has always been more than just a medium of transport to me, I feel the connection between me and the car then be it a go-kart or a full-sized (in India) SUV like my Ford Endeavour. Its been over 12 years since I am eligible for driving a car and for all that time I have been hearing one very specific rumor about Fords that they are expensive and they don't have a good resale value. I have always liked Ford cars, I had driven a few from my circle and I really liked them. From a Ford Ikon josh machine to a Figo and then a Fiesta these American raw churners made an impression that made me not believe on the rumor anymore and then was the time I made my mind to buy one, A Ford. Ford Endeavour otherwise known as Ford's Everest is a car one just cannot miss looking at while on the road. Its tall stance, long wheelbase, muscular shoulder line, massive wheels, an old school typical huge trunk and an aggressive front grill with a very prominent Ford logo sitting there right in the center, the car looks like nothing but a moving mountain. The old school humongous ogre like road presence of this car doesn't just limit itself to how it looks but also extends to how it moves. This SUV comes with a 3.2 liter, 5 cylinder turbo diesel engine which churns out 200PS of max power and a massive 470Nm of torque which moves this monster of a vehicle with the utmost ease. Although I do feel the turbo lag at the low ends but then that is just a matter of a few seconds which I don't want to complain about. It's fun to drive motor which is not very quick but that?s because of its lazy gearbox, but it responds right when you need it to. So leaving the rubber-band effect aside this is a great power plant in all its glory. The suspension setup on this vehicle is good too, on both on road and off road settings, it maintains a good balance between both the road types and keeps the passengers at absolute comfort. About the in-cabin comfort, this car has to offer an arsenal to talk about. Again, let me tell you the engine here is a huge 3.2L TDCi which undoubtedly is a noisy brat, but who's complaining about the Active in-cabin noise cancellation system this car comes equipped with, I would want to warn you while you plan to share your secrets with the guy sitting next to you. This cabin is bloody silent. With bright colored beige interiors, this cabin feels extremely roomy and has a rich feel to it. The leather upholstery is one of the best I have ever been on, the sporty leather dashboard with detailed accents that also bring in elegance balances a perfect mix of adrenaline and tranquility. on the other hand at your service is the Touch screen infotainment system with state of the art technology that comes with Microsoft's SYNC 3 software where you can play all your media files (Audio) and which also comes with in-built GPS and a support for Apple car play and Android automated to a really good 10.1 speaker + woofer setup which sounds great. With a silent roomy cabin, a good music system, plush interiors, big windows with compact A, B and C pillars that give you a great view to enjoy while you are not on the steering wheel. Having all this to your comfort you need nothing but a nice good long drive, especially on a rainy day when you can look at the rain from within the car through its massive electric panoramic sunroof, it's a feeling that cannot be expressed in words. The rain sensing windscreen wipers do a great job here. Now, this is something that you will never find in any of the documentation but in a way it's true. So Ford calls it a dual-zone climate control system but you can have 3 different temperature zones in the car, the driver and the passenger have their own temperature zone controls, but in addition to that the rear AC vents also come with a tradition temperature control which means, in simple language I on the driving seat can have my zone set at 20 degrees, my wife on the passenger seat can be comfortable at 25 degrees and our pooch can enjoy the summers at 18 degrees in the back seat, technically that?s 3 different temperature zones. Which is bloody impressive. With a great car comes great responsibility and this car handles it like none other in its class. Speaking of SUVs they are meant to play a few risks with. While you are all set to explore places in this vehicle and you are sport enough to push limits then it's the responsibility of the car to keep you safe. To keep you off your worries while you are on the road this car offers a ton of safety features like a set of seven SRS airbags that comes with a driver knee airbag too, a rigid chassis, ABS+EBD, traction control (switchable) so that you can enjoy your drive. And if you are really pushing limits and then this car lets you do that too with its state of the art technology which comprises of, TMS (Terrain Management System) wherein you can choose with a dial knob which mode you want to drive in and the car's computer then tunes the output and acts according to the selected mode also comforts you while you throttle through the unforgiving terrain. There are several modes to choose from which suits mud, rut, snow, grass, sand, and gravel also you can pair this with a low range 4x4 mode which allows the car than to glide on the roughest of terrain. Let's not forget it also saves you from stalling or free rolling while you are climbing or descending with its hill descent control and launch assist. What's an SUV if it stays shy of water. This monster of a car has a water wading depth set to 800mm, an approach angle of 30 degrees, departure angle of 25 degrees and a ramp over angle of 21 degrees and what amazes me is while it maneuvers through these it also displays real-time heading, tip over angle, articulation details on a screen on the information cluster that helps you avoid mistakes and thus keep going further. With all-time active (switchable) front and rear parking sensors and a rear camera with dynamic guidelines, it makes a perfect off-road package. Driving on straights you can be really relaxed with the Endeavour?s cruise control and the speed limiter. Set your speed and let go off the throttle and the car keeps gliding on the road without any hassle. Also on the other hand if you chose to drive the car manually but worry about speeding ticket, then you have a speed limiter wherein you can set your speed limit and keep throttling once you hit the set speed, the car will not only cut the power to the wheels but it will then also maintain the set speed unless you lift your foot from the pedal. Now does that sound smart to you then I'd say the next will blow your mind? Haven't you heard that the Endeavour is a full-time 4WD and you cannot switch it to 2WD well even I believed that, but It came to my surprise that the car when setting on cruise control and hits the desired speed (post 60kmph), it then cuts the power to the front wheels and keep cruising only on the rear wheels at power. How smart is that? Information cluster, it is something I can keep talking about. I am very impressed with the amount of data it displays. From distance to empty, to in-depth fuel economy history, a real-time compass, Navigational inputs, articulation angles, tip over angles, turning of front wheel angle is displayed in degrees, also real-time digital speedometer, power distribution information, digital RPM, engine oil temperatures, odometer, also on the other half of the screen it shares the display with the touch screen on the center console, the counterpart of the touch screen is the mini screen on the info cluster displays limited data from the media, the maps, and the connected phone. After mentioning all this I am sure I must have missed on a few points too. Yes with all that awesomeness it sure does have a few downsides too and that exactly where it stays short of 5-star rating on my review. First and foremost the poor mileage. The car just doesn't want to step beyond 7.5 Kmpl in the city whereas on the highway it can show you economy figures like 10.5-11 Kmpl. But the ARAI figures tell a completely different story. Another thing car lacks at is the lazy gearbox, it takes ages to shift which is eating on the car's mileage due to over acceleration will be my guess. Also, I drive a DSG alongside so in my mind I keep comparing the two. The slow shifts are a total discomfort while at the wheel, especially when maneuvering through dense traffic. Then comes the size, it definitely looks big and has a great road presence but parking the car in tight traffic locations is a task and that?s why I kept one of its highlighted features to be mentioned in the downside. The car comes equipped with partial auto park, which basically finds a place to parallel park the car and then parks it automatically, but only parks and won't take it out of the parking again. Undoubtedly the feature works just fine, but the sensor calculations and the process is very slow thou accurate, but you really don't have space and the time to let the Auto park, park it. So the feature is useless in cities. Pros: Great road presence, Powerful engine, Comfortable seating, loaded with state of the art technology, Safety at its peak, Good boot space (without 3rd row), Comfortable 3rd-row seating, excellent visibility on and off the steering wheel, great stereo, good service with personalization options. Cons : Poor mileage, Parking problem, access to 3rd row, no headlamp washers (post 2018 models), slow gear shifts, long waiting period post bookings, changing wheel is not a one person's job (should have at least consider giving run flats or a powered tyre inflator with the car) Talking about post-sales services, that?s one good way ford has kept their line of sales tight. Good one day service, pick up and drop available on pre-bookings. The service cost doesn't vary too much from the cost discussed with the engineer at the service station. But also what amazes me is the cost is also very close to what's been quoted on Ford's owner application on Android play store and Apple app store. The Ford owner?s app on calibrating also lets you know about a few details of your vehicle and reminds you about your service intervals. The usual service cost with oil change comes about 6500 to 7000 INR that includes pickup drop facility which is really a surprising amount for the car that size in a good way. Its been some 20 odd thousand kilometers with this beautiful monster and there hasn't has been a day I have regretted my choice. Even it's the tightest of city traffic or cluttered parking lots, there is always something that counters the Cons of this car making it by far the best car I have ever driven till date.
Write your Comment on ഫോർഡ് എൻഡവർ 2015-2020
ഫോർഡ് എൻഡവർ 2015-2020 ഉപയോക്തൃ അവലോകനങ്ങൾ
അടിസ്ഥാനപെടുത്തി
219 ഉപയോക്തൃ അവലോകനങ്ങൾ
എല്ലാം (219)
Mileage (20)
Performance (30)
Looks (45)
Comfort (70)
Engine (41)
Interior (26)
Power (43)
More ...
ഏറ്റവും പുതിയ
സഹായകമാണ്
VERIFIED
CRITICAL
It is a solid and modern car to attract anyone. Its interior design is so pretty. It gives you the satisfaction that you buy a multipurpose car.

It is a big and huge masculine SUV. Its look is very aggressive. This car is loaded with many and ultimate features like- auto park, sunroof, etc. Its 3.2 engine produces...കൂടുതല് വായിക്കുക

Ford Endeavour is the best car in the world, which comes with the best build quality. Big tyres look so beautiful with the best comfort. The car gives a very luxury feeli...കൂടുതല് വായിക്കുക

This is a kind of car that gives a classy and sporty look when it's moving on the roads. I checked out all the features of this car and the results were perfect. It has f...കൂടുതല് വായിക്കുക

Very good experience and very good SUV very good in driving, very good in average fabulous SUV lovely.

Very good car and it is very stylish. Safety is very good. Also, the other features are good.

Endeavor's performance is better than any other SUV in his segment like- Fortuner, Tiguan and Harrier, etc. Its pickup is very amazing and it is for better for the long d...കൂടുതല് വായിക്കുക

എല്ലാം എൻഡവർ 2015-2020 അവലോകനങ്ങൾ കാണുക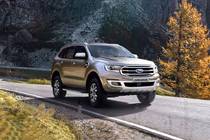 Rs.24.94 Lakh - 34.70 ലക്ഷം*
ഈ കാർ മോഡൽ ഉൽപ്പാദനം നിർത്തിയിരിക്കുന്നു
സമാനമായ ഉപഭോക്‌താക്കൾ സേർച്ച് ചെയ്തവ
ട്രെൻഡുചെയ്യുന്നു ഫോർഡ് കാറുകൾ
×
We need your നഗരം to customize your experience