എ write മുകളിലേക്ക് ഓൺ why ഐ chose ക്രൂയിസ്
A write up on why I chose Cruze
I was researching on all the 5 cars in this segment(Laura, Civic, Jetta, Altis Diesel) and have taken test drives on all of the above-mentioned models. Hope someone finds this useful Jetta - Engine responsiveness is good. The German brand name, quality, performance. But must say that the interiors leave much to be desired(Germans I guess, are not very bothered by this aspect of the car). Come on, the interiors are where you are going to spend 99% of your time and this is one aspect which we should feel comfortable when we are shelling out 15 - 16 lacks of our hard earned money. Drive quality is good, though. I am not sure about the maintenance cost (supposedly high). Altis - Below par performance. You can compare it with those of a lower segment. The interiors are very spacious though and the wooden interiors though not very classy gives you are luxury car feel. Itz an ideal car to be chauffeur driven in(If you fall in that category). Then you have the Toyota tag and the top notch service quality and reliability associated with it. Indians love the brand value and that accounts for the huge sale numbers for this brand. But if you enjoy long drives, I would least recommend this car as it is below par in performance Laura - Interiors to die for. These guys know what the Indian consumer class(15-20 lac segment) needs and they have tailored their product accordingly. Performance is similar to the Jetta, but somehow when I test drove this one, the 'power feeling' was more. I have 3 friends who have bought the laura and are having huge maintenance issues. This will definitely burn a hole in your pocket. Civic - One of Honda's best products in India. Reliable, classy and trouble free(based on a review by my colleague who used it for 2 years). There are people who said ground clearance was a problem. I test drove and took some bumps; didn't find much of a prob. Would recommend this highly if you are ok the Petrol costs. Cruze - Ideally, you can't compare the other four with this. This is a BEAST. Seriously. I test drove this and this blew me away. I started the car(Manual Version) and pressed on the accelerator(nothing happened). I was wondering what's happening and then suddenly the car lurched forward(That was the turbo lag. Once the rpm crosses around 1800 the turbo kicks in and does it give you a kick. Yes, it does- A real kick in the back. I am not exaggerating here. Prospective buyers of the Cruze, please test drive the Cruze only after you have driven all the other models mentioned above, else you will immediate conjure up the opinion that the others are not good. GM has put some serious thought into this model. The interiors are very sporty and the sunroof is excellent and there are a lot of additional features in the 2011 model(They have changed the color of the leather seats to black). Saying this the turbo lag may be a problem in bumper to bumper traffic; a rather irritating aspect if you were suddenly looking to close some gap in the traffic. The engine is pretty unresponsive at low speeds. I didn't find any other issues during the test drive(I took 3 test drives). So if you are living in a highly congested city and the main reason for your purchase is to commute to the office in bumper to bumper traffic, I would recommend the Civic. But take this Cruze to the highway or a lesser congested place and you will just fall in love with it. It overpowers everything in sight. GM has done an awesome job with this one and I am sure based on reviews the resale price for this is going to go up(GM models usually have lower resale value). Test drive this one to find the different. This is the No 1. I hope someone finds this useful. I spend a lot of time researching on the 5 cars in this segment and if this helps someone in making up their mind, it will make my day. Thanks, Paddy
ഷെവർലെറ്റ് ക്രൂയിസ് ഉപയോക്തൃ അവലോകനങ്ങൾ
അടിസ്ഥാനപെടുത്തി
82 ഉപയോക്തൃ അവലോകനങ്ങൾ
എല്ലാം (82)
Mileage (38)
Performance (14)
Looks (45)
Comfort (40)
Engine (29)
Interior (19)
Power (25)
More ...
ഏറ്റവും പുതിയ
സഹായകമാണ്
CRITICAL
CHEVY CRUZE :-it can be termed as one of the best car in its segment . m 20 and it was my dream to purchase this car . As its nick name its truely a DIESEL ROCKET . i hav...കൂടുതല് വായിക്കുക

Chevrolet's Cruze is technically updated, the best sedan in India under 17 lakh of range. The design given to this car especially from side is awesome, and it gives a lux...കൂടുതല് വായിക്കുക

The Cruze is a seriously smooth car, from its slippery shape to the way its doors shut. In large part, Cruz's smoothness is derived from its impeccably compliant suspensi...കൂടുതല് വായിക്കുക

Chevrolet Cruze is the best car, though I have a diesel variant but power is massive. And there are no complaints with its look its just amazing I love this car very much...കൂടുതല് വായിക്കുക

I bought the Chevrolet Cruze 1 year back. I was a little bit confused with the budget but my parents/relatives insist me for this car and I am damn happy now with the per...കൂടുതല് വായിക്കുക

I love Chevrolet car I always look into that in all site of second-hand cars. my first car is Aveo in the year of 2006, which was giving me not less than 18 km per ltr an...കൂടുതല് വായിക്കുക

I own the Cruze 2012 model. Power is now up to a substantial 164bhp with the torque swelling to a meaty 38.7kgm. The primary focus of the engine tweak has been to improve...കൂടുതല് വായിക്കുക

I purchased Cruze in Oct 2011. What they project and what is actual has much difference. I am a smooth driver which drives maximum time in local. I found smooth runn...കൂടുതല് വായിക്കുക

എല്ലാം ക്രൂയിസ് അവലോകനങ്ങൾ കാണുക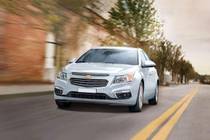 Rs.13.95 Lakh - 17.46 ലക്ഷം*
ഈ കാർ മോഡൽ ഉൽപ്പാദനം നിർത്തിയിരിക്കുന്നു
സമാനമായ ഉപഭോക്‌താക്കൾ സേർച്ച് ചെയ്തവ
Write your Comment on ഷെവർലെറ്റ് ക്രൂയിസ്
32 അഭിപ്രായങ്ങൾ
1
r
raaja
Oct 26, 2016 11:36:54 AM
Tell me about mileage of cruze
Read More...
മറുപടി
Write a Reply
1
S
shyamal naik
Jun 1, 2016 8:51:00 PM
Some Applications give a name to this car THE DIESEL ROCKET and it's 100 % true. Whenever you drive this diesel rocket you car feel that the whole world is in your hand. This is the perfect diesel car for anywhere driving city, highway anywhere.
Read More...
മറുപടി
Write a Reply
1
T
tapan
Apr 6, 2016 12:55:54 AM
Fully agree with you on your research. I own Honda Civic. Its definitely trouble free for 4 years on Indian bumpy roads. Honda parts r too good hence slightly more expensive compared to its rival Toyota corolla, but the need to change is rare. Its a petrol car and gives bedt mileage amongst its rival petrol cars. Speed/ pick up awsome. AC awsome, and style/ interior are decently good. I do hear Cruze is fantastic diesel car, never drove one, wish to try that one day before i buy one.
Read More...
മറുപടി
Write a Reply
×
We need your നഗരം to customize your experience