Never lets me down. 3 years and 32000 Kms, What a Car!!!
Never lets me down. 3 years and 32000 Kms, What a Car!!!
Its been 3 years now. I am owning a Lodgy RxZ, 1.5 L 85ps the first launch variant, (not the Stepway). What a car? what a comfort? what a mileage?
So far haven't spent an extra penny anything additional.
My better has travel sickness in almost every car we had travelled except Renault Lodgy. Every drive is refreshing. Even after 8 hours of continuous travel journey isn't tiring. Its a very stable car, be it braking, steering and engine efficiency, absorbing the potholes to make the otherwise bumpy ride to a smooth ride. It has all the features of the a Innova Plus more classier and equally good as Innova in driving performance and stability (older model). I was initially hesitant to buy a newer entrant model car, but then it was already released and tested in Europe. This made me take a confident decision in choosing Lodgy and now after 3 years and I am not repenting of my choice. On highways I always get a very mileage of approximately 19 kmpl on AC.
In Bangalore, it varies as the traffic is different at different times of the day. So it varied between 14-16 kmpl, which is not bad for a MUV on AC. Only issue I had was the very expensive Spare parts. Most of the parts are made of India and imported. These materials are assembled in Chennai plant. Thus you have to shell out lot of money as the import rates are in USD and import taxes are additionally charged on the automobile equipment. If the spares available/manufactured in India, then I feel this is the ideal vehicle for India for at least another 15-20 years. On most of the occasions Renault service is Good. There are a few technicians who does a real poor job and your should unlucky to get assigned to them.

Write your Comment on റെനോ ലോഡ്ജി
റെനോ ലോഡ്ജി ഉപയോക്തൃ അവലോകനങ്ങൾ
അടിസ്ഥാനപെടുത്തി
73 ഉപയോക്തൃ അവലോകനങ്ങൾ
All (73)
Mileage (24)
Performance (14)
Looks (17)
Comfort (34)
Engine (19)
Interior (14)
Power (11)
More ...
ഏറ്റവും പുതിയ
സഹായകമാണ്
VERIFIED
CRITICAL
I have always rated the Renault Lodgy, highly as a product. When it came to desirability though, it lacked finesse and clearly is an MPV that prefers function over form. ...കൂടുതല് വായിക്കുക

Bought Lodgy in the year 2015, the car was good and running well. I have done the services regularly too. Once the warranty given by Renault got over all faults started a...കൂടുതല് വായിക്കുക

The best car in the segment..good Mileage, handling, comfortable ride for 8 people...pick up is great even with full passenger load. Ground clearance bit lower for the ca...കൂടുതല് വായിക്കുക

A comfortable luxurious sedan, big MPV, stylish SUV & economical like a small hatchback i.e., four cars feelings are combined in a single Lodgy. Out of 16 cars of various...കൂടുതല് വായിക്കുക

Renault Lodgy is the best car for the highway with good fuel efficiency. All the 8 seats of this MPV is very comfortable. None of the person seated in the car got tired w...കൂടുതല് വായിക്കുക

An excellent car I have ever seen and had a great experience for the last two years. A little expensive and the best mileage.

Driven almost 50000 KMS. Excellent car both for city drive as well as highway. Great pick up due to 110BS and higher torque works wonders. Traveled for 1200 KMS with 7 ad...കൂടുതല് വായിക്കുക

Lodgy is a good MPV and family car. Renault gives better mileage and nice features and good looks, good performance.

എല്ലാം ലോഡ്ജി അവലോകനങ്ങൾ കാണുക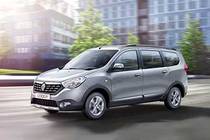 Rs. 8.63 Lakh - 12.29 ലക്ഷം*
ഈ കാർ മോഡൽ ഉൽപ്പാദനം നിർത്തിയിരിക്കുന്നു
സമാനമായ ഉപഭോക്‌താക്കൾ സേർച്ച് ചെയ്തവ
ട്രെൻഡുചെയ്യുന്നു റെനോ കാറുകൾ