ഫിയറ്റ് ലൈൻ ക്ലാസിക് Comes With Lavish Interiors
Fiat Linea Classic Comes With Lavish Interiors
I found Fiat Linea Classic quite an incredible one in terms of exterior looks as well as the lavish interior cabin. As I have owned and driven the Linea also, hence I didn't find anything changed in the driving mechanism of Linea Classic but it's exceeded length and boot space really won my heart. It has a boot of 500 litres which is just exceptional. It's amazing acceleration and promising fuel economy is one of the reasons that made my mind to go for it. Literally, It is a valiant effort by the Fiat India and should be appreciated. It really has the space inside it that an individual desires or deserves when he/she pays such a hefty sum to purchase a sedan. I can comfortably put 4 suitcases of luggage inside the trunk. In inside the cabin too, it has adequate space for head and legs both in the front and rear seats. I doubt its torque a little bit and hence on high speeds I felt some noise and hiccups. Another thing that attracted me to this sedan was its exquisite safety features. The inclusion of the premium and exclusive Fire Prevention System (FPS) certainly astounded me as it cuts the fuel supply in case of a crash. ABS along with EBD is also there for secondary precautions while braking. Rear fog lamps and defogger are also there to assist you in the inclement and rough weather conditions. Overall, I found it a reliable and genuine sedan which pays off your every penny spent in buying it. Though after sales is a bit of problem but Fiat India is working effectively on this issue very well.
Write your Comment on ഫിയറ്റ് ലൈൻ ക്ലാസിക്
ഫിയറ്റ് ലൈൻ ക്ലാസിക് ഉപയോക്തൃ അവലോകനങ്ങൾ
അടിസ്ഥാനപെടുത്തി
16 ഉപയോക്തൃ അവലോകനങ്ങൾ
എല്ലാം (16)
Mileage (5)
Performance (6)
Looks (7)
Comfort (12)
Engine (7)
Interior (5)
Power (3)
More ...
ഏറ്റവും പുതിയ
സഹായകമാണ്
CRITICAL
As my first car & with me for 6 years. Not a single problem. Got a permanent in the garage & in a heart. the car is simple with great performance and has all the ...കൂടുതല് വായിക്കുക

MA BEAUTY KING... MY ROAD LOVER... LOVE AND CARE AND COMFORT...BUT VERY AMAZING CAR IN THE SEDAN SEGMENT...

No issue since beginning, it is specious, safe & comfortable during drive. I completed its 4 years with not a single problem. & do believe that this is the worth ...കൂടുതല് വായിക്കുക

Fiat Linea Classic is very comfortable and its pickup means immediate speed. It is so fast and the mileage is good.

Everything is very good of this car and comfort is unbeatable in the sedan segment. Even it's top speed and suspensions are also very good. Even cars like Verna, can't be...കൂടുതല് വായിക്കുക

Common Fiat its 2018 now! Wake up from the unconsciousness and launch some reasonable product in the Indian market. Fiat has been for quite a long time in the Indian mark...കൂടുതല് വായിക്കുക

I own a Fiat Linea Dynamic 2010 model. Boy, this is one beautiful car. I think this is actually a two-part story to the car itself. The exterior looks were definitely hea...കൂടുതല് വായിക്കുക

Pros: well known- Vehicle good in ride comfort, excellent road stability and handling is good. Pricing is competitive compared to the rest of all vehicles in the same lot...കൂടുതല് വായിക്കുക

എല്ലാം ലൈൻ ക്ലാസിക് അവലോകനങ്ങൾ കാണുക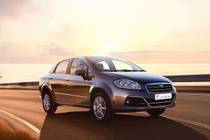 Rs.6.46 Lakh - 8.24 ലക്ഷം*
ഈ കാർ മോഡൽ ഉൽപ്പാദനം നിർത്തിയിരിക്കുന്നു
സമാനമായ ഉപഭോക്‌താക്കൾ സേർച്ച് ചെയ്തവ