ഫിയറ്റ് ലൈൻ ക്ലാസിക് Cannot Stand Front അതിലെ സ്വിഫ്റ്റ് Dzire ൽ
Fiat Linea Classic Cannot Stand In Front of Swift Dzire
Common Fiat its 2018 now! Wake up from the unconsciousness and launch some reasonable product in the Indian market. Fiat has been for quite a long time in the Indian market and yet the company has not been able to attract a decent number of buyers. The reasons can be several including the after sales and servicing network of the company. But the most common reason why it is still far behind its competitors is the lack of some good all-rounder product. I am a proud owner of Maruti Suzuki Dzire but I always wanted a Fiat sedan because I have heard about its engine and performance a lot. But there wasn't any other option for me and the dated looks and below average interiors of Linea Classic had put me on the back foot. And let me tell you something about the price. For an expensive price tag of Rs. 6.50 lakhs, I wouldn't be sacrificing a car like Maruti Suzuki Dzire which is much cheaper and scores well in all other aspects. And the world knows the sales and marketing reach of Maruti. So I made a good decision. Fiat! Get some life.
Write your Comment on ഫിയറ്റ് ലൈൻ ക്ലാസിക്
1
y
yesu
Aug 20, 2018 5:09:37 PM
One thing is clear Indians don't know the value of quality that's y fiat vehicles are not popular yet . Only you guys required average an you all don't even care about safety and built quality
മറുപടി
1
y
yesu
Aug 20, 2018 5:05:31 PM
Hi maruti brand is powered by same fiat engine only ,an one of the best sedan in this segment me my self having swift and linea but swift only stands in the average otherwise it's not even equal to fiat Linea .
മറുപടി
ഫിയറ്റ് ലൈൻ ക്ലാസിക് ഉപയോക്തൃ അവലോകനങ്ങൾ
അടിസ്ഥാനപെടുത്തി
16 ഉപയോക്തൃ അവലോകനങ്ങൾ
എല്ലാം (16)
Mileage (5)
Performance (6)
Looks (7)
Comfort (12)
Engine (7)
Interior (5)
Power (3)
More ...
ഏറ്റവും പുതിയ
സഹായകമാണ്
CRITICAL
As my first car & with me for 6 years. Not a single problem. Got a permanent in the garage & in a heart. the car is simple with great performance and has all the ...കൂടുതല് വായിക്കുക

MA BEAUTY KING... MY ROAD LOVER... LOVE AND CARE AND COMFORT...BUT VERY AMAZING CAR IN THE SEDAN SEGMENT...

No issue since beginning, it is specious, safe & comfortable during drive. I completed its 4 years with not a single problem. & do believe that this is the worth ...കൂടുതല് വായിക്കുക

Fiat Linea Classic is very comfortable and its pickup means immediate speed. It is so fast and the mileage is good.

Everything is very good of this car and comfort is unbeatable in the sedan segment. Even it's top speed and suspensions are also very good. Even cars like Verna, can't be...കൂടുതല് വായിക്കുക

Common Fiat its 2018 now! Wake up from the unconsciousness and launch some reasonable product in the Indian market. Fiat has been for quite a long time in the Indian mark...കൂടുതല് വായിക്കുക

I own a Fiat Linea Dynamic 2010 model. Boy, this is one beautiful car. I think this is actually a two-part story to the car itself. The exterior looks were definitely hea...കൂടുതല് വായിക്കുക

Pros: well known- Vehicle good in ride comfort, excellent road stability and handling is good. Pricing is competitive compared to the rest of all vehicles in the same lot...കൂടുതല് വായിക്കുക

എല്ലാം ലൈൻ ക്ലാസിക് അവലോകനങ്ങൾ കാണുക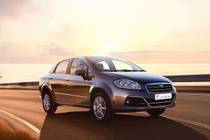 Rs. 6.46 Lakh - 8.24 ലക്ഷം*
ഈ കാർ മോഡൽ ഉൽപ്പാദനം നിർത്തിയിരിക്കുന്നു
സമാനമായ ഉപഭോക്‌താക്കൾ സേർച്ച് ചെയ്തവ