ഫിയറ്റ് ലൈൻ ക്ലാസിക് An Affordable സെഡാൻ
Fiat Linea Classic An Affordable Sedan
Well, if at all you ask for which is one of the affordable sedan in the Indian market, the answer would be Fiat Linea Classic. This sedan is an entry level of its Linea series and it delivers high performance and offers a decent mileage as well. This compact sedan has got a good overall shape and body line, impressive interiors and excellent driving quality, when compared to other vehicles in this segment. The exterior design of this car looks more aggressive than the regular Linea model. Occupying yourself inside the Fiat Linea Classic sedan, you will certainly feel very comfortable and the company has used good quality material to make the interiors, which will further enhance the overall appearance. It also got a roomy wheelbase, which makes the sedan more spacious from the insides. This sedan brings a high quality internal environment to the customers. The most highlighted factor is the cut down price, which is about Rs 7.6 lakhs (ex-showroom). The model that I took out for a test drive was the top end classic plus variant that is equipped with advanced safety and comfort features. It has been fitted with a 1.3-liter Multijet diesel engine that makes about 75bhp of power and 197Nm of torque. This engine has a five-speed manual transmission, which is smooth and offers about 19.5 kmpl of mileage, when driven under standard conditions. As far as the driving quality and handling is concerned, it is perfectly balanced with a good suspension system, a proficient braking mechanism and very smooth in pick-up and acceleration. It is equipped with innovative features such as ABS with EBD, a central locking system, rear defogger and seat belt warning lamp. Finally, I feel that this car is slightly more affordable option for the mid-sized sedan buyers. The Fiat Linea Classic has amazing looks and a good performance, but it lacks several safety and comfort features.
Write your Comment on ഫിയറ്റ് ലൈൻ ക്ലാസിക്
ഫിയറ്റ് ലൈൻ ക്ലാസിക് ഉപയോക്തൃ അവലോകനങ്ങൾ
അടിസ്ഥാനപെടുത്തി
16 ഉപയോക്തൃ അവലോകനങ്ങൾ
എല്ലാം (16)
Mileage (5)
Performance (6)
Looks (7)
Comfort (12)
Engine (7)
Interior (5)
Power (3)
More ...
ഏറ്റവും പുതിയ
സഹായകമാണ്
CRITICAL
As my first car & with me for 6 years. Not a single problem. Got a permanent in the garage & in a heart. the car is simple with great performance and has all the ...കൂടുതല് വായിക്കുക

MA BEAUTY KING... MY ROAD LOVER... LOVE AND CARE AND COMFORT...BUT VERY AMAZING CAR IN THE SEDAN SEGMENT...

No issue since beginning, it is specious, safe & comfortable during drive. I completed its 4 years with not a single problem. & do believe that this is the worth ...കൂടുതല് വായിക്കുക

Fiat Linea Classic is very comfortable and its pickup means immediate speed. It is so fast and the mileage is good.

Everything is very good of this car and comfort is unbeatable in the sedan segment. Even it's top speed and suspensions are also very good. Even cars like Verna, can't be...കൂടുതല് വായിക്കുക

Common Fiat its 2018 now! Wake up from the unconsciousness and launch some reasonable product in the Indian market. Fiat has been for quite a long time in the Indian mark...കൂടുതല് വായിക്കുക

I own a Fiat Linea Dynamic 2010 model. Boy, this is one beautiful car. I think this is actually a two-part story to the car itself. The exterior looks were definitely hea...കൂടുതല് വായിക്കുക

Pros: well known- Vehicle good in ride comfort, excellent road stability and handling is good. Pricing is competitive compared to the rest of all vehicles in the same lot...കൂടുതല് വായിക്കുക

എല്ലാം ലൈൻ ക്ലാസിക് അവലോകനങ്ങൾ കാണുക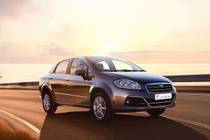 Rs.6.46 Lakh - 8.24 ലക്ഷം*
ഈ കാർ മോഡൽ ഉൽപ്പാദനം നിർത്തിയിരിക്കുന്നു
സമാനമായ ഉപഭോക്‌താക്കൾ സേർച്ച് ചെയ്തവ