മികവുറ്റ എംപിവി ഇന്ത്യ ൽ
Best MPV in india
Look and Style: Classic MPV look and looks even better when you add spoiler and roof rails and moduling. Comfort: The great engineering in space provides best in budget comfort and the Air conditioner with filter is the one best from all I have tested in its segment. Best car for long routes and even in city stop go traffic. And MDS music system is also a great offering, best quality sound o/p through two speakers in front row. (no doubt you can assemble another music system having CD player and two additional speakers from DATSUN, Sony, Pioneer etc. with additional accessory costing). Pickup Pickup obviously will be the best as it comprises the Nissan Micra Active 1200cc, 70BHP, 3 cyl, 12 valves engine. The accelerator responds quickly and cruising is much smoother and traction control is best. Catches 0-100 kmph within 15 seconds as we tested on highway. And one of the best feature is the torquiest motor which gives high torque (about 105NM within the shortest RPM range in its segment). Mileage I have driven our new Go in 3 days about 250kms and last average reading was 15.8km/l. I have driven it mostly in the heavy traffic of Rajkot city. So you can judge this beast can deliver an excellent mileage!!! Best Features - Engineered space. It may look that there is not enough space but once you step in you can realise that it offers best seating space and arrangement, cargo volume and head room as compared to other cars in its budget (there is also provision of sliding and inclinable seats in first row). If you are having a family of 7-8 members and going for buying a 4-6 lakh budget car then this will be the best option for you - my personal advise is don't waste your money in any other car and just 'go ' for this car!!! You will be happy!! - Build quality and strong suspension. The suspension having a trailing arm and H-beam structure responds quickly to bumps and ensures comfort and balancing. Also, when you push the car in bends at speed it ensures body dynamic and lower downs the centrifugal force and would help increasing the perpendicular force to ensure grip on road. - Electric motor driven power steering is superbly responsive. Speed sensitive power steering ensures control indeed. The best one! - Engine is designed in such a way that regular maintenance can be carried out easily. - Electronic fuel injection system ensures engine safety and responsiveness. - Classic and detailed electronic trip meter. - Good quality fabric seats. Provides good leg support and comfort in long journeys. - Accessories are best designed in its segment. Overall Experience Satisfied with the car we have bought. Thank you Datsun for launching this vehicle in India. Hope people will soon accept these cars and start having a classic driving experience and stop following the blind path of buying cars by counting number of sales it have made!!! go for this car!!!
ഡാറ്റ്സൻ ഗൊ പ്ലസ് ഉപയോക്തൃ അവലോകനങ്ങൾ
അടിസ്ഥാനപെടുത്തി
277 ഉപയോക്തൃ അവലോകനങ്ങൾ
എല്ലാം (277)
Mileage (71)
Performance (20)
Looks (60)
Comfort (71)
Engine (30)
Interior (26)
Power (27)
More ...
ഏറ്റവും പുതിയ
സഹായകമാണ്
VERIFIED
CRITICAL
Datsun Go Plus is the worst car. Don't buy this car. The loud noise and not a comfortable car. Very bad driving experience with it.

Hi, I am having Datsun go PLUS 2018 model 7 Seater, last week We (Family and kids) travelled to Dhangadi Nepal from Chennai, really it was a super trip. Drove 5600 KM in ...കൂടുതല് വായിക്കുക

Overall good family car at a low cost. Comfortable seats, but the third row are not comfortable for passengers

I can say one-word "family budget car". Within my budget, I got all features. I am driving this vehicle for 3 years and ran 28k km. Comfortable driving, utilizi...കൂടുതല് വായിക്കുക

Now this car needs the facelift version and some improvement on technology. Need maximum safety and also the engine power, but overall the car is the best,...കൂടുതല് വായിക്കുക

I can say one word "family budget car". Within my budget, I got all features. I am driving this vehicle for 4 Years and ran 24k km. Comfortable driving, utilizi...കൂടുതല് വായിക്കുക

One of the worst cars in mileage. Mileage was 21 km per liter, but even I'm not getting more than 12km.

എല്ലാം ഗൊ പ്ലസ് അവലോകനങ്ങൾ കാണുക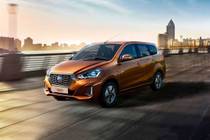 Rs.3.82 Lakh - 7.00 ലക്ഷം*
ഈ കാർ മോഡൽ ഉൽപ്പാദനം നിർത്തിയിരിക്കുന്നു
സമാനമായ ഉപഭോക്‌താക്കൾ സേർച്ച് ചെയ്തവ
Write your Comment on ഡാറ്റ്സൻ ഗൊ പ്ലസ്
35 അഭിപ്രായങ്ങൾ
1
A
arindam saha
Jul 17, 2017 11:27:07 PM
hey harin, I am planning to buy Datsun Go Plus -top model at next month . Kindly send the snaps of your car interior & exterior specially on the extra acessories not given by them .my mail Id is arindams346@gmail.com.
Read More...
മറുപടി
Write a Reply
1
f
faizan
Feb 1, 2017 8:20:58 PM
hi harin i am from surat and i am going to buy this car in this month. i read your review and im expecting your car pictures please harin send me your car picture on my mail at faizan2794@gmail.com
Read More...
മറുപടി
Write a Reply
1
s
sgbk
May 19, 2016 9:01:29 AM
I'm planing to buy go plus but Some peoples said me, this car's cabin and tyres makes noise!
Read More...
മറുപടി
Write a Reply
×
We need your നഗരം to customize your experience