ബുഗാട്ടി വേയ്റോൺ എ Virtuoso റോഡ്സ്റ്റർ
Bugatti Veyron A Virtuoso Roadster
Bugatti Veyron is a spectacular car that has lived up to its name with unparalleled performance and aerodynamics. The legendary car is best known for grabbing the title of the fastest sportscar in the world for over many years until new players came into the scene. Bugatti Veyron is the car which compels us to fray the maximum reach of imagination. And what makes us do that? Its the mind blowing acceleration of 0-100kmph in just 2.5 seconds which comes from the W16 8L 16-cylinder petrol engine that has the ability to unleash the maximum power output of 1001bhp and hammering torque of 1250Nm. The mammoth engine is mated to 7-speed DSG automatic transmission which is responsible for distributing power to all the four wheels. If you are still hungry, than press the paddle a little more and you can attain the maximum speed of 407kmph. The specially engineered aerodynamic body helps the car to smash through the roads in lightning speed. The car also possesses superior braking mechanism along with electronic distribution technology that puts halt to its wrath in no time. Bugatti Veyron is ferocious as well as obedient machine that has been meticulously created to show the world that nothing is impossible.
Write your Comment on ബുഗാട്ടി വേയ്റോൺ
ബുഗാട്ടി വേയ്റോൺ ഉപയോക്തൃ അവലോകനങ്ങൾ
അടിസ്ഥാനപെടുത്തി
11 ഉപയോക്തൃ അവലോകനങ്ങൾ
എല്ലാം (11)
Mileage (3)
Performance (4)
Looks (4)
Comfort (3)
Engine (4)
Power (2)
Price (1)
More ...
Its a good car I have ever seen in my life Has hood features and extraordinary speed Thanks to Bugatti team members to build such amazing sports mission to peoples The mo...കൂടുതല് വായിക്കുക

Superb car, amazing speed, the sound is superb but it costs a lot but I love the car Its design is amazing for the first drive I love Bugatti And all its m...കൂടുതല് വായിക്കുക

Bugatti Veyron is a spectacular car that has lived up to its name with unparalleled performance and aerodynamics. The legendary car is best known for grabbing the title o...കൂടുതല് വായിക്കുക

The Bugatti Veyron boasts a quite extraordinary set of performance figures. After just 2.46sec its reaches 100kmph, and barely a couple of seconds after that it bursts in...കൂടുതല് വായിക്കുക

Excellent car with 8000 ccs. My lovely car. In the future, I will buy it. Its price is also less than the other models of it.

Best car in the world and best speed ever. It has the best model and design ever.

എല്ലാം വേയ്റോൺ അവലോകനങ്ങൾ കാണുക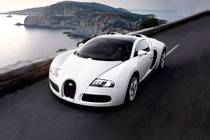 Rs. 12.00 കോടി*
ഈ കാർ മോഡൽ ഉൽപ്പാദനം നിർത്തിയിരിക്കുന്നു
സമാനമായ ഉപഭോക്‌താക്കൾ സേർച്ച് ചെയ്തവ