Worst Car
Worst Car
I am really getting crazy, why everyone is choosing this worst car. pros: 1. GPS 2. Good seating 3. Wheel base 4. Ground clearance 5. Good pickup 6. Touch screen cons: 1.Bad gear shifts quality 2. Poor engine 3. Low engine cubic capacity 4. Worst ever stereo 5. Low-quality plastics 6. Poor quality interior 7. Noisy engine 8.Bad suspension Well coming to the driving experience it has a fair pickup from 1st to 2nd gear transmission, and then on shifting from 2nd to 3rd it has the worst pickup. And gear shift quality is brisk whereas coming to alto 800 it has a rubbery gearshift quality. And coming to the comparison the Renault Kwid rxt model costs around Rs 480000 and swift lxi costs around Rs 570000, and Alto 800 lxi costs around 350000, now look at the prices if you want to buy a small economy car, go for Alto 800, and if you want to buy a luxurious car, go for swift lxi, It is worth, don't go for this Renault Kwid because it does not offer you either luxury or engine quality. My cousin bought Alto800 lxi for Rs 340000, and I bought the Renault Kwid for Rs 480000(that to waiting for two months) it has been six months since we bought our cars at the same time. The odometer reading of my cousins Alto 800 is 8000Km, and my Renault Kwid is 6500Km. What can I find is the driving experience with my cousins Alto800 as new and my Kwid has some crunchy engine noise if i use AC in my car and the idle noise is zero for my cousins Alto800 and my Renault kwid idle noise has increased. Moreover, my Kwid won't cross the speed of 100 with AC ,but it is different in Alto800, it can easily cross the speed of 125Kmph. However, mileage is good for Kwid. While coming to the suspension Kwid bags the reward, Kwid is slightly greater comfortable to Alto 800. Finally, what I would like to conclude is either choose an economy budget car like alto800 lxi or a luxurious economy car like swift lxi. Don't opt for Renault kwid. I am planning to sell my Kwid.
റെനോ ക്വിഡ് 2015-2019 ഉപയോക്തൃ അവലോകനങ്ങൾ
അടിസ്ഥാനപെടുത്തി
1350 ഉപയോക്തൃ അവലോകനങ്ങൾ
എല്ലാം (1350)
Mileage (381)
Performance (191)
Looks (445)
Comfort (303)
Engine (223)
Interior (170)
Power (166)
More ...
ഏറ്റവും പുതിയ
സഹായകമാണ്
VERIFIED
CRITICAL
Maruti Swift is a one-car that fulfills all the requirements: low cost, internal features, mileage, look, and performance. An all-in-one car that one can wish for in...കൂടുതല് വായിക്കുക

I am having Renault KWID 2017 model. Its the worst car ever made in history. The body is so weak that if you press the bonnet slightly a dent will appear instantly. ...കൂടുതല് വായിക്കുക

Renault KWID gives super performance, mileage and has excellent ground clearance. The car is value for money. It has awesome features like a large boot space, wheelbase, ...കൂടുതല് വായിക്കുക

Hi, I purchased the Renault KWID RXT model in Oct 2015. Its been four years. Initial 2 years went very smooth. But after that, I started to get it to know why i...കൂടുതല് വായിക്കുക

Purchased Renault KWID 0.8 RXL in March 2018 and drove around 9000 Kms. Simple features like auto wipe with screen wash, intermittent wipers, fresh Air mode of AC, Pillio...കൂടുതല് വായിക്കുക

Renault KWID is an excellent car at the price range which is offered. The finer features provide great convenience for the drivers and passengers. Some of the finer featu...കൂടുതല് വായിക്കുക

Renault KWID is an amazing car with wonderfull ground clearance, unbelievable mileage, smooth gear function, SUV looking model, attractive boot space. I am really happy w...കൂടുതല് വായിക്കുക

Renault KWID /2019 Had my 2019 Renault KWID for 4 months and very impressed. Looks small but once you get in its bigger then you think. Also was amazed at the power it ha...കൂടുതല് വായിക്കുക

എല്ലാം ക്വിഡ് 2015-2019 അവലോകനങ്ങൾ കാണുക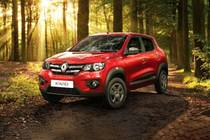 Rs.2.67 Lakh - 4.94 ലക്ഷം*
ഈ കാർ മോഡൽ ഉൽപ്പാദനം നിർത്തിയിരിക്കുന്നു
സമാനമായ ഉപഭോക്‌താക്കൾ സേർച്ച് ചെയ്തവ
Write your Comment on റെനോ ക്വിഡ് 2015-2019
3 അഭിപ്രായങ്ങൾ
1
r
reny thampi
Nov 24, 2020 1:12:31 PM
Please never ever do a mistake of buying a Kwid. Stop in the middle of run and not re-start, high engine noise, parts worn out faster than any other car and poor service.
Read More...
മറുപടി
Write a Reply
1
m
milind
Sep 16, 2016 10:42:36 PM
Hey there.. it's a fact nd u said it.. I too have gone thru such horrible mistake of life time.. I trusted the brand on Duster's success.. by this is no close to it..I have developed sever pain in lower back nd left hand due to gear shift nd seats.°Ÿ'­
Read More...
മറുപടി
Write a Reply
1
R
rahul kalita
Aug 14, 2016 8:35:44 AM
I think ur agent of MARUTI SUZUKI
Read More...
മറുപടി
Write a Reply
ട്രെൻഡുചെയ്യുന്നു റെനോ കാറുകൾ
×
We need your നഗരം to customize your experience