ക്വിഡ് ഐഎസ് Value വേണ്ടി
Kwid Is Value For Money And A Good Middle Class Family Car
I feel Kwid is value for money car in this segment and a well recommended for middle-class families in India. Exterior looks are very good as the Duster (it's already known as mini Duster). Interior is also ok, seating comfort is good and better than the Wagon-R, the car previously which I own and have experience with. Awesome mileage and god performance but sometimes it vibrates when I cross 130 on speedometer it juggles and I feel it's much suitable car for first car buyers and middle-class families in India and who travel to nearby towns more. Coming to service centres I never felt the issue with service centre I am lucky that Hyderabad has a good number of the service centre in good locations and one service centre is very near to me. Coming to steering is so easy which gives you so smooth transmission feels when driving good technology but engine is so noisy let me write in details with Pros and Cons of Kwid Pros : 1.Price: Good Value for money and a comfortable range for middle-class families. 2. Space : Enough space, actually it's more than enough by considering price bracket in which the Kwid is. For some cars back seat give feel of no space but even back seat passenger would not feel lack of space in this car 3. Looks : Very good look on the road it looks awesome, people might even stop at you in case you are in small cities. 4.Boot Space : Good Boot space a person can even sit inside it very spacious. 5. Performance : Best in class with good visibility and performance. 6. Drivability : Drivability matters actually I was tempted to write this, its better than other cars in its segment body roll is noticeable and its lightweight makes sometimes little unstable on road but overall Kwid is very good Cons : 1. Kwid Engine : Having 800 cc some cars are good but Kwid engine is noisy in lower gear people need not be honked in lower gears. When you go up in higher gears more smooth and less noise. 2. Kwid Build quality : I feel the quality is compromised in this vehicle I can tell you the bonnet is only sheet metal which is thick otherwise the roof can get dent easily and everywhere you feel Quality is not very good but ok. Dent is possible easily. 3. Kwid AC : In this car price bracket Ac is good enough but not very powerful. 4. Kwid Seatbelts : Seat belts are good but for back seats are passive so not much of use at the back. 5. Kwid headlights : On the highways, headlights could be more powerful for a smoother ride. 6. Kwid Gear Shift : Can't complain about this but can be made better as gear are important, sometimes noisy 7. Kwid Suspension : Suspension could be less effective in Indian roads, smooth in highways. 8. Kwid Lightweight: Lightweight makes it little unstable on road 9. Kwid Music System: Kwid has Only 2 front speakers that are good back seaters will have issue and try to put on additional speakers but only 2 outputs are given for speakers against usual 4 slots could be better.
റെനോ ക്വിഡ് 2015-2019 ഉപയോക്തൃ അവലോകനങ്ങൾ
അടിസ്ഥാനപെടുത്തി
1350 ഉപയോക്തൃ അവലോകനങ്ങൾ
എല്ലാം (1350)
Mileage (381)
Performance (191)
Looks (445)
Comfort (303)
Engine (223)
Interior (170)
Power (166)
More ...
ഏറ്റവും പുതിയ
സഹായകമാണ്
VERIFIED
CRITICAL
Maruti Swift is a one-car that fulfills all the requirements: low cost, internal features, mileage, look, and performance. An all-in-one car that one can wish for in...കൂടുതല് വായിക്കുക

I am having Renault KWID 2017 model. Its the worst car ever made in history. The body is so weak that if you press the bonnet slightly a dent will appear instantly. ...കൂടുതല് വായിക്കുക

Renault KWID gives super performance, mileage and has excellent ground clearance. The car is value for money. It has awesome features like a large boot space, wheelbase, ...കൂടുതല് വായിക്കുക

Hi, I purchased the Renault KWID RXT model in Oct 2015. Its been four years. Initial 2 years went very smooth. But after that, I started to get it to know why i...കൂടുതല് വായിക്കുക

Purchased Renault KWID 0.8 RXL in March 2018 and drove around 9000 Kms. Simple features like auto wipe with screen wash, intermittent wipers, fresh Air mode of AC, Pillio...കൂടുതല് വായിക്കുക

Renault KWID is an excellent car at the price range which is offered. The finer features provide great convenience for the drivers and passengers. Some of the finer featu...കൂടുതല് വായിക്കുക

Renault KWID is an amazing car with wonderfull ground clearance, unbelievable mileage, smooth gear function, SUV looking model, attractive boot space. I am really happy w...കൂടുതല് വായിക്കുക

Renault KWID /2019 Had my 2019 Renault KWID for 4 months and very impressed. Looks small but once you get in its bigger then you think. Also was amazed at the power it ha...കൂടുതല് വായിക്കുക

എല്ലാം ക്വിഡ് 2015-2019 അവലോകനങ്ങൾ കാണുക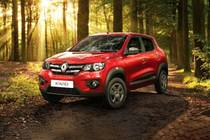 Rs.2.67 Lakh - 4.94 ലക്ഷം*
ഈ കാർ മോഡൽ ഉൽപ്പാദനം നിർത്തിയിരിക്കുന്നു
സമാനമായ ഉപഭോക്‌താക്കൾ സേർച്ച് ചെയ്തവ
Write your Comment on റെനോ ക്വിഡ് 2015-2019
ട്രെൻഡുചെയ്യുന്നു റെനോ കാറുകൾ
×
We need your നഗരം to customize your experience