Cute ക്വിഡ്
Cute Kwid
Before going to review I want to share my experience while buying, I booked the Kwid RXT model from a dealer in Kolkata last winter and got the chance to test drive my own car this summer after almost 6 months of waiting period. This is one of the problems new customer of this car might have to face. Earlier at the time of bookings, I was in a dilemma whether to go for the Kwid or Alto 800, but made my decision just based on the great,sporty and muscular looks of the Kwid. Now coming on to the review: Looks: In terms of looks, the Kwid can easily oust its arch rival Alto 800 and many other cars of that segment. Drive quality or comfort I would say is pretty good compared to others of this segment and obviously at this price. Space: Driver leg room seat width is enough for a 6 ft tall person, for rear leg room and the head room should have been a bit more, overall it's spacious. Ground clearance and boot: One of the positive aspects of this car is the 180 mm of ground clearance which is very important for typical Indian road, another positive thing is 300 liters of boot space which till now the top of this segment,talking about other positive aspects its wide screen media navigation system I feel it's the best at this price. Engine and ride comfort: Talking about the engine it feels comfortable and less noisy to drive normally but little noisy with AC on in the city and on an upward slope. Mileage: As I am a daily user of the car in the busiest street of Kolkata I am getting the fuel economy of 15.5 kmpl and 15 kmpl with AC on. Suspension and brake and other: Apart from that suspension is very good as I felt even with full 5 passengers on board but with brakes now I am getting some noise at the time applying it otherwise it's good. The car has a good strong AC. Cons: One thing what I felt that company shouldn't have comprised with wiper it's a bit difficult to drive in the heavy rain with single wiper. Another problem as I faced is the after service, in Kolkata Renault has one workshop and that too far from main city and they are unable to take many bookings per day as it has small holding capacity. So to get a booking one have to call a week or two before. Overall till now I have not faced many problems with the car, I will suggest people of this car, it's a very good car at this price.
റെനോ ക്വിഡ് 2015-2019 ഉപയോക്തൃ അവലോകനങ്ങൾ
അടിസ്ഥാനപെടുത്തി
1350 ഉപയോക്തൃ അവലോകനങ്ങൾ
എല്ലാം (1350)
Mileage (381)
Performance (191)
Looks (445)
Comfort (303)
Engine (223)
Interior (170)
Power (166)
More ...
ഏറ്റവും പുതിയ
സഹായകമാണ്
VERIFIED
CRITICAL
Maruti Swift is a one-car that fulfills all the requirements: low cost, internal features, mileage, look, and performance. An all-in-one car that one can wish for in...കൂടുതല് വായിക്കുക

I am having Renault KWID 2017 model. Its the worst car ever made in history. The body is so weak that if you press the bonnet slightly a dent will appear instantly. ...കൂടുതല് വായിക്കുക

Renault KWID gives super performance, mileage and has excellent ground clearance. The car is value for money. It has awesome features like a large boot space, wheelbase, ...കൂടുതല് വായിക്കുക

Hi, I purchased the Renault KWID RXT model in Oct 2015. Its been four years. Initial 2 years went very smooth. But after that, I started to get it to know why i...കൂടുതല് വായിക്കുക

Purchased Renault KWID 0.8 RXL in March 2018 and drove around 9000 Kms. Simple features like auto wipe with screen wash, intermittent wipers, fresh Air mode of AC, Pillio...കൂടുതല് വായിക്കുക

Renault KWID is an excellent car at the price range which is offered. The finer features provide great convenience for the drivers and passengers. Some of the finer featu...കൂടുതല് വായിക്കുക

Renault KWID is an amazing car with wonderfull ground clearance, unbelievable mileage, smooth gear function, SUV looking model, attractive boot space. I am really happy w...കൂടുതല് വായിക്കുക

Renault KWID /2019 Had my 2019 Renault KWID for 4 months and very impressed. Looks small but once you get in its bigger then you think. Also was amazed at the power it ha...കൂടുതല് വായിക്കുക

എല്ലാം ക്വിഡ് 2015-2019 അവലോകനങ്ങൾ കാണുക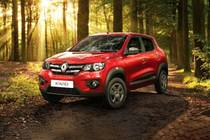 Rs.2.67 Lakh - 4.94 ലക്ഷം*
ഈ കാർ മോഡൽ ഉൽപ്പാദനം നിർത്തിയിരിക്കുന്നു
സമാനമായ ഉപഭോക്‌താക്കൾ സേർച്ച് ചെയ്തവ
Write your Comment on റെനോ ക്വിഡ് 2015-2019
ട്രെൻഡുചെയ്യുന്നു റെനോ കാറുകൾ
×
We need your നഗരം to customize your experience