Near to death experiece, thanks to റെനോ ഡസ്റ്റർ
Near to death experiece, thanks to Renault Duster
Hello People,Would like to take this opportunity through this forum to warn you not to buy Renault India cars and especially from Unnati Motors, Pune. A must read for all the potential buyers and the existing customers. I bought a brand new Renault Duster India RXS 2016 Model in July 2016 from Unnati Motors, Chinchwad, Pune and have been conducting regular serving of the vehicle at the same service centre. In this one year I have experienced immense mental harassment and monitory loss due to the irresponsible behaviour of the Renault India and Unnati Motors Staff. On May 19, 2017 while travelling to my home town with family. After driving about 400kms, two of the critical indicators started blinking. (PFA Pics) Would not like to comment on the horrible road side assistance that was provided. Somehow I managed to reach Nagpur. It took Renault Nagpur Service 23 days to replace the turbojet pipe as per diagnosis. Moreover at the time of delivery they lost the only souvenir of my late friend, a Renault Logo key chain. On June 27, 2017 the Fuel panel cable broke which was unavailable for a month, as usual. So we had to wait for the spares to arrive. On Aug 17, 2017, I took the vehicle for denting and painting work, plus break shoe and cable replacement.
After much to and fro of phone calls and complaints the vehicle was delivered on Sept 8, 2017 with NO replacement of break shoe or the cable and majority of the denting/ repairs were still pending.
At the time of delivery they informed that the break shoe were replaced and even going to charge for it until I caught the lie.
The door fittings were improper, due to which the indicators buzzed and the scratches were still present.
For which they had no explanation! (PFA Pics) They took my vehicle again for inspection and final touch for a couple of days and delivered with a defect on 13th Sept which could have cost us our lives. On Sept 17th, Me, my wife, my 3year old daughter and my in laws were on our way to a hill station. After a sudden jerk, the steering and the brakes got locked. On the steep slopes at a speed of 70kmph, I was terrified to the soul.
Somehow I managed to stop the vehicle avoiding the cliff and reached out to road assistance immediately.
The technicians showed me the broken fuse box and the battery wire without a bracket, just placed on the terminal. (PFA Pics) The pictures clearly shows a deliberate attempt by the service personnel to hide their mistakes and cover up their misdeeds.
TO WHICH THEY HAD NO EXPLANATION YET AGAIN! On Sept 19th they took my vehicle again for repairing the damages. Returning it the next day with the parts replaced. Promising and assuring me that this won't be repeated and I should not publicize it as it would severely damage their reputation. Unfortunately we met with an accident on 27th Sept and had to tow the car to Unnati Motors, Pune again. (PFA Pics) Duster was delivered on 13th October with a final assurance of a flawless service by the service centre. An guess what? The AC stopped working after 50-70kms, There was more engine noise plus vibrations. To this their diagnosis was that the condenser they replaced the last time had very less oil and that the AC coil was covered with ice due to subzero temperature as the parts replaced the last time were not accepted by the internal vehicle system. So now, I HAVE RETURNED THE VEHICLE! This seriously questions the integrity and morality of Renault France as a brand and it's staff. I feel absolutely betrayed by them. In the past 12+ months my car was in the Service Centre for more than 3 months, called for road assistance thrice. People mock at me asking "Where's your Duster? Don't tell me it's in the Service Center again!" But now I want to question Renault India, if we would have ran out of luck that day, would Renault India be able to bring back our lives? My whole family would have perished in a fraction of a second and none would have known that it was all Renault India's fault Every time the delay in delivery costs me a huge chunk due to cab charges and the inconvenience, to which one of the consultant said that he will pay it for me if I cannot afford it. This kind of treatment to the customer is insulting, embarrassing and fatal, as in my case. It sounds like a joke when I call the road assistance and hear the IVR say, "we invented the turbo charger and are 9 times F1 champions". Seriously? My father once told me not by anything other than Tata Motors. He distinctly said that "Tata's won't ditch anyone ever, they are the real sons of India".
It's been 13 years for his association with Tata Motors and he never faced such problems. I really regret not taking his advise. Be that, I myself am a proud owner of a Yamaha Motor RX135 motorcycle since 1999. And believe it or not it starts with a single kick. Renault India I think this will give you a fair idea about quality, loyalty and customer satisfaction. Regards,
Mandar Deshmukh https://www.facebook.com/mandarrdeshmukh/posts/10155927028552728
Write your Comment on റെനോ ഡസ്റ്റർ 2018
1
N
neeraj sharma
May 24, 2018 4:15:30 PM
An eye opening message. I was supposed to buy the vehicle...., but now i need to think twice....., Thanks Mr. Deshmukh
മറുപടി
1
A
amritpal singh
Dec 12, 2017 10:19:08 AM
Thanks for this long and detailed review of dusty duster, previously i was a good fan of duster awd, but after reading your and other review about dusty i will think 10 times before buying this Renault India product. Thanks once again.
മറുപടി
റെനോ ഡസ്റ്റർ 2018 ഉപയോക്തൃ അവലോകനങ്ങൾ
അടിസ്ഥാനപെടുത്തി
294 ഉപയോക്തൃ അവലോകനങ്ങൾ
എല്ലാം (294)
Mileage (76)
Performance (41)
Looks (99)
Comfort (109)
Engine (58)
Interior (56)
Power (40)
More ...
ഏറ്റവും പുതിയ
സഹായകമാണ്
VERIFIED
CRITICAL
Renault Duster is a very good vehicle having spacious inside, boot space is comfortable and luggage place was very wide and travelling long will be thrilled and vibrant. ...കൂടുതല് വായിക്കുക

Excellent in class.. with stability and 4 wheel drive.. the negative are the advanced features like the small touch screen, 2 airbags only. Still very good car for City d...കൂടുതല് വായിക്കുക

Good Drive and smooth. If you go on a long drive you feel a better experience on Renault duster 85ps RXS.

Quite satisfied with Renault Duster AMT, the most economic SUV in the Indian market. Better performance than Creta. Looking better than Terrano.

Car is quite good, everything that I expected of it, but the service needs to improve a lot, Renault should look into that.

Very nice car for a long drive...I love it's driving and comfortable sitting and road grip...Thank you, Renault.

I never faced and the problem also the driving experience is fantastic in Renault Duster, much comfortable and has good mileage around 17 to 18 km/hr, the best of the Ren...കൂടുതല് വായിക്കുക

Excellent for driving and safety. Lacks premium inner. Decent mileage and low cost of maintenance. Driving duster since 2014 and clocked 100000 km.

എല്ലാം ഡസ്റ്റർ 2016-2019 അവലോകനങ്ങൾ കാണുക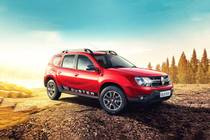 Rs. 7.99 Lakh - 13.88 ലക്ഷം*
ഈ കാർ മോഡൽ ഉൽപ്പാദനം നിർത്തിയിരിക്കുന്നു
സമാനമായ ഉപഭോക്‌താക്കൾ സേർച്ച് ചെയ്തവ
ട്രെൻഡുചെയ്യുന്നു റെനോ കാറുകൾ
റെനോ അർക്കാന

Rs.10.00 ലക്ഷം*

പ്രതീക്ഷിക്കുന്ന ലോഞ്ച്: ഒക്ടോബർ 05, 2022

റെനോ സോ

Rs.8.00 ലക്ഷം*

പ്രതീക്ഷിക്കുന്ന ലോഞ്ച്: ഒക്ടോബർ 20, 2021

റെനോ k-ze

Rs.10.00 ലക്ഷം*

പ്രതീക്ഷിക്കുന്ന ലോഞ്ച്: മാർച്ച് 31, 2022