Complete review of the car
Complete review of the car
I have been using this vehicle for past 4 years. Based on my experience and explorations I got a complete crack down of the vehicle. People should escalate their knowledge about the vehicle they are buying. Why I bought duster?..I bought duster because of 3 reasons... 1) awd at lowest price as possible2) grand success at Europe and India. 3)only compact suv available then. I have used multiple cars..duster has got its pros and cons. Autoportal or other car reviewing agencies talks in favour of the brands to keep the exclusive reviewing opportunities and always try to go for customers review before buying one. After grand success of logan, duster started ruling the roads..k9k engine is proven but corrosion rate of the car is high. Seating comfort is below average. Its spacious, duster has got many blind spots mainly wheel arch and lack of inbuilt sensors at that time. Performance wise it is excellent.if your budget is above 10 lakh, always try to prefer an awd irrespective of brand and don't fall into offers provided by Brands until and unless they are selling the same year vehicle(important). Maintaing and parts replacement of vehicle is bit costly. Beware of accessories provided at vehicle dealer outlets, are mostly duplicate and high price. Most common issue faced in duster110ps are injectors and fuel supply systems. If they are making service more reasonable.. It would be the most selling suv again. Go for a corrosion test and get the exact report especially fuel supply path and systems for existing users who got injector issue. As per my observation rust is one of the cause for injector issue which is the root cause.. Injectors are proven and poured diesel is secondary cause.
Write your Comment on റെനോ ഡസ്റ്റർ 2018
റെനോ ഡസ്റ്റർ 2018 ഉപയോക്തൃ അവലോകനങ്ങൾ
അടിസ്ഥാനപെടുത്തി
294 ഉപയോക്തൃ അവലോകനങ്ങൾ
എല്ലാം (294)
Mileage (76)
Performance (41)
Looks (99)
Comfort (109)
Engine (58)
Interior (56)
Power (40)
More ...
ഏറ്റവും പുതിയ
സഹായകമാണ്
VERIFIED
CRITICAL
Renault Duster is a very good vehicle having spacious inside, boot space is comfortable and luggage place was very wide and travelling long will be thrilled and vibrant. ...കൂടുതല് വായിക്കുക

Excellent in class.. with stability and 4 wheel drive.. the negative are the advanced features like the small touch screen, 2 airbags only. Still very good car for City d...കൂടുതല് വായിക്കുക

Good Drive and smooth. If you go on a long drive you feel a better experience on Renault duster 85ps RXS.

Quite satisfied with Renault Duster AMT, the most economic SUV in the Indian market. Better performance than Creta. Looking better than Terrano.

Car is quite good, everything that I expected of it, but the service needs to improve a lot, Renault should look into that.

Very nice car for a long drive...I love it's driving and comfortable sitting and road grip...Thank you, Renault.

I never faced and the problem also the driving experience is fantastic in Renault Duster, much comfortable and has good mileage around 17 to 18 km/hr, the best of the Ren...കൂടുതല് വായിക്കുക

Excellent for driving and safety. Lacks premium inner. Decent mileage and low cost of maintenance. Driving duster since 2014 and clocked 100000 km.

എല്ലാം ഡസ്റ്റർ 2016-2019 അവലോകനങ്ങൾ കാണുക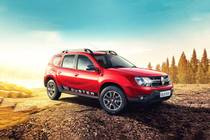 Rs. 7.99 Lakh - 13.88 ലക്ഷം*
ഈ കാർ മോഡൽ ഉൽപ്പാദനം നിർത്തിയിരിക്കുന്നു
സമാനമായ ഉപഭോക്‌താക്കൾ സേർച്ച് ചെയ്തവ
ട്രെൻഡുചെയ്യുന്നു റെനോ കാറുകൾ
റെനോ അർക്കാന

Rs.10.00 ലക്ഷം*

പ്രതീക്ഷിക്കുന്ന ലോഞ്ച്: ഒക്ടോബർ 05, 2022

റെനോ സോ

Rs.8.00 ലക്ഷം*

പ്രതീക്ഷിക്കുന്ന ലോഞ്ച്: ഒക്ടോബർ 20, 2021

റെനോ k-ze

Rs.10.00 ലക്ഷം*

പ്രതീക്ഷിക്കുന്ന ലോഞ്ച്: മാർച്ച് 31, 2022