Quite impressive !!!!!
Quite impressive !!!!!
Though I own KWID RXT 1.0 I researched a quite few cars where I10 MAGNA 1.1L PETROL is one of the best competitor and leading car in the list the car is compact and feels so good to ride and to travel in when I took it for a test drive from the showroom though the car is controlled with speed governor the pickup of the car is decent good and sound of the car is noticeable the car space is quite lagging because when its for tall driver the seat have to be adjusted and when its done the leg space for the passenger is quite difficult and the boot space for the car is quite reasonable well in the car aspect is good but when coming to the price segment I think its a bit expensive than worth it because there are tons of car out in market cheaper than it yet performing well in all aspect though its quite expensive the details of the car and interior of the car is too good with perfect detailed finish the seating quality for the car is not that much comfortable than KWID yet it has its own style while coming for the safety this car doesn't come with an air bag with any of its variant where its optional as off market and its quite expensive again as said before the total showroom price of the car is not same as the price estimated by the dealer in the showroom well they rise the price of the total showroom value of the car for additional charges such as seat cover music system horn fog lamp and etc . which is quite annoying well this happens in every showroom but Hyundai cost more in this segment and dealer response is good until the purchase is successful and after that the service is not quite responsive as of before purchase and I have experienced it while ago with my colleague which must be disappointing and some of the other user review say the same about the customer service overall but well this doesn't matter you and u need a perfect car for a small family then u r good to go with i10 but you are advised to do complete research and frankly think ur opinion . All the best for the buyers who is thinking to own Hyundai i10 magna
Write your Comment on ഹുണ്ടായി ഐ10
ഹുണ്ടായി ഐ10 ഉപയോക്തൃ അവലോകനങ്ങൾ
അടിസ്ഥാനപെടുത്തി
158 ഉപയോക്തൃ അവലോകനങ്ങൾ
എല്ലാം (158)
Mileage (99)
Performance (46)
Looks (103)
Comfort (107)
Engine (72)
Interior (61)
Power (48)
More ...
ഏറ്റവും പുതിയ
സഹായകമാണ്
VERIFIED
CRITICAL
I purchased i 10 Magna model in 2010 and switched over to i10 from Tata Indica Petrol, which I used for almost 3 years. I drove i10 for almost 7.5 years before I went for...കൂടുതല് വായിക്കുക

All the tyres are recently replaced by new tyres. Engine oil is also recently changed. Gear oil is also changed. It gives a mileage of 19 KMPL.

I own a hyundai i10 2010 model. Its been more than 6 years i am using this car, and till date other than regular servicing, I have spent only 20,000 on servicing (becuase...കൂടുതല് വായിക്കുക

i am a proud owner of this car for last 7 years. i am 67 years old retired professional. this is the 7th car i am using now. i get a very happy sense of driving a safe ca...കൂടുതല് വായിക്കുക

Hyundai i10 is proved to be very reliable car during my 6 years of ownership. For me this is top most priority and I dont like to get stranded on a road or leaving my car...കൂടുതല് വായിക്കുക

What to say and where to start. i10 is my first car, on which I have started learning driving in 2014. Best thing about the car is its Steering module. It is effortless a...കൂടുതല് വായിക്കുക

A little city car that has got plenty to live up to. Sharp looks and a sweet but old 1.1-litre engine is still the drivetrain in this car. It's all about quality here - t...കൂടുതല് വായിക്കുക

Hyundai i10 has cool car the hatchback market in India since it's launch. I am quite satisfied with its performance. The entry level hatch i10 is decent in terms of comfo...കൂടുതല് വായിക്കുക

എല്ലാം ഐ10 അവലോകനങ്ങൾ കാണുക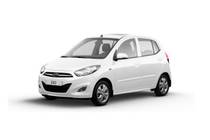 Rs. 3.79 Lakh - 6.55 ലക്ഷം*
ഈ കാർ മോഡൽ ഉൽപ്പാദനം നിർത്തിയിരിക്കുന്നു
സമാനമായ ഉപഭോക്‌താക്കൾ സേർച്ച് ചെയ്തവ
ട്രെൻഡുചെയ്യുന്നു ഹുണ്ടായി കാറുകൾ