Fun car to drive .
Fun car to drive .
It has almost been 5-6 years since we bought this car . Really a good car to buy . it has been in a very good condition like there has not been any major issues till now . Hoping to see that there are not in the future . The inside is modern and easy to get on with lots of decent space and enough legroom at the back for two adults to travel in comfort. Luggage space in the boot is good rather than class leading, though. The interiors of the Hyundai i10 have been styled to complement its exterior design. Despite its dinky dimensions, the i10 has the feel of a big car inside. The car is quiet composed be it the home streets or on the open roads, the car is ever ready. The tailgate is nicely big and visible than just being a piece of glass. The four opening windows with electric operation at the front, central locking, electric power steering, tinted glass, 14-inch wheels, body colored bumpers and an integrated six-speaker CD/MP3 stereo keep your comfort quotients high. Like all Hyundai cars, the i10 is covered by a five year unlimited mileage warranty to provide peace of mind motoring for half a decade. Light, accurate steering, soft suspension and strong engines combine to make the Hyundai i10 an enjoyable car to scoot around town in. It also comes with an Eco drive indicator that tells you when is the most effective time to change the gear and Hyundai's excellent stop-start system, allow the little car to touch the magical figures of 100g of emissions per kilometer. Revving it hard would sound like the best course of action, and is ably facilitated by the smooth five-speed manual transmission and light clutch action. The main point of contemption that goes in favour of the Hyundai i10 is it's difficult to find a cheaper car than the i10 because list prices are so low. On the flipside the main problem is its appearance. The car is not all the interesting, or cute, or quirky or anything to look at or grab your eyeballs. Also it seems a lot feminine and even most of the female fans have no qualms about it.
Write your Comment on ഹുണ്ടായി ഐ10
ഹുണ്ടായി ഐ10 ഉപയോക്തൃ അവലോകനങ്ങൾ
അടിസ്ഥാനപെടുത്തി
158 ഉപയോക്തൃ അവലോകനങ്ങൾ
എല്ലാം (158)
Mileage (99)
Performance (46)
Looks (103)
Comfort (107)
Engine (72)
Interior (61)
Power (48)
More ...
ഏറ്റവും പുതിയ
സഹായകമാണ്
VERIFIED
CRITICAL
I purchased i 10 Magna model in 2010 and switched over to i10 from Tata Indica Petrol, which I used for almost 3 years. I drove i10 for almost 7.5 years before I went for...കൂടുതല് വായിക്കുക

All the tyres are recently replaced by new tyres. Engine oil is also recently changed. Gear oil is also changed. It gives a mileage of 19 KMPL.

I own a hyundai i10 2010 model. Its been more than 6 years i am using this car, and till date other than regular servicing, I have spent only 20,000 on servicing (becuase...കൂടുതല് വായിക്കുക

i am a proud owner of this car for last 7 years. i am 67 years old retired professional. this is the 7th car i am using now. i get a very happy sense of driving a safe ca...കൂടുതല് വായിക്കുക

Hyundai i10 is proved to be very reliable car during my 6 years of ownership. For me this is top most priority and I dont like to get stranded on a road or leaving my car...കൂടുതല് വായിക്കുക

What to say and where to start. i10 is my first car, on which I have started learning driving in 2014. Best thing about the car is its Steering module. It is effortless a...കൂടുതല് വായിക്കുക

A little city car that has got plenty to live up to. Sharp looks and a sweet but old 1.1-litre engine is still the drivetrain in this car. It's all about quality here - t...കൂടുതല് വായിക്കുക

Hyundai i10 has cool car the hatchback market in India since it's launch. I am quite satisfied with its performance. The entry level hatch i10 is decent in terms of comfo...കൂടുതല് വായിക്കുക

എല്ലാം ഐ10 അവലോകനങ്ങൾ കാണുക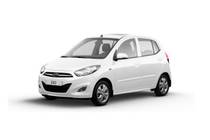 Rs. 3.79 Lakh - 6.55 ലക്ഷം*
ഈ കാർ മോഡൽ ഉൽപ്പാദനം നിർത്തിയിരിക്കുന്നു
സമാനമായ ഉപഭോക്‌താക്കൾ സേർച്ച് ചെയ്തവ
ട്രെൻഡുചെയ്യുന്നു ഹുണ്ടായി കാറുകൾ