A car വേണ്ടി
A car for every one
I was in college when my dad bought me this, so i can say this is a ride of almost every beginner. easy to learn, easy to drive, and worth every single penny. its is affordable, pocket friendly and simply classy. it has every thing a driver dreams, and above that, it is a comfortable ride to those who are seating on the back seat. i travel every month to punjab from delhi with my parents, and every time my car gives me a lot of memories. if i talk about pick-up, 95 out of 100... if i talk about the AC, its 100 out of 100, if i talk about space, its 90 out of 100.... if i talk about the comfort, its 90 out of 100.... if i talk about fuel efficieny, for me its 100 out of 100 as this gives me 16-17/litre with AC when i drive on highways. i took my car to mountains, to fields in villages and it never disappointed me. i recommend this car to every one, in fact 3 of my relatives and friends bought this same car because of my positive reviews. To me, its not just a car but a dream that i drive every day. in the segment of cars priced between 4-7 lakhs, this is the one with better performance and better features. even when you go to service your vehicle, it is also pocket friendly so you can even maintain your car really well and the best part about hyundai i10 is its steering which makes any ride a joy for the driver. even after 7 years, it is so easy to drive that i am a big fan of this product. hats off to the makers to give this chance to the most of middle class indian families to have a pleasure of having their own family car with such good interior and exterior. for me it's "A CAR FOR EVERYONE" and when i say this, it means any one above 18 can drive.... because of its size, because its easy to drive in a city, easy to park any where and also gives a good stability on highways. and my next car will be the grand version of i10. its a pocket friendly car.
Write your Comment on ഹുണ്ടായി ഐ10
ഹുണ്ടായി ഐ10 ഉപയോക്തൃ അവലോകനങ്ങൾ
അടിസ്ഥാനപെടുത്തി
158 ഉപയോക്തൃ അവലോകനങ്ങൾ
എല്ലാം (158)
Mileage (99)
Performance (46)
Looks (103)
Comfort (107)
Engine (72)
Interior (61)
Power (48)
More ...
ഏറ്റവും പുതിയ
സഹായകമാണ്
VERIFIED
CRITICAL
I purchased i 10 Magna model in 2010 and switched over to i10 from Tata Indica Petrol, which I used for almost 3 years. I drove i10 for almost 7.5 years before I went for...കൂടുതല് വായിക്കുക

All the tyres are recently replaced by new tyres. Engine oil is also recently changed. Gear oil is also changed. It gives a mileage of 19 KMPL.

I own a hyundai i10 2010 model. Its been more than 6 years i am using this car, and till date other than regular servicing, I have spent only 20,000 on servicing (becuase...കൂടുതല് വായിക്കുക

i am a proud owner of this car for last 7 years. i am 67 years old retired professional. this is the 7th car i am using now. i get a very happy sense of driving a safe ca...കൂടുതല് വായിക്കുക

Hyundai i10 is proved to be very reliable car during my 6 years of ownership. For me this is top most priority and I dont like to get stranded on a road or leaving my car...കൂടുതല് വായിക്കുക

What to say and where to start. i10 is my first car, on which I have started learning driving in 2014. Best thing about the car is its Steering module. It is effortless a...കൂടുതല് വായിക്കുക

A little city car that has got plenty to live up to. Sharp looks and a sweet but old 1.1-litre engine is still the drivetrain in this car. It's all about quality here - t...കൂടുതല് വായിക്കുക

Hyundai i10 has cool car the hatchback market in India since it's launch. I am quite satisfied with its performance. The entry level hatch i10 is decent in terms of comfo...കൂടുതല് വായിക്കുക

എല്ലാം ഐ10 അവലോകനങ്ങൾ കാണുക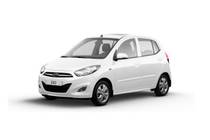 Rs. 3.79 Lakh - 6.55 ലക്ഷം*
ഈ കാർ മോഡൽ ഉൽപ്പാദനം നിർത്തിയിരിക്കുന്നു
സമാനമായ ഉപഭോക്‌താക്കൾ സേർച്ച് ചെയ്തവ
ട്രെൻഡുചെയ്യുന്നു ഹുണ്ടായി കാറുകൾ