ഫോർഡ് മസ്താങ്ങ് Absolute Beast But Not എ Bang വേണ്ടി
Ford Mustang Absolute Beast But Not A Bang For The Buck
Call it an iconic, a legend or a definite muscle car, Ford Mustang has truly lived up to its spirits for decades. This is the car which has crowd of fan following, fan clubs and a lot of notorious zealous owners making it a star among the world of performance cars. Mustang is an iconic car that invites jealousy but is more of a performance car that can be driven every day. The popularity of this pony car can be seen in the fact that it sells more in America than Honda City in India. I will talk less about the exteriors as the car is unmistakably Mustang and needs no flattering. But the dominating grille at the front, sleeker side profile and the rear taillights oozing the retro look need special mentioning. Mustang in India also comes with a fair list of tech including 8-inch touchscreen, Ford's SYNC connectivity, 4 different driving modes and a bunch of safety features. In India, only the range-topping 5.0L V8 engine is available which is enough for free-revving with nearly 400 horses to assist. The only major issue with this car as per my liking is the exorbitant price it comes with. This is because the CBU built penalties will cause you a fortune nearly Rs. 85 lakhs (on-road). At a much cheaper price you get Audi TT, which is more nimble and sportier. But again, people don't buy such iconic cars for carving corners, it's the growling engine under the hood and the muscular design that makes it special.
Write your Comment on ഫോർഡ് മസ്താങ്ങ്
1
G
get real
Jul 12, 2018 4:58:44 PM
Okay, how come the very same car in Indian currency costs 36 lakh in the US on road and really good roads, So my question is why are we paying the price of 2 Mustangs to get only one as there is no road or infrastructure in India that is worth 116 % the cost of the car that we pay as Tax, and we don't even get a receipt or a line in the bill that says for what we are paying 2 cars price for?
മറുപടി
ഫോർഡ് മസ്താങ്ങ് ഉപയോക്തൃ അവലോകനങ്ങൾ
അടിസ്ഥാനപെടുത്തി
68 ഉപയോക്തൃ അവലോകനങ്ങൾ
എല്ലാം (68)
Mileage (5)
Performance (16)
Looks (23)
Comfort (15)
Engine (26)
Interior (10)
Power (22)
More ...
Great muscle car lots of features great in look great speed great sound great interior getting a seating capacity up to 4 no other cars offer it in a sports car and great...കൂടുതല് വായിക്കുക

This car is very fantastic. It is to comfort and it looks good. It is too luxurious and its maintenance is not too costly. Its headlights are good. In this car air bags a...കൂടുതല് വായിക്കുക

This is an amazing car and a dream car as well. My first choice in the world is an amazing car which I bought.

Ford Mustang is my life, hence everything is alright & so my life has no problem in any feature, the mustang is full of joy and comfort, and most important this supercar ...കൂടുതല് വായിക്കുക

This will be a great car. I really like this Mustang. It looks are crazy and all the car features are great.

Actually! This car has so much power in it and has so much sporty look and style and with a lot of features inside it. This car catches 100km/hr in just 5 seconds which s...കൂടുതല് വായിക്കുക

Ford Mustang is the best car in India all people have loved this car I wish to buy the most wonderful Ford Mustang car.

എല്ലാം മസ്താങ്ങ് അവലോകനങ്ങൾ കാണുക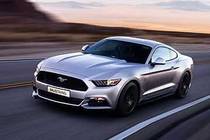 Rs. 74.62 ലക്ഷം*
ഈ കാർ മോഡൽ ഉൽപ്പാദനം നിർത്തിയിരിക്കുന്നു
സമാനമായ ഉപഭോക്‌താക്കൾ സേർച്ച് ചെയ്തവ
ട്രെൻഡുചെയ്യുന്നു ഫോർഡ് കാറുകൾ