ക്ലാസിക് കാർ
Classic Car
The most iconic car of ford is mustang. the powerful v8 engine make it a flying jet on the road.the classic look and extra ordinary design make this car a icon of car industry. the most awesome thing about this car is the power which is unbeatable.the comfort of this car make you feel like driving a rocket or a jet. Ford Mustang's Select Shift gives you the thrill of using a manual transmission with the ease of an automatic. Simply toggle the race car-inspired Paddle Shifters on the steering wheel to shift gears up or down, for smooth and effortless gear changes without having to use a clutch. Ford Mustang's advanced braking system gives you greater control if you have to brake quickly. In an emergency, Electronic Brake Force Distribution (EBD) balances brake force between front and rear wheels, while the Anti-lock Braking System (ABS) prevents wheels from locking. ESC gives you optimal control when you need it most. It reduces the chances of skidding, sliding sideways and over- and under-steering in corners.Electric Power Assisted Steering adjusts to provide you with greater control in a range of road and weather conditions, and even crosswinds and potholes. And it only activates when needed, saving you fuel. Best of all, you're in control. Choose between three power-assisted settings to adjust steering effort: comfort, sport and normal.Proof that Ford Mustang means performance. Electronic Line-Lock keeps the front brakes locked while you accelerate to warm the rear tires for enhanced grip. The LCD productivity screen on the instrument cluster accessible through the steering wheel controls?displays an accelerometer, acceleration timer and other performance metrics.The Ford Mustang GT's 5.0l Ti-VCT engine has been expertly engineered to maximise power from every compression. Boasting strong power and torque, Ford Mustang GT's engine roar and wide-eyed acceleration are the stuff of the legends.Inspired by the classic airplane cockpit feel, the Ford Mustang is built for a performance driving experience. Everything has been placed for optimum comfort and feel. The driver seat has been set to a low, sporty position. The gear stick and steering wheel feel just right in your hands, and are positioned to leave ample clearances for the controls and extra legroom. You feel connected to the road, in complete control, and dialled in for performance.
Write your Comment on ഫോർഡ് മസ്താങ്ങ്
ഫോർഡ് മസ്താങ്ങ് ഉപയോക്തൃ അവലോകനങ്ങൾ
അടിസ്ഥാനപെടുത്തി
68 ഉപയോക്തൃ അവലോകനങ്ങൾ
എല്ലാം (68)
Mileage (5)
Performance (16)
Looks (23)
Comfort (15)
Engine (26)
Interior (10)
Power (22)
More ...
Great muscle car lots of features great in look great speed great sound great interior getting a seating capacity up to 4 no other cars offer it in a sports car and great...കൂടുതല് വായിക്കുക

This car is very fantastic. It is to comfort and it looks good. It is too luxurious and its maintenance is not too costly. Its headlights are good. In this car air bags a...കൂടുതല് വായിക്കുക

This is an amazing car and a dream car as well. My first choice in the world is an amazing car which I bought.

Ford Mustang is my life, hence everything is alright & so my life has no problem in any feature, the mustang is full of joy and comfort, and most important this supercar ...കൂടുതല് വായിക്കുക

This will be a great car. I really like this Mustang. It looks are crazy and all the car features are great.

Actually! This car has so much power in it and has so much sporty look and style and with a lot of features inside it. This car catches 100km/hr in just 5 seconds which s...കൂടുതല് വായിക്കുക

Ford Mustang is the best car in India all people have loved this car I wish to buy the most wonderful Ford Mustang car.

എല്ലാം മസ്താങ്ങ് അവലോകനങ്ങൾ കാണുക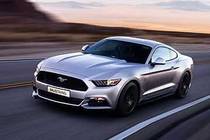 Rs. 74.62 ലക്ഷം*
ഈ കാർ മോഡൽ ഉൽപ്പാദനം നിർത്തിയിരിക്കുന്നു
സമാനമായ ഉപഭോക്‌താക്കൾ സേർച്ച് ചെയ്തവ
ട്രെൻഡുചെയ്യുന്നു ഫോർഡ് കാറുകൾ