Audi Q3, A Gorgeous Car With Adorable ഇന്റീരിയർ
Audi Q3, A Gorgeous Car With Adorable Interior
I am an Audi enthusiast and I follow most of the cars which come under this brand name. The looks of the new car from the Audi India is gorgeous with an adorable interior. The Audi Q3 has been priced at Rs. 26.21 Lakhs and the car configurations are such that the SUV segment has been redefined because the Audi Q3 is the first baby SUV in Indian SUV market. This crossover comes with a complete length of 4385mm which is much shorter in comparison to the other existing suvs in the Indian car market. As the new Audi Q3 is being compared to the BMW X1, the comfort features of the Q3 are much better than those of BMW's SUV. The details and the pictures of the Audi Q3 show that the SUV is more features packed and at the same time quite spacious. The various reviews of the Audi India's new SUV which I read tells that the vehicle has a wonderful pickup and roars on the road in a short cast like a giant beast! Mileage: According to the response I have heard from the already owners of the Audi Q3 in India, I can say that the mileage of the new vehicle from Audi will be no doubt excellent. Needs to Improve: Why Audi people underestimate Indians. Why they don't provide features like navigation. As I have yet not got the chance to drive the car, but looking at the reviews of the people who have already bought the car, the car is quite good with the name that is attached to it and the engine that has been used in the vehicle. The Audi has launched the car just a month back and soon after the launch of the vehicle the car got a nickname: "baby SUV" which suits the vehicle because the SUV is smaller in size. In comparison to the BMW X1, the car is packed with a lot of space and interior looks are also commendable.
Write your Comment on ഓഡി ക്യു3
1
N
n hareesh
Mar 14, 2014 10:28:38 PM
Pl tell me about Audi Q3 S edition.
മറുപടി
1
M
m.k.harsh
Apr 30, 2013 6:43:14 AM
Comapring X-1 and Q-3 of course the answer is Q-3 only. Only just check seating comfort for long drive which you cannot just check in test drive for a few kms. Else it is fine vehicle and really having value for money.
മറുപടി
1
C
chetan
Oct 21, 2012 11:01:16 PM
suggesst me guys Q3 base variant or high grade
മറുപടി
ഓഡി ക്യു3 ഉപയോക്തൃ അവലോകനങ്ങൾ
അടിസ്ഥാനപെടുത്തി
29 ഉപയോക്തൃ അവലോകനങ്ങൾ
എല്ലാം (29)
Mileage (5)
Performance (3)
Looks (10)
Comfort (13)
Engine (5)
Interior (9)
Power (5)
More ...
ഏറ്റവും പുതിയ
സഹായകമാണ്
CRITICAL
Throttling diesel engine goes on with power on road. Its very nice to drive the smooth ongoing German Car which is gazing on road like the E...കൂടുതല് വായിക്കുക

We have Q3 since 2014 and till now the car is in the best conditions, the front bumper is top-notch and the rear bumper is also very good ( can be better ) you can ...കൂടുതല് വായിക്കുക

This car is great in its segment. The interior and comfort and it offers are nice. The alloy wheels and headlamps are stunning.

This Car's A.C. performance is poor. The A.C. filter is replaced at every service interval of 15000kms, but in spite of the internal air circulation always on, the filter...കൂടുതല് വായിക്കുക

I am extremely happy owning the Q3. Such a great car.Great power, great comfort, and this car is very capable for Offroad. The quality of this car,&nb...കൂടുതല് വായിക്കുക

It gives you a great ride experience due to the comfortable and safe ride, and it comes with all the needed features. Drives are smooth whether you are driving in th...കൂടുതല് വായിക്കുക

Value for money, stability for a vehicle, travel in the front, and excellent all over. Stylish interior design.

എല്ലാം ക്യു3 അവലോകനങ്ങൾ കാണുക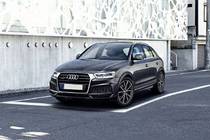 Rs.32.20 Lakh - 43.61 ലക്ഷം*
ഈ കാർ മോഡൽ ഉൽപ്പാദനം നിർത്തിയിരിക്കുന്നു
ട്രെൻഡുചെയ്യുന്നു ഓഡി കാറുകൾ
ഓഡി ക്യു7

Rs.80.00 ലക്ഷം*

പ്രതീക്ഷിക്കുന്ന ലോഞ്ച്: dec 10, 2021

ഓഡി എ3 2022

Rs.35.00 ലക്ഷം*

പ്രതീക്ഷിക്കുന്ന ലോഞ്ച്: മാർച്ച് 01, 2022